A leave on toning solution that clears congested skin, helping refine pores while softening and smoothing overall texture. glotherapeutics 7% Glycolic Resurfacing Toner's powerful blend of ingredients combines exfoliation and brightening with antioxidant repair and anti-inflammatory relief, providing visible results and uncovering a renewed, balanced complexion.
Recommended for normal, combination, oily and acneic skin.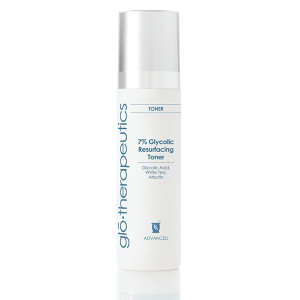 Directions
After cleansing, use a cotton ball to smooth tonic over face. Follow with the glo therapeutics serum and moisturizer best suited to your skin type. Use daily. If irritation occurs, reduce use.
Active Interest
7% Glycolic Acid An alpha hydroxy acid with the smallest molecular size of all the AHAs. It penetrates the stratum corneum, loosening the glue that holds surface skin cells together. By stimulating exfoliation, it reveals fresher, healthier skin. Glycolic Acid improves fine lines, dry spots, acne as well as hyperpigmentation.
Aloe Vera Gel A strong anti-inflammatory which heals and moisturizes inflamed skin. Aloe Vera has exhibited the ability to stimulate collagen and elastin synthesis and aid in the removal of dead skin cells.
Alpha Arbutin Promotes fast and effective skin brightening on all skin types. Evens skin tone by inhibiting Tyrosinase. This is a safe, natural derivative of Hydroquinone derived from the leaves of the bearberry plant.
White Tea Leaf Extract Boosts the immune function of skin cells, protects against sun damage and protects skin from oxidative stress.
Canadian Willowherb Extract A botanical used for centuries to clean, freshen and soothe irritated skin. Clinical research has verified the claims that it is an antioxidant, reduces UV and chemical damage and inhibits acne.
pH 2.2
Notes
This product is reserved for facilities with a physician on staff.
If irritation occurs, reduce use. Avoid eye area.
Sun Alert: this product may increase skin's sensitivity to sunlight.
Wearing a sunscreen is highly recommended.