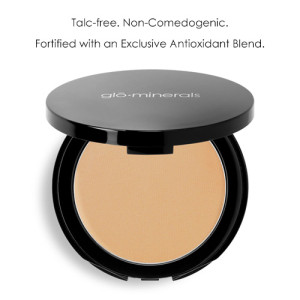 gloPressed Base Mineral Powder
The award-winning mineral makeup foundation delivers unsurpassed coverage that nourishes, corrects and protects skin.
Pressed Base is perfect for all skin types and contains an exclusive antioxidant blend of Vitamins A, C, E and Green Tea Extract which enriches the skin with essential nutrients. The triple milled minerals lie smoothly on the skin for a fine and smooth finish.
glominerals Pressed Base mineral powder provides sheer to full coverage with a flawless, semi-matte finish. As with all glominerals products, Pressed Base Powder is talc-free, non-comedogenic and fortified with an exclusive antioxidant blend.
To apply, begin with clean, moisturized skin. Using your Kabuki or Ultra Brushapply a small amount in circular motions to achieve perfect even coverage. A little bit can go a long way so use sparingly and then layer if needed. Reapply after substantial sun exposure or excessive perspiration.
Expert Tip: For an extra boost of hydration, follow application with Moist Hydration Mist.
For other glominerals products, please call +65 6801 4000 or visit us at #03-06 Pacific Plaza.