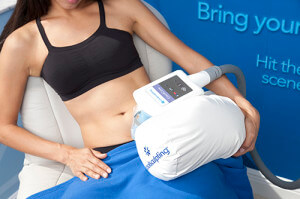 The original CoolSculpting by ZELTIQ is an innovative and non-surgical fat reduction procedure that uses advanced cooling technology to gently and effectively target and eliminate fat in specific areas of patient's body without harming the skin or other tissues.
The CoolSculpting treatment starts by marking and measuring the targeted area. The treatment is done while the patient is lying down. The CoolSculpting device is then placed on the marked area and a strong vacuum pressure gently draws tissue between the cooling panels. The sensation is a firm pull and pressure – enough of a pull to ensure the selected tissue will be cooled most efficiently.
As the cooling begins during the first few minutes, you will feel pressure and intense cold. This soon dissipates. Many people read, work on their laptop, or even take a nap during their treatment. As the procedure is completely non-surgical, you can typically return to normal activities immediately. Often times at Cutis Medical Laser Clinics, an aesthetic clinic in Singapore, patients return to work after the session is over.
You may start to see changes as quickly as three weeks after your treatment, and will experience the most dramatic results after two months. But your body will still flush out fat cells and continues doing so for up to four to six months after treatment.
No special diet is required and you do not have to adopt any exercise habits (although you should). Many patients feel more motivated to take care of themselves after the CoolSculpting treatment, too. Like they get a second lease on their body and want to start anew again by taking even better care of themselves. A good way would be start the Optimagenics Lifestyle Program with Cutis Medical Laser Clinics.
When you have your CoolSculpting treatment, the affected fat cells will be eliminated. As long as you maintain your weight with your diet and exercise, your long-term results should remain stable.
Typically, each CoolSculpting treatment results in a noticeable reduction of fat in the treated area. After the initial treatment is complete, you can attain further reductions with additional treatments, resulting in even more fat loss. Some patients find that just one treatment fully addresses their goals whereas other patients will likely want to address different parts of their body. You and Dr. Sylvia Ramirez, the Medical & Scientific Director of Cutis Medical Laser Clinics, will discuss and design a customized treatment plan that suits you best.