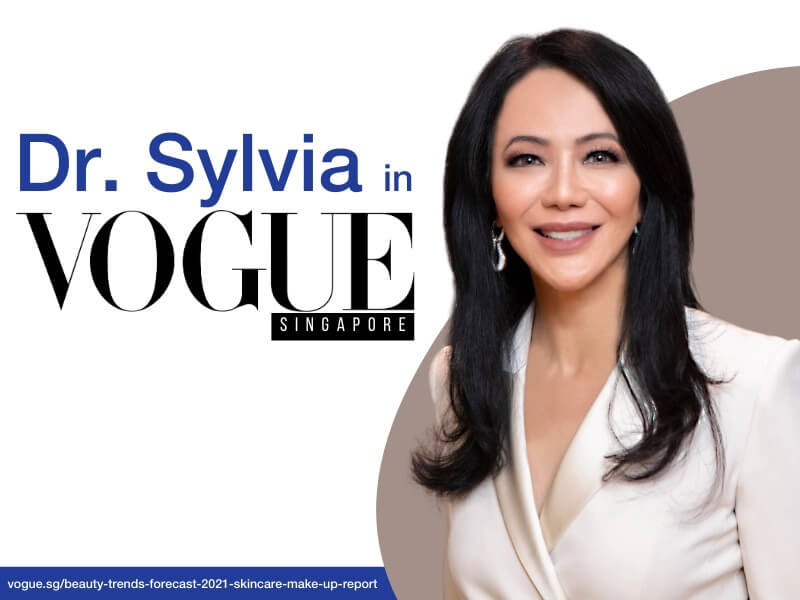 Our very own Dr. Sylvia is one of the four experts (global president, aesthetic doctor, dermatologist, and brand founder) featured in Vogue Singapore in an article by Alli Sim about 2021 beauty trends.
Dr. Sylvia shared and discussed the aesthetic treatments in 2020 that took her by surprise, as well as her predictions for 2021 and the beauty innovations that she is closely following.
2020's aesthetic treatments that took her by surprise
It was muscle Stimulation treatments (like ZField Dual). ZField is a non-invasive body shaving device that uses electrical impulses to stimulate muscle contraction. Here is an excerpt from the article: "I thought that people would rather work out than use a machine to stimulate their muscles but we've found that even fit athletes appreciate the benefits of this procedure."
Dr. Sylvia noted that the targeted contraction from ZField Dual leads to faster results in definition and size of muscles, especially the 'six-pack'. Dr. Sylvia herself also uses the machine at every opportunity. 
Aesthetic predictions for 2021
For Dr. Sylvia's aesthetic predictions for 2021, she shared that putting personal priorities have become more relevant today. She said, "Those who have hesitated to try new treatments in the past, such as fillers, are suddenly more committed to finding ways to improve themselves. Our no-show rates have dropped to almost zero. I think this attitude will persist and only continue to grow in 2021."
With regards to skincare, Dr. Sylvia shares that she is always on the hunt for clinically-backed growth factors. Human growth factors, such as those in TNS recovery complex are the ones that intrigue her the most. "Growth factors can interact with cells in our skin to stimulate fibroblasts. Currently, these are not approved in Singapore, however (such as TNS recovery complex by Allergan)."
Innovations and beauty trends
Here are the 3 innovations that Dr. Sylvia is closely following, as listed in the article:
Innovation in botulinum toxin treatments – Daxibotulinum Toxin A (DAXI) is a new botulinum toxin type A formulation that is expected to receive FDA approval in 2021. This promises longer lasting effects than existing treatments. 
Innovation in dermal fillers – Allergan (the maker of Botox® and Juvederm®) has purchased a type of filler that contains a combination of hyaluronic acid and calcium hydroxyapatite (known as Harmony CA by Luminera). Dr. Sylvia mentioned that with further testing and development, these are likely to combine the strongest advantages of both forms of fillers.
Further advances in body contouring treatments –The published results for the use of an injectable ice solution or "ice slurry" for nonsurgical fat reduction are promising. This has been shown to reduce up to 55% of fat in the treatment area. Dr. Sylvia said this will take some time for clinical use as this technique has only been tested in an animal study. 
All excerpts/quotations were taken from "Beauty Trends 2021: Experts forecast the biggest skincare, hair, and aesthetic trends ahead" by Alli Sim. This story was originally published in Vogue Singapore.