Our very own Dr. Sylvia Ramirez, along with co-authors Gunther Scherz and Prof. Helen Smith, has recently published a scientific paper entitled "Perceived Stress and Interest in Non-Invasive Aesthetic Procedures during the COVID-19 Pandemic" in the Clinical, Cosmetic and Investigational Dermatology, an international, peer-reviewed, open-access journal.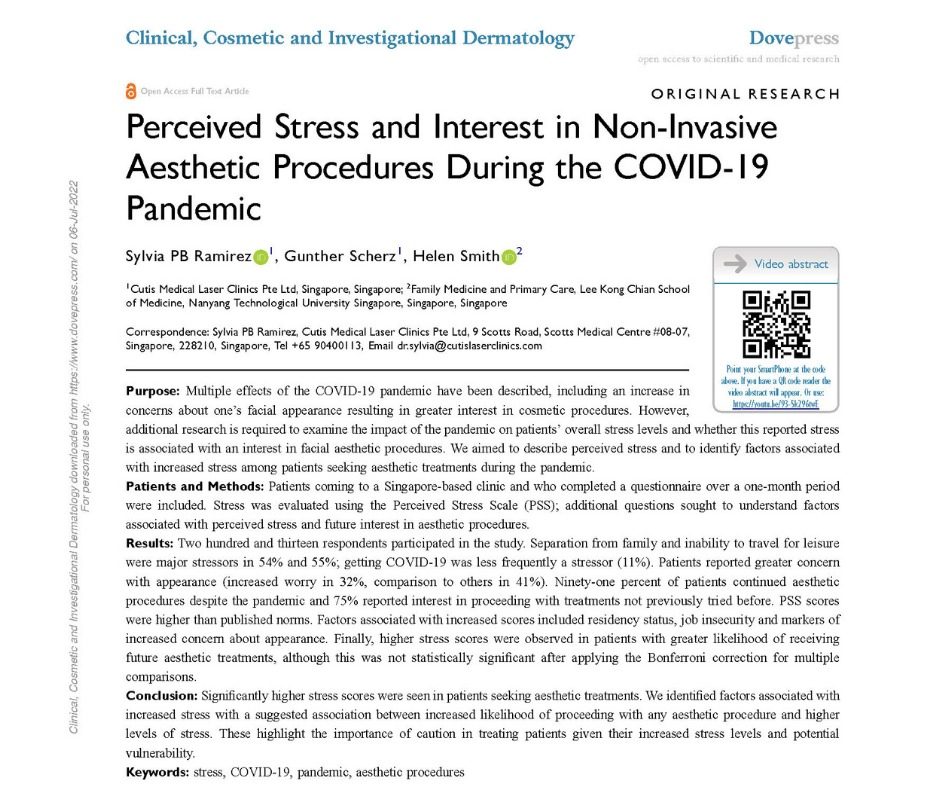 This is the first study to systematically evaluate stress levels in a population of patients coming to a clinic for aesthetic procedures. The study aimed to describe perceived stress and to identify factors associated with increased stress among patients seeking aesthetic treatments during the pandemic. Please listen to Dr. Sylvia's avatar explaining the paper here:

Dr. Sylvia and her co-authors used a questionnaire designed to understand patients' stress levels, factors associated with perceived stress, prior treatment, and future interest in non-surgical facial procedures. The study included patients coming to a Singapore-based clinic and who completed a questionnaire over a one-month period.
Stress was evaluated using the Perceived Stress Scale (PSS); additional questions sought to understand factors associated with perceived stress and future interest in aesthetic procedures. A total of 213 respondents, of whom the majority (93.4%) were female, completed the survey.
The established questionnaire determined that patients seeking aesthetic procedures during the pandemic in Singapore had significantly higher stress levels than published normative levels. Factors associated with high PSS scores include residency status, job insecurity, and markers of increased concern about appearance.
Other findings of the study included:
Separation from family and inability to travel for leisure were major stressors (in 54% and 55%)  

Getting COVID-19 was less frequently a stressor (11%)

Patients reported greater concern with appearance (increased worry in 32%, comparison to others in 41%)

91% of patients continued aesthetic procedures despite the pandemic 

75% of patients reported interest in proceeding with treatments not previously tried before

Higher stress scores were observed in patients with a greater likelihood of receiving future aesthetic treatments
Significantly higher stress levels were found in patients seeking non-surgical facial aesthetic procedures. There were specifically true to those who reported: 
higher degrees of focus on appearance (evidenced by more frequent comparison to others); 

frequent checking of appearance or a greater worry about their appearance. 
It was observed that patients with a high level of stress were more likely to proceed with aesthetic procedures. This highlights the need for caution in managing and treating these patients given their increased stress levels and potential vulnerability.
Learn more about or read the full paper here: https://pubmed.ncbi.nlm.nih.gov/35818390/