Many models and celebrities credit their glowing and youthful skin to drinking lots of water. And while there is no doubt that it is the healthiest beverage in the world, relying on water alone is not enough to improve your skin. It can contribute to an overall healthy skin appearance, but there is no proof that it can hydrate or plump your skin.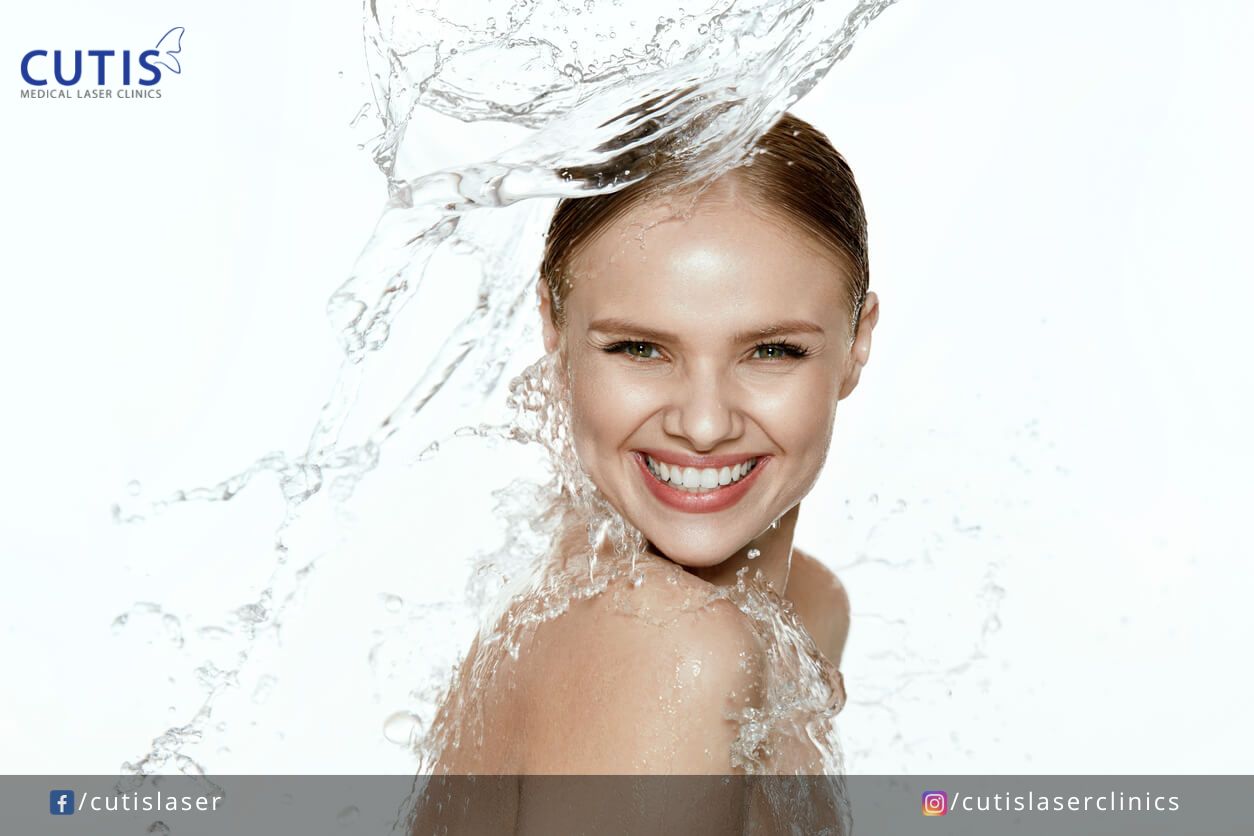 How water affects the skin
The skin is made up of cells, which are mostly made of water. Things such as pollution, exercise, and other daily activities can cause cells to lose water, resulting in dry skin that is more prone to aging, fine lines, and other skin conditions. These cells function better when they're lubricated, which only means that adequate water intake can improve cell productivity, leading to a healthier-looking complexion 
Just do take note that H2O does not go straight to the skin. When you drink water, it goes through the intestines, gets absorbed into the bloodstream, and gets filtered out by the kidneys. Water maintains different bodily functions and flushes out toxins. It is always a good idea to up your water intake, but don't heavily depend on it to boost your complexion. 
What can help hydrate your skin? 
Below are some of the things you can include in your routine to hydrate your skin. 
Use alcohol-free (non-drying) toner
While toner is something that most people skip, it actually offers a range of skin benefits, one of which is providing instant hydration. Just make sure to use it right or leave it damp on your skin. Start with using a gentle face cleanser, move on with applying toner, and then follow up with serum or moisturizer while your skin is damp.  
Doing so can help the serum or moisturizer seal the moisture in, as well as the hydrating benefits of the toner. It is also good to know that many toners contain soothing and nourishing ingredients that can calm irritated skin and help reduce facial redness. Some active ingredients in the toner, furthermore, can enhance your skincare regimen. 
Apply serum before your moisturizer 
Before sealing everything in with your moisturizer, you might want to consider applying a serum underneath it. Serums are lighter formulations made up of tiny molecules that can penetrate deeper and faster than regular face creams or moisturizers. They also quickly absorb into the skin and can help target specific skin concerns. 
If you're looking for a repair serum that can also hydrate the skin, Dr. Sylvia Skin Care's Apple Stem Cell Serum is worth considering. This anti-aging and skin repair formula helps activate skin cell regeneration and stimulate the production of collagen and elastin. It also promotes a youthful complexion by targeting premature lines and wrinkles.
Key benefits include: 
Locks in moisture and prevents dryness

Stimulates the production of collagen and elastin in the skin

Targets premature aging and fine lines

Helps reverse environmental damage
Use a hydrating sheet mask
For extra hydration, use a water-based gel mask or something with hydrating ingredients including glycerin, hyaluronic acid, and panthenol. Cooling masks also have the additional benefit of soothing redness or calming the skin. You can use a sheet mask one to three times a week or follow specific product instructions. 
For a sheet mask that can offer more than hydration. Dr. Sylvia Skin has the Vitamin E Anti-Aging and Firming Facial Mask. This helps minimize the appearance of visible signs of aging, for smoother and more youthful skin. It also has hyaluronic acid that assists in retaining moisture to improve elasticity and promote a firmer complexion.
Other ways to hydrate the skin
Apart from the things mentioned above, consider the following tips to improve skin hydration and prevent dryness. 
Switch to a gentle cleanser; avoid using bar soap.

Use a moisturizer infused with hyaluronic acid.

Quit smoking.

Get enough sleep every night. 

Reduce alcohol or caffeine intake. 

Eat a nutritious diet; include foods rich in fatty acids

Avoid long hot showers (limit them to 5 to 10 minutes)
Cutis as your beauty and skincare partner
Our clinic's skincare line, Dr. Sylvia Skin Care, features an intensive, medical-grade collection that fortifies the skin. We have gentle face cleansers, toners, treatment serums, moisturizers, and sunscreens that can suit different skin types.  
Cutis also offers a range of non-surgical aesthetic treatments that can address different skin concerns. We have injectables, microneedling, lasers and light-based treatments, as well as chemical peels and resurfacing procedures that can help you achieve the skin you deserve. Get in touch with us today to learn more or schedule a consultation with our aesthetic doctor in Singapore.