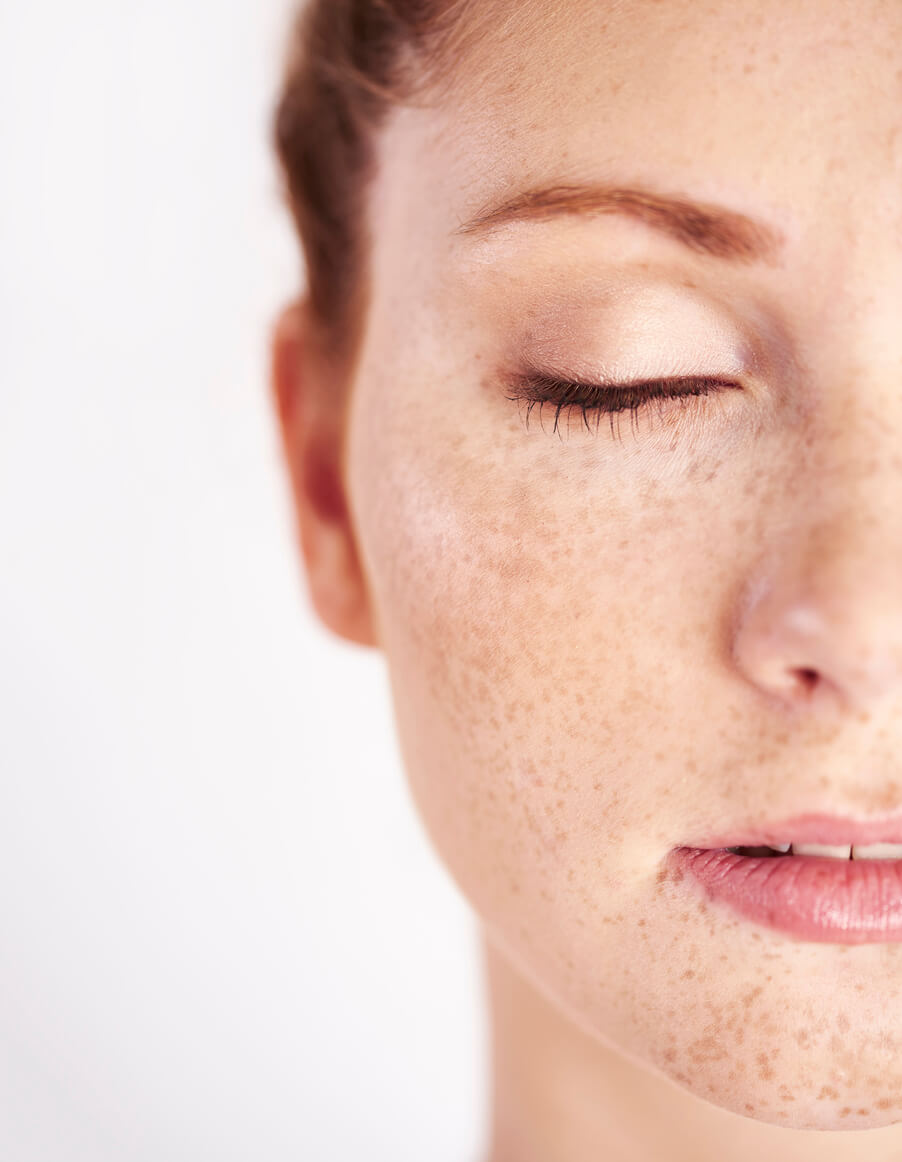 Hyperpigmentation or dark and brown patches can make your skin look dull and aging. It usually appears on areas frequently exposed to the sun, including the face, décolletage, and back of hands. People with darker skin complexion are mostly affected by this concern because dark skin has stronger skin pigmentation.
Hyperpigmentation can take in different forms, such as: 
Age spots (or sun spots)

– These are caused by sun exposure and appear mainly on the face, neck, hands, and arms as small brown patches.

Melasma

– This is most common in women and believed to be caused or triggered by hormonal fluctuations (like pregnancy). This usually appears on the face as brown and grayish patches. 

Post-inflammatory hyperpigmentation (PIH)

– This occurs as a result of skin trauma or injury. Those who suffer from acne commonly have PIH, but there are cases where cosmetic procedures like dermabrasion and laser treatments can cause this.
If you are bothered with skin pigmentation and tried a number of lightening creams, it can be frustrating if you only notice minimal improvement. In cases like these, you might want to consider aesthetic treatments to effectively fade age spots, acne marks, and other types of hyperpigmentation,
Here are some of your options for fading or reducing dark spots in the skin:
Limelight IPL
Limelight IPL treats dark spots, freckles, and pigmentation using an FDA-cleared "intense pulsed light" technology. It can be used on any part of the face, neck, and décolleté with dark spots, skin redness, and tiny facial veins. Light brown spots (which were previously difficult to resolve) also respond well to this treatment.
The procedure works by delivering pulses of light that draws out spots on the top layer of the skin. The pigmentation may turn darker or look worse after the procedure, but this is normal and will soon get better. This will scab and fall off after five to seven days, revealing healthier, brighter skin.
VI Peel
VI Peel is a medical-grade chemical peel that can reduce or improve the appearance of age spots, freckles, and hyperpigmentation. You can also turn to this procedure to clear acne skin conditions, and soften lines and wrinkles. It is safe for all skin types, especially those with oily and acne-prone skin types and dark complexions.
Your skin may appear tan or reddish, but this is normal. The solution will also be left on your skin and can be washed at home after four to five hours. The skin peeling process starts two to three days later and can continue for five to seven days. After this, you will notice healthier and clearer skin.
Cutis Modified Jessner Peel
This peel is a stronger type of superficial-to-medium depth chemical peel that is used on the face area only. It is an effective treatment for acne scarring, and is formulated with lightening ingredients to reduce age spots and pigmentation. Pigmentations caused by acne scars or UV damage also respond well to the treatment. 
Cutis Modified Jessner Peel works by triggering the peeling of the skin, while removing excess oil and dead skin cells. This then reveal a glowing, healthy, and even-toned skin. It can also be combined with Laser Genesis Skin Therapy, an FDA-cleared procedure that can treat uneven texture to improve healing of the skin.
Cutera Pearl Resurfacing
The Cutera Pearl Resurfacing is an FDA-cleared device can treat a number of skin problems such as acne scars, sun damage, freckles, wrinkles, and other types of hyperpigmentation. It improves the overall quality of the skin by providing "stem-to-stern" rejuvenation in less than a week.
Pearl Laser Resurfacing works by using pulses of light directed at the skin's surface. This removes a portion of the pigmented and sun-damaged skin, causing it to produce a natural protective dressing. This will peel off after five to seven days, revealing brighter skin with a "pearly" glow
Schedule a consultation today
Fade dark spots and improve the appearance of your skin with the procedures mentioned above. Contact Cutis Laser Clinics in Singapore and schedule a consultation to determine which treatment suits you best.