Cutis Medical Laser Clinics, a medical aesthetic and laser clinic in Singapore, has been recognized for the third time with an award for excellent customer service by healthcare search engine
WhatClinic.com
, based on feedback by customers over a twelve month period.
The award is based on feedback from patients, and combines scores for excellent customer service and timely consumer feedback. Customers rated clinics based on how well the clinic treated them, how quickly they were contacted and seen, and how happy they were with the treatment.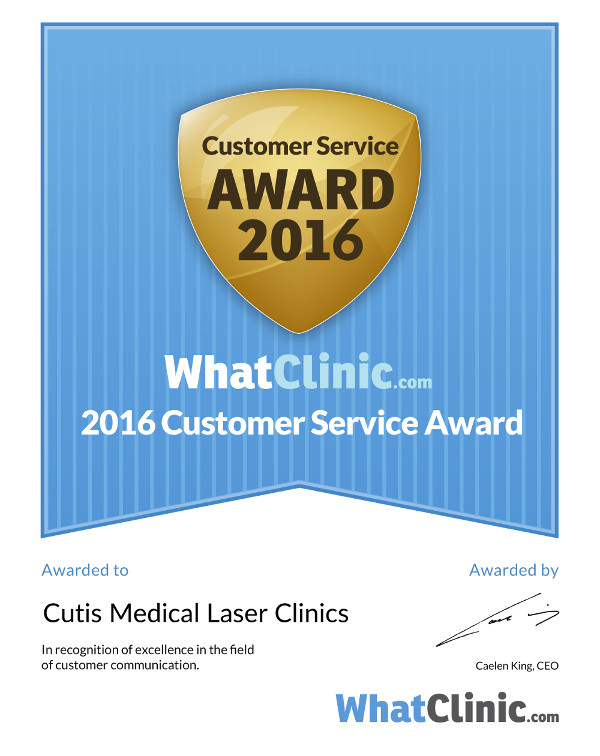 Dr Sylvia Ramirez, the Medical & Scientific Director of Cutis Medical Laser Clinics, said "It is a great honor to win WhatClinic.com's Customer Service Award for three consecutive years. It's a privilege to be recognized once more for our commitment to provide each of our patient excellent customer service". 
"As a practice, patient satisfaction is something we always prioritize in every area of our services and we are grateful to receive such positive feedback from our patients."
Dr Sylvia Ramirez, the Medical & Scientific Director of Cutis Medical Laser Clinics
WhatClinic.com CEO Caelen King congratulated Cutis Medical Laser Clinics and said "This is the 7th year we have run these awards. Every year, the standard goes up and up – and I'm delighted to recognise those clinics that are putting the needs of the patient first, every single day".
"It's the customer who selects our awards winners, by their clinic ratings and the feedback they leave about service and experience. We believe that empowering the patient with accurate information is the future of a successful healthcare market."
WhatClinic.com
is a clinic comparison site that lists over 100,000 clinics globally. In the last year over 15 million people visited the site to find, compare and book treatments across a wide range of elective, self-pay medical treatments.
About Cutis Medical Laser Clinics
Cutis Medical Laser Clinics, an award-winning aesthetic clinic and age management clinic in Singapore, is based on the fundamentals of scientifically proven "evidence-based" aesthetic treatments.
We focus on patient education and are committed to providing our patients extensive information about any proposed treatment plan.