Dear valued patients,
At Cutis Medical Laser Clinics, your safety and wellbeing are of utmost importance. We have precautions in place and want to let you know about the measures during COVID-19 we are taking to ensure your health and safety during a visit or appointment.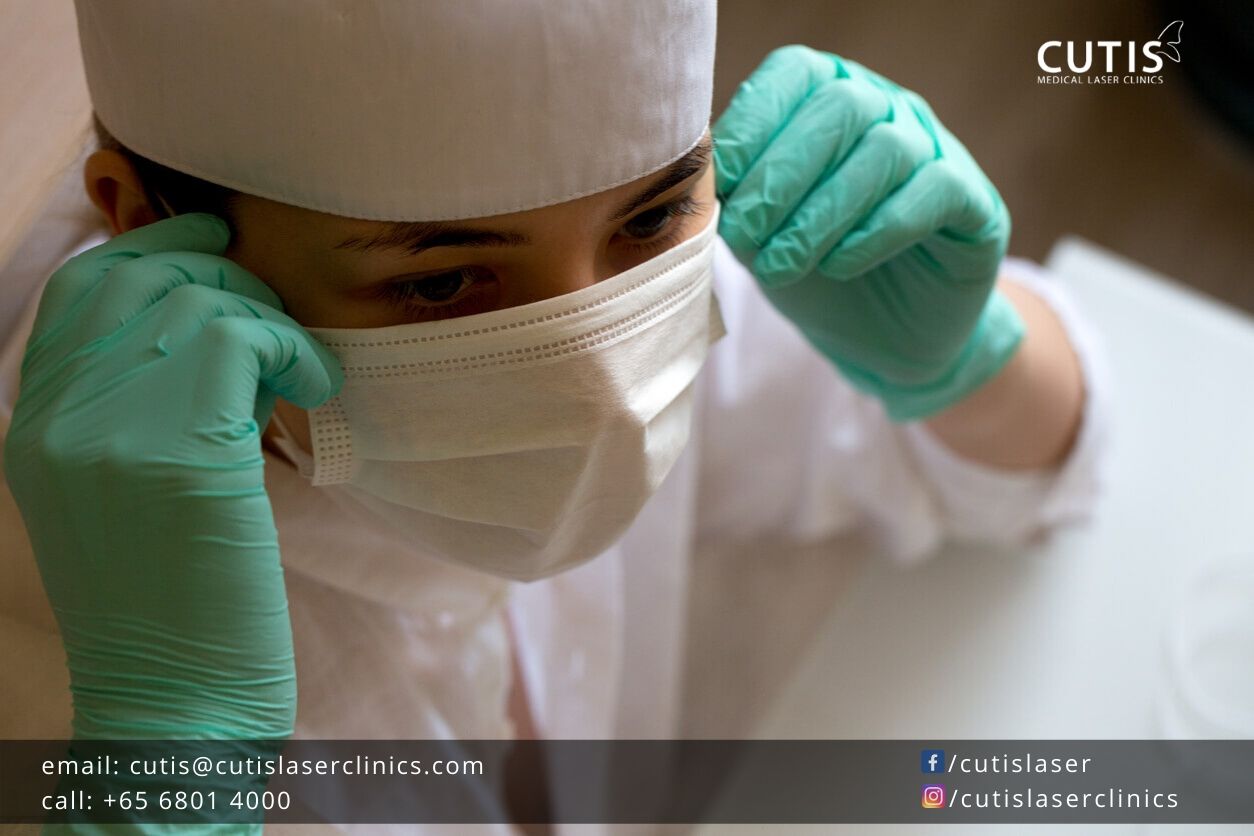 Here are the ways we are keeping you, our staff, and clinic safe during COVID-19:
We have implemented SafeEntry for better contact tracing. Both staff and patients have to login and out each time they come for an appointment.
To reduce waiting times, we have designed a new secure online consultation form to be used for all consultations – both in clinic and video consultation. Patients can fill out this online consultation form at the comfort of their home and submit it before the actual consultation thus cutting down on time spent in the clinic.
To minimize exposure to anyone else, we have no waiting area. You are directed to your own treatment room as soon as you walk in.
Checking out is made simple. You can now checkout in the treatment room so you don't have to wait in the front desk area.
To minimize unnecessary exposure, we will continue to encourage you to schedule video-consultation and video-follow-up with Dr. Sylvia instead of face-to-face consultation.
With or without the threat of a virus, the cleanliness of our clinic remains a top priority. We are aggressive with our clinic cleansing protocols:

Frequent touch points are cleaned every 2 hours with 70% alcohol.
Doorknobs and handles are wiped after every patient.
Treatment rooms and chairs are wiped with 70% alcohol after every patient.
Floors are cleaned with disinfectant on a daily basis.
Additional precautionary measures for our staff have also been implemented:
All Cutis staff use the Trace Together app – https://www.tracetogether.gov.sg/. This facilitates contact tracing should any of us be inadvertently exposed to a COVID-19 case.

We check our staff's temperature twice a day. Anyone who is not feeling 100% cannot come to work.
We use PPE including masks, gloves, face shields, and isolation gowns to protect both patients and staff.
We stagger our team's work hours and lunch breaksto maximize safe distancing among our staff.
We assign each staff member to dedicated treatment rooms. This is to ensure that they don't gather amongst themselves.
One front desk staff will be at the back office room at all times and there will be a maximum of two people at the front desk at any given time.
Our precautionary measures for patients:
Upon confirming your appointment the day before, we will ask you about your health status and travel history. If you have any symptoms whatsoever, even if minor, or if you are not feeling 100%, please call and reschedule your appointment.
Please come to the clinic with a mask. If you don't have one, we will provide you with one. We will also continue to check your temperature when you come in.
We will ask you to sign-in and sign-out of the Cutis SafeEntry QR code. Please note that this differs from the Scotts Medical Centre SafeEntry procedure on the ground floor. We ask that you arrive 5 minutes prior to your appointment because of these safety steps.
We will continue to honour your schedule so that you are in the clinic setting in as short a time as possible.
We will ask that you keep on your mask for all procedures as much as possible. We can move around the mask even while doing injectable. This ensures your safety all throughout the treatment process.
We will remain hyper vigilant about safe-distancing policies during the numbing process and before your procedure.
If you have any concerns or questions, please don't hesitate to contact us. Thank you for your continued trust in Cutis Medical Laser Clinics in Singapore.
Sincerely,
Dr. Sylvia and the entire Cutis Team.