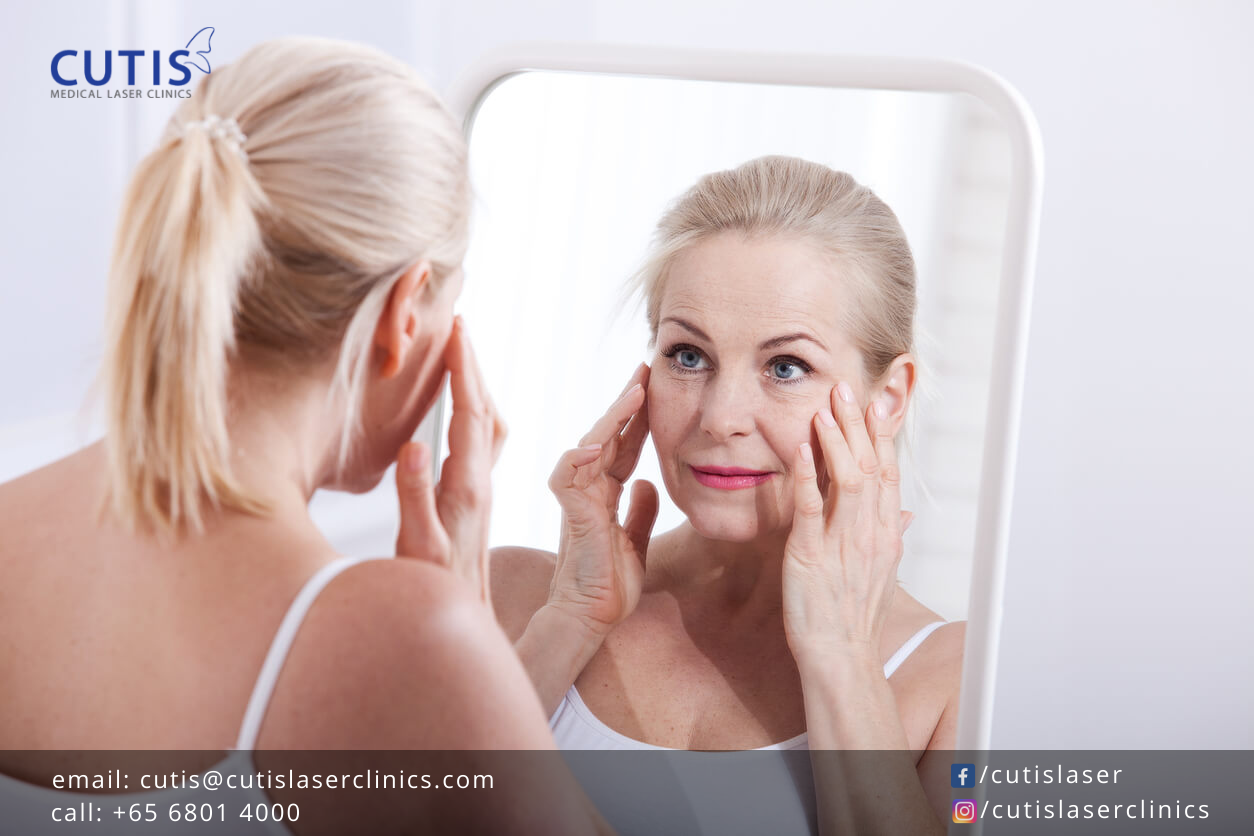 While crepey skin is generally associated with old age, aging is not its main cause. Sun damage is usually the culprit, as UV rays weaken the collagen and elastin that keep the skin firm and tight. When this happens, the skin begins to lose its ability to snap back or return to its regular state after being stretched repeatedly. 
Aging still plays a big role in the formation of crepey skin, but excessive sun exposure is its common cause. There are, however, other factors that can contribute to crepiness or skin crinkling. These include:
Cigarette smoking

Drastic weight changes

Poor nutrition

Sleep deprivation

Lack of moisture

Gravity
Can you fix or reverse crepey skin?
Moisturizers or serums with anti-aging ingredients can help improve the look of the skin by smoothing wrinkles and some crepiness. They can keep the skin moisturized, which is beneficial in reducing the appearance of visible signs of aging. Unfortunately, they have their limitations and cannot reverse or dramatically improve crepey skin. 
To prevent crepey skin or prevent it from becoming more visible, it is best to stay away from direct sunlight or limit sun exposure. Practicing other sun protection measures such as applying broad-spectrum sunscreen, wearing protective clothing, and seeking shade is also recommended. 
What about aesthetic treatments?
As you can't solely rely on at-home fixes in treating crepey-looking skin, non-invasive treatments can help. At Cutis, we have a new addition to our range of skin tightening treatments – the NIR (Near Infrared) Skin Tightening or Cinderella treatment. It can treat aging, sagging, and crepey-looking skin.
What is it: NIR Cinderella treatment is a non-invasive skin rejuvenation procedure that tightens and contours the skin, as well as improves cellulite appearance. At Cutis, we use the Alma Laser with the NIR handpiece, which sends pulsed light to heat the subdermal tissue (below the top layer of the skin). This stimulates new collagen that helps tighten and rejuvenate the skin.
How it works: NIR Skin Tightening heats the skins' deeper layers and the water in the tissues with a high-power light source in the near-infrared spectrum. This causes the collagen to tighten and contract, and stimulates the fibroblast to build new collagen and repair skin cells. 
NIR only heats the skin layers with collagen (subdermal tissues), which only means that it doesn't affect the skin's surface layer. It also utilizes the In-Motion technique, which allows the handpiece to be moved around, instead of being held still. This provides effective treatment, while still being less aggressive than chemical peels and laser resurfacing. 
Why is it called the Cinderella treatment: This non-invasive procedure transforms the skin with almost no downtime and fewer side effects. It can lift, tighten, and contour the skin, making you feel as if you're transformed as Cinderella. The noticeable glow and immediate tightening will allow you to experience a "Cinderella Effect".
Who is NIR Skin Tightening for: The treatment is suitable for all skin types and patients wanting to treat sagging and crepey skin non-invasively. It can treat different areas of the face and body, such as the:
Cheeks

Forehead

Crow's feet

Chin and jowls

Neck and décolleté 
What results to expect: Most patients notice firmer-looking skin soon after the procedure. This is partly due to the slight swelling of the skin following the treatment. When this subsides, you'll see more changes, with the treated area feeling smoother and firmer. Full effects show up within two to three months or the period where the skin begins to build new collagen.
Are there any other options to improve crepey skin? 
Apart from lasers or light-based treatments, injectables like fillers and skin boosters can also help with crepey-looking skin. 
At Cutis, we have the Juvéderm Volite, which is a skin booster that can hydrate crepey and dry skin. This FDA-cleared skin booster can also reduce rough, scaly texture, as well as even out skin depressions. According to clinical studies, it can reduce fine lines and improve elasticity and hydration for up to 9 months with just a single treatment.
We also have Radiesse, which is a US FDA-cleared dermal filler that can replenish volume loss. It can improve folds and wrinkles, correct volume loss in the hands, and stimulate collagen production. This filler also has a volumizing effect that immediately provides the lift needed to reduce signs of aging.
These injectables can improve crepey-looking skin by injecting a substance (like hyaluronic acid or calcium-based microspheres) under the skin. They involve the use of needles and require touch-ups, as the results are temporary.
Schedule a consultation today
If you're looking to avoid cuts and needles to improve crepey skin, NIR Skin Tightening treatment may be right for you. Contact Cutis Medical Laser Clinics in Singapore today and schedule a consultation with our aesthetic doctor to learn more about Cinderella treatment or to find out which non-surgical skin tightening procedure is right for you.