When you first get stretch marks, they usually look red or purple, depending on the color of your skin. Newer marks tend to have a brighter hue than older ones, as the stretched lines across the skin enables the blood vessels beneath to show through. They can also turn lighter over time and become silver or white.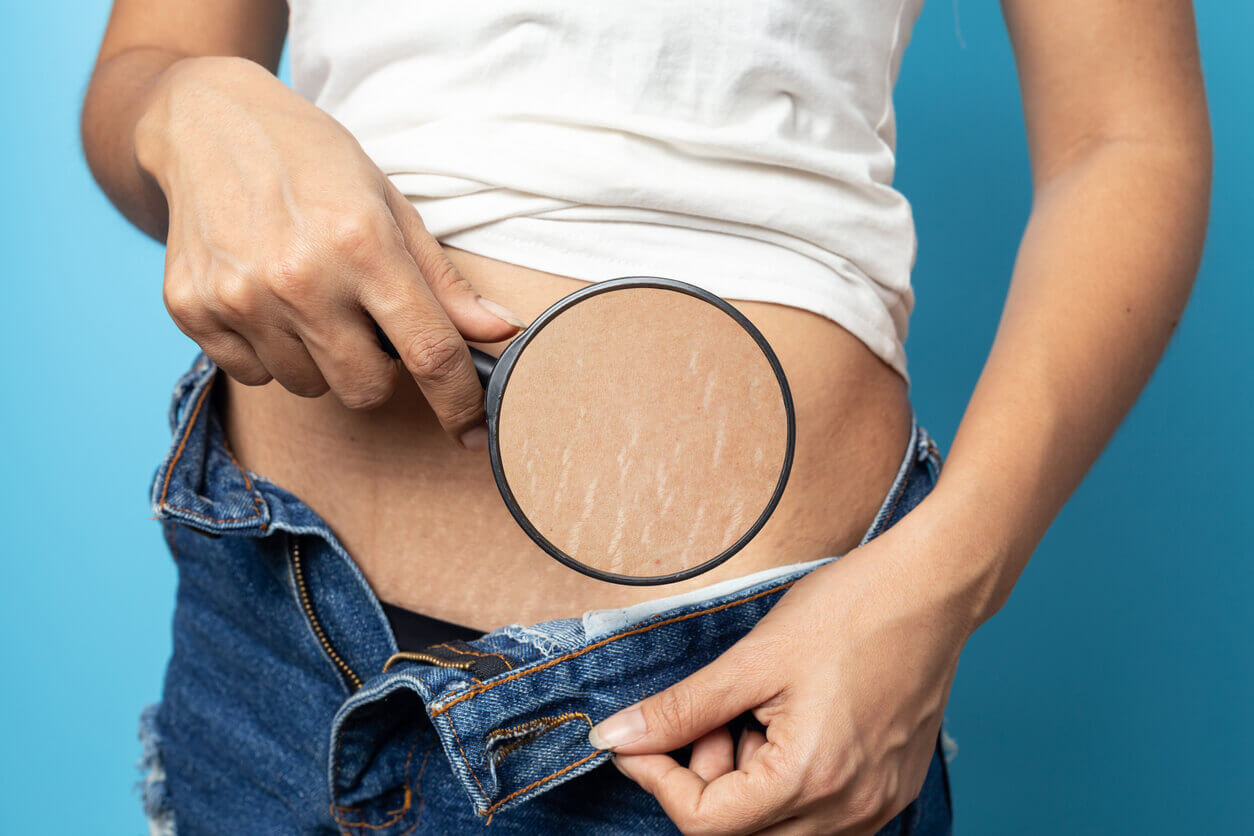 In our previous blog about the color of your stretch marks, we mentioned that old or mature (silver and white) stretch marks are more difficult to treat than red or new ones. This is because the blood vessels have already become narrow, which then makes it harder to stimulate collagen production. 
The good news is there are some aesthetic treatments that can improve their appearance or help them fade faster. Continue reading to learn more about your options.
Dermapen 4 Microneedling
Dermapen medical microneedling is an automated skin-needling device that can improve the appearance of your stretch marks. It can also address a number of skin problems such as acne and surgical scarring, fine lines, pigmentation, enlarged pores, and sun damaged skin. 
The procedure works by creating thousands of miniscule needle punctures in the skin's outer layer. The Dermapen device precisely controls these pricks, breaking up uneven scar tissues and stimulating the growth of new ones. It also promotes the regeneration of skin cells for a smoother and healthier skin. 
At Cutis Laser Clinics, we have the Dermapen 4, which is the latest innovation in microneedling technology. It is the only skin needling device with a dedicated scar setting and protocols for revision of deep and atrophic scars. One popular Dermapen scar treatment is for the treatment of both old and new stretch marks. 
The new Dermapen also features AOVN4 Technology, which is exclusively found in the device. This ensures that patients are at ease and more comfortable during the procedure. The device was designed to be light and precise during the treatment, so no numbing agent or cream is required,
Acoustic Shockwave Therapy
Acoustic shockwave is an FDA- cleared non-invasive procedure that directly targets the soft tissues to improve the skin's appearance. It can be used in different parts of the body, including the upper arms, stomach, thighs, and buttocks. It is clinically proven for:
Stretch marks reduction

Cellulite reduction

Toning and smoothing the skin

Improving scar appearance

Firming and tightening loose and sagging skin
At Cutis Medical Laser Clinics, we have the two clinically proven acoustic shockwave therapies in the market: BTL X Wave and Zimmer Z Wave.
Both X Wave and Z Wave use a handheld device that sends acoustic waves into the body. These cause vibrations and pressures that target the connective tissues. The acoustic pulses also stimulate collagen formation to make the skin more elastic and firmer after just a few sessions. 
Acoustic shockwave therapies are tolerable and take at least 30 minutes for most areas of concern. It also has a multiple layer effect, with patients typically experiencing improvement in the skin's texture and elasticity, including dermal firming and reduction of aged and loose skin appearance.
Schedule a consultation and body assessment
While stretch marks pose no harm to your body, we understand that this skin condition can sometimes affects other people's confidence. This makes nonsurgical aesthetic treatments like Dermapen 4 and acoustic shockwave therapy worth considering.
If you're bothered about the appearance of your stretch marks, don't hesitate to explore other options. Contact Cutis Medical Laser Clinics in Singapore today and schedule a body assessment and consultation with one of our aesthetic doctors to find out which procedure suits you best.