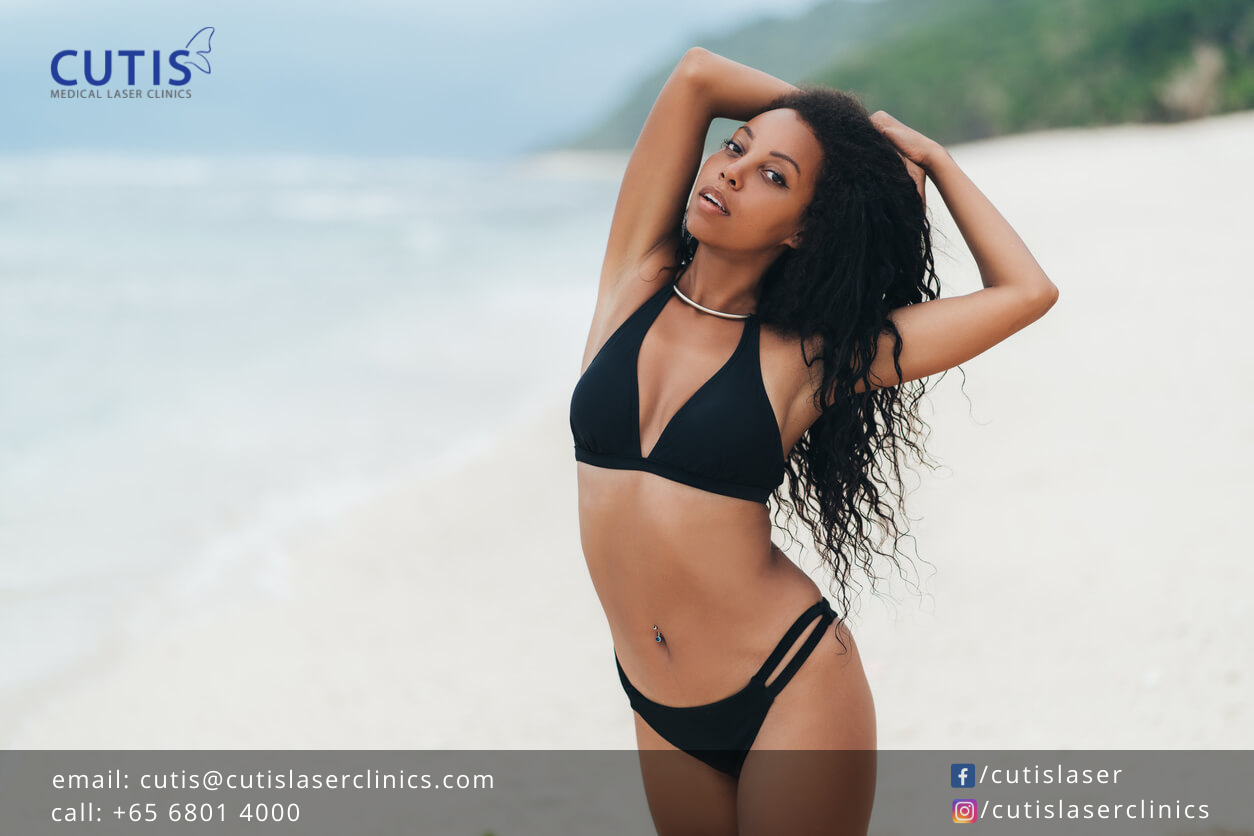 Light-based hair removal procedures help you achieve permanent hair reduction by targeting the pigment or melanin in the hair. It involves the use of a handheld device that delivers light pulses/energy into the follicles. This energy is then converted to heat, damaging the follicles and inhibiting future hair growth. 
The color contrast between the skin and the hair allows the device to primarily target and heat the hair's pigment. Unfortunately, melanin pigments are not just present in the hair; it is also in the skin. This left many wondering if light-based technologies are suitable for darker skin types or how effective they can be if you don't have fair skin.
With the way these devices or technologies work, these concerns about hair removal are warranted. It is important to know, however, that there are also light-based procedures that can treat different types and tones, including light, dark, and tanned skin. This is especially true for the Cutera CoolGlide Laser (Nd:YAG).
The basics of Cutera CoolGlide Laser hair removal
At Cutis Medical Laser Clinics, we use the Cutera CoolGlide Laser, which is an FDA-cleared laser technology for permanent hair reduction. It uses a handheld device that delivers concentrated pulses of light, targeting the follicles. The hairs' pigment absorbs the light and converts it to heat, damaging the follicles and stunting hair growth. 
This device has a built-in cooling design that cools the skin as it glides along. It also has the ability to create longer wavelengths and delivers light energy to hundreds of hair follicles at a time. This only means that it can effectively treat a large area in a short amount of time. 
Cutera CoolGlide's innovative cooling design and longer wavelength provide long-lasting and permanent hair reduction results. This also allows for a safe and effective treatment that works on all skin types and tones, including those with darker and tanned skin. It works best on coarse hairs, but it can also treat areas with fine hairs. 
Laser hair removal can also treat nearly every part of the body, including the:
Face

Arms

Underarms

Chest

Back 

Legs

Bikini area
Are the results permanent?
Some hair growth after the treatment is normal with light-based hair removal  procedures. This, however, does not mean that it is ineffective or unsuccessful. One important thing you should know about laser and similar hair removal procedures is that they are effective at reducing the number of hairs in the treated area. 
Laser hair removal can target about 80 to 90% of your unwanted hair. Any hair left behind should be fine and light. There are also cases where the damaged follicles heal, which causes regrowth. The hairs, however, are much finer because the pigment is removed during the treatment. This is why multiple sessions are recommended.
The number of treatments needed will depend on different factors. These include the treated area, the amount and density of your hairs, and their growth cycle. Not all hairs are in the active growth stage (anagen) at the same time. CoolGlide laser and similar methods only treat and disable hairs in the active growth phase at the time of the procedure.
Why choose Cutera CoolGlide Laser
Shaving, waxing, and plucking have short-lived results and need to be repeated over and over again to have silky, smooth skin. The Cutera CoolGlide Laser offers lasting results and permanent hair reduction. Its benefits include:
Works on all skin types and tones, from light to dark, as well as tanned patients

Can remove hair from all areas of the body

Cost-effective in the long-term (lets you save on razors, wax, shaving creams, etc.)

No local anesthesia or pain medication required (some may prefer to use a topical anesthetic on sensitive areas)

Good for the environment (reduces plastic, water, and paper waste)
Read our previous post and find out what you can expect with laser hair removal.
Are you considering Cutera CoolGlide laser hair removal for yourself? Make sure to only get the treatment in a clinical setting with aesthetic doctors on-site to perform or supervise the procedure. This is to make sure that the device is authentic and to have a safe and effective treatment. 
Want to learn more about laser hair removal for dark skin or find out if this method is right for you? Contact Cutis Medical Laser Clinics in Singapore today and schedule a consultation with our aesthetic doctor.