Shaving remains the most popular way to remove pubic or bikini hair because it is quick, easy, and produces instant results. Unfortunately, there are downsides to this method. There is always the risk of cutting yourself and having ingrown hairs, which can be painful and cause inflammation. Other concerns include razor burns and quick hair growth.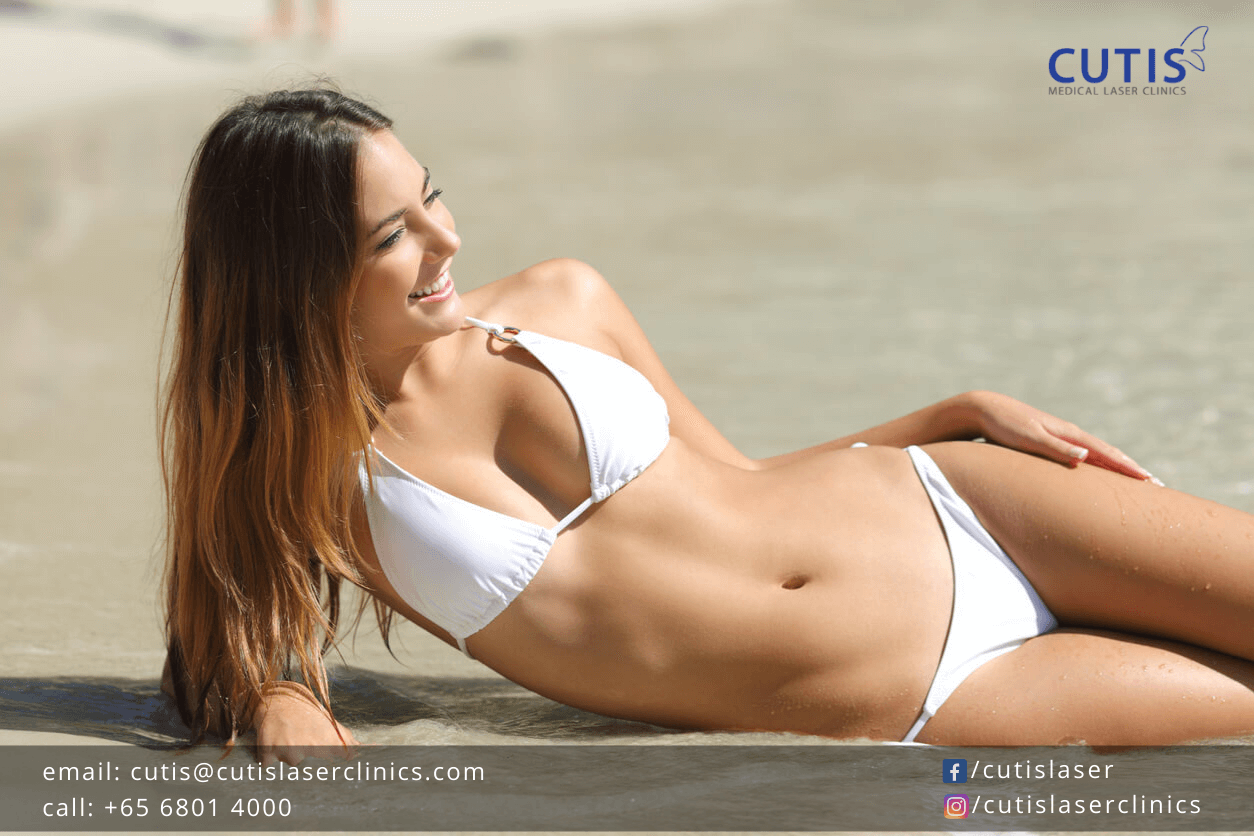 These downsides have many exploring other ways to get rid of the hair down there. If you have the same concerns and are looking for a hair removal method with less side effects and long-term results, you can consider bikini or Brazilian laser hair removal. Both involve the use of a laser device to inhibit the growth of hair.
How laser hair removal works
As its name suggests, laser hair removal uses laser technology for permanent hair  reduction. It uses a handheld device that emits concentrated pulses of laser light, targeting the follicles. The laser light heats the root, which then destroys the follicles and stops future hair growth. 
Professional laser devices can heat hundreds of hair follicles in a short amount of time. The melanin or the pigment of the hair absorbs the light, damaging the follicles so the hair won't grow. In-office laser hair systems are more powerful than at-home devices and can treat almost any part of the body, including sensitive areas like the bikini line.
Bikini or Brazilian laser hair removal
With either bikini or Brazilian laser hair removal, you can say goodbye to shaving or waxing, and all associated side effects. Both are also more longer-lasting, so you can experience smooth and clean skin for a longer time.
Bikini laser hair removal 
The bikini line refers to the area outside the panty line or the side of the pubic area. A traditional bikini laser hair removal usually covers up to three inches beyond the bikini line and may include removing hairs in the top of the pubic area. This makes sure that you'll look smooth and hairless when wearing bikinis and panties.
Brazilian hair removal
This method involves removing all (or most) of the hairs in your pubic area. You may choose to leave a small stripe in the center of the pubic region, but it could also be a triangle or any other any other custom shape you prefer. There is also a full Brazilian method which involves removing all of your pubic hair, including in the labia and perianal regions. 
Keep in mind
Do take note that both methods require several sessions to remove all or most hairs. These can be spaced out every few weeks to make sure that the follicles are destroyed' leading to permanent hair reduction. The number of sessions also vary from patient to patient, depending on the number of your hairs and hair color. 
Laser hair removal on the bikini line and pubic region will help create a smooth and flawless appearance down there. This will also prevent any nicks, cuts, irritation, and stubbles. You won't also have to worry about quick hair growth and ingrown hairs, which are common concerns in shaving and waxing. 
Why choose Cutis Medical Laser Clinics for laser hair removal
Whether you're looking to remove unwanted hair in your face, arms, chest, bikini, and other areas of the body, we got you. At Cutis Medical Laser Clinics, we use safe and effective laser technologies for permanent hair reduction. We also have trained and skilled aesthetic doctors and aestheticians to perform a professional laser hair removal procedure. 
New and existing patients may also be glad to know that we have received the Silver Award for Best Hair Removal in the Expat Living Readers' Choice Awards 2021. We also have other permanent hair reduction devices, including the
Cutera CoolGlide Laser

– FDA approved for permanent hair reduction 

ProWave IPL Hair Removal

– ideal for patients with medium skin tone and dark-colored hair

LHE® hair removal

– uses both light and hear and is a good choice for those darker and sensitive skin types

Nd: YAG 1064 nm laser

– ideal for patients with darker skin types
To learn more about our services or to schedule a consultation with our aesthetic doctor, contact Cutis Medical Laser Clinics in Singapore today.