The very first signs of aging start to become apparent around the age of 25. From there, more and more signs are likely to present themselves as you grow older. From age spots and redness to dark circles and lax skin, there are a number of red flags that make it clear that your skin is not as young as before.
Here's a closer look at these signs and what you can do to slow down the aging process.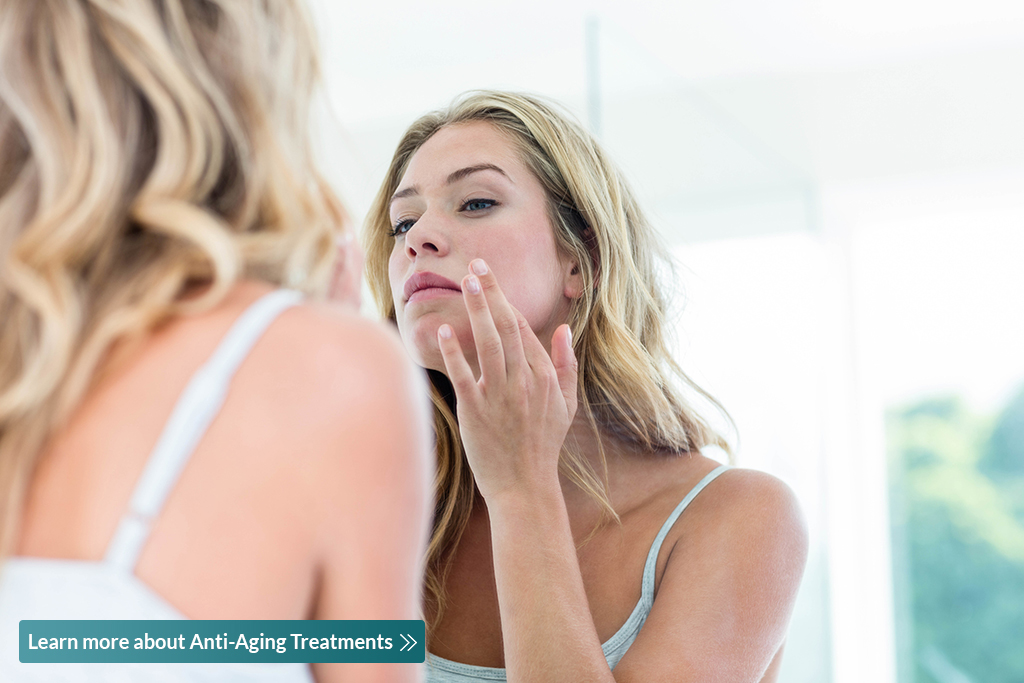 1. Age Spots
Age spots are caused by an excess production of melanin, otherwise known as the skin pigment. While the exact cause of age spots is sometimes unclear, most doctors associate these dark spots with sun exposure and aging skin.
Limelight is a safe and effective solution for removing age spots and other types of pigmentation. This US FDA-cleared treatment works by delivering intense pulsed light (IPL) at the skin which draws out brown spots from a deeper layer to the surface.
After the procedure, the treated area will scab and fall off after three to five days with results noticeable in one to three weeks. This results in a brighter skin free of age spots and pigmentation.
2. Redness
Facial redness can be caused by many things, such as sun damage, broken blood vessels or acne. While sometimes redness is congenital, other times it develops with age. There are several non-invasive treatment options that can help reduce redness.
Laser Genesis can help to gently treat and reduce rosacea using US FDA-cleared laser technology. It safely, discretely and effectively treat redness as well as fine lines, enlarged pores and uneven skin texture. Since Laser Genesis is non-invasive, there is no downtime so you can go back to your activities after the procedure.
3. Dryness
Dry, flaking skin is a common problem among adults. With age, the loss of oil glands can cause the skin to feel dry and rough. One simple solution is to establish a good skin care that addresses your dry skin.
Use a gentle foaming wash that does not strip off moisture from your skin. Make sure to add in anti-aging serum such as Fibroblast Growth Factor Serum which is formulated with three plant stem cells that hydrates your skin while preventing collagen breakdown. After your serum, make sure to top it off with a good moisturizer for day and night.
4. Wrinkles
Wrinkles are a normal part of the aging process, caused by the breakdown of collagen and elastin. Over time, the skin becomes drier, thinner, and less elastic. The good news is that most moderate to severe wrinkles can now be removed with the help of non-surgical treatments such as Botulinum Toxin (Botox) and Fillers.
Botox wrinkle treatment in Singapore is one of the most commonly used treatments to smooth out frown lines and wrinkles on the forehead, in between the eyebrows and line in the corners of the eyes.
Botox works by temporarily relaxing wrinkle-causing muscles, resulting in a smoother and youthful appearance. It takes at least 5 to 7 days before the effects of Botox and to see a reduction in the lines and wrinkles on the face. While it will take 2 weeks to see the full effects.
Make sure to consult a certified aesthetic doctor who is a conservative injector and who has many years of experience providing natural results.
5. Dark Circles and Eye Bags
Many things can contribute to dark circles, such as dilated blood vessels, excessive rubbing of the eyes, or sleeping on your stomach. Another cause is aging or loss of volume which also forms under eye bags or tear trough.
Facial fillers are a safe, non-surgical procedure that effectively treats dark circles and eye bags. Facial fillers are injectable gels commonly made of hyaluronic acid, the same substance that occurs naturally in the body including the skin, resulting in a soft, full and natural look.
Fillers work by 'filling in' the areas under the eyes so that the sunkenness will be reduced. The improvement can be seen immediately after the procedure but the full results will only be seen after 2 weeks.
Juvederm range of fillers are commonly used as these are US FDA-cleared which give immediate results, and can also be used to improve different lines on the face, add volume to the cheeks, fill the lips as well as to correct nasolabial folds. Fillers can last from 9 to 12 months depending on the type of filler used. Minimal swelling and bruising can be expected after the procedure which will eventually subside after a few days.
6. Laxity
Diet, stress, sun exposure, smoking, weight fluctuations, and natural aging can all contribute to skin laxity. For sagginess in the facial area, a non-invasive face lift is the key.
Among the well-known skin tightening in Singapore is Ultherapy, a US FDA-cleared non-invasive facelift procedure. Ultherapy works by delivering ultrasound energy into the deeper layers of the skin to stimulate new collagen production without any surgery or downtime.
This results in a gentle lift and naturally tighter skin, helping you achieve a fresher, more youthful look from your brow to your face and jawline, to your chest. Since there is no downtime, you can go back to your normal activities after the procedure.
Another treatment that helps to lift sagging lower jawline is the PDO Thread Lift. In Cutis Laser Clinics, we use Dr. Perfect V-Line Thread Lifting procedure that uses KFDA-cleared PDO threads, a safe dissolvable thread that has been used in medicine for 30 years.
The PDO thread lift procedure starts with the application of numbing to improve patient comfort. PDO threads are then inserted under the skin either with fine needles or with cannulas creating an immediate lifting effect. No cut is required. Once the threads are in place, slight compression of the tissue will be done to reshape it by hand and to obtain the desired lifting effect.
Is your skin losing its youthfulness? If so, it may be time to consider the above non-surgical procedure to restore your youthful look. Consult our skin doctor at the Cutis Laser Clinics in Singapore to find out more about these procedures.
Tags: Anti-Aging Treatments, Botox, Fillers, Pearl, Laser Genesis, Limelight, Ultherapy, Exilis, Titan