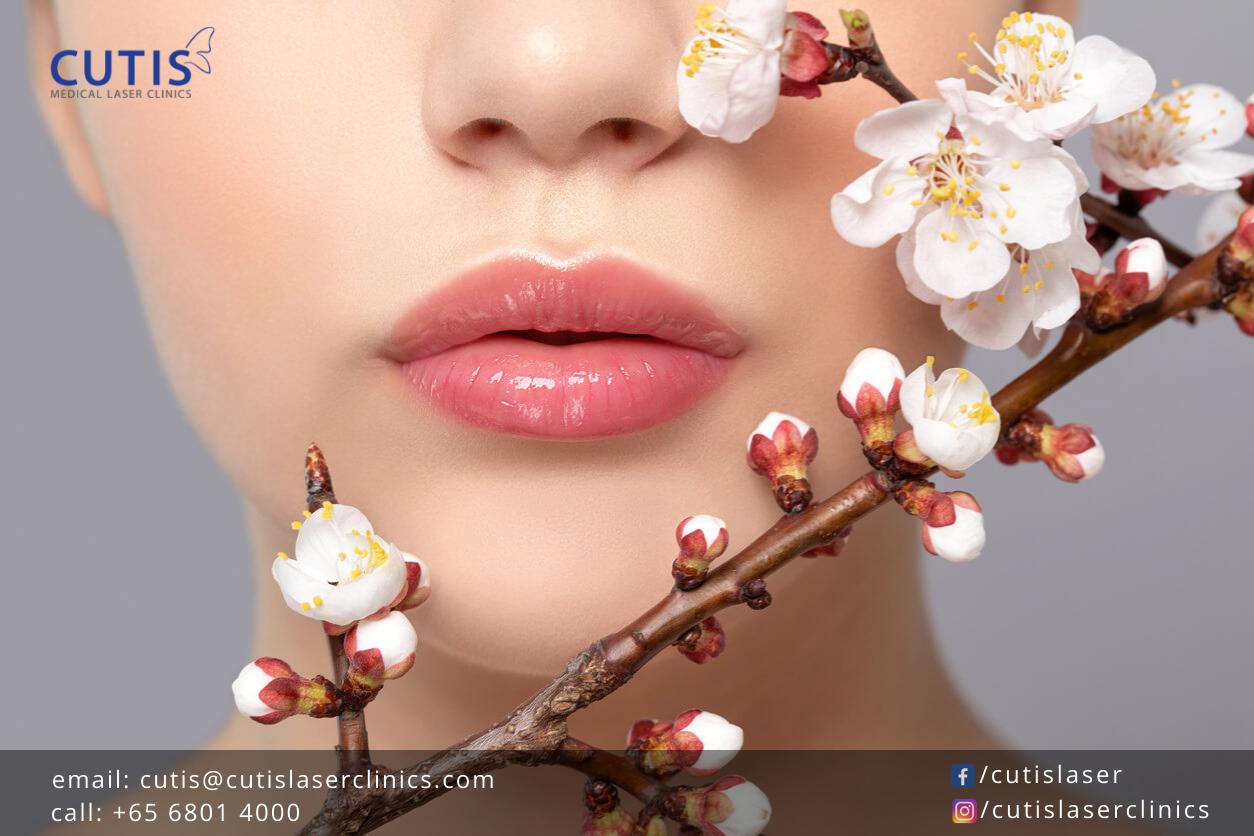 Whether you're planning to kiss someone special at midnight on New Year's Eve or just want to have fuller and plumper lips at the start of 2022, you need to prepare now. Having a regular lip care routine can do wonders, as well as giving your pout the attention and care it deserves. 
Here are some tips on getting your lips ready for the New Year: 
1. Exfoliate your pout
Restore some shine and softness onto your pout by gently exfoliating your lips. This helps remove dry, flaking skin and increase blood flow to the area, giving your lips a plumper appearance. Exfoliating dead skin cells also reveals fresher and smoother skin underneath, which allows for an even lipstick application that is likely to last longer.
There are many ways to do this, but make sure not to scrub aggressively to avoid irritating or damaging the delicate skin. Here are a few tips for exfoliating your lips.
Be gentle

– Use a soft-bristled toothbrush and gently exfoliate the area using small circular motions.

Know what's in your lip scrub

– If you're buying a lip scrub, choose one made with gentle or natural exfoliants like sugar. Those with vitamin E and shea butter are also good choices, as they nourish and hydrate your lips. You can also make your own by combining a teaspoon of honey and two teaspoons of sugar, and gently massaging the mixture onto your lips. 

Don't go overboard

– Exfoliate your lips once a week. Overdoing it can contribute to cracks in the skin and aggravate dryness and scaling. 

Moisturize after exfoliating

– After sloughing off the dead skin cells, rehydrate your freshly exfoliated skin using a hydrating lip balm or petroleum jelly. 
2. Choose lip products with hydrating/nourishing ingredients 
When buying a new lip balm, make sure to choose a product that can moisturize and soothe dry lips. Petroleum jelly-based products are a good choice, as they create a protective barrier and lock in moisture. Those that contain SPF, shea butter, beeswax, and vitamin E are also great for your lips. Just be sure to avoid flavored ones or those that contain mint or menthol.
The same goes for lipsticks or glosses. If you have dry lips, a creamier, hydrating formula is better than matte lipstick. The latter contains less oil and more wax, which can then dry out your pout or make dry lips worse. For lip glosses, be sure to find one that is non-sticky.  
When it comes to lip plumper glosses, you need to be aware that they can also dry out your lips. This is because they contain ingredients that intentionally irritate the delicate skin of your mouth. It then causes the blood to rush to that area and cause a bit of swelling, creating a plumper appearance. Using such products regularly can lead to rashes, drying, and flakiness. 
3. Avoid habits that can lead to dry or chapped lips
Neglecting them (or not having a proper lip care routine) can sometimes contribute to dryness or chapped lips. Here are some of the habits that can lead to chapped lips or exacerbate lip dryness. 
Not protecting lips from the sun

– Don't neglect your lips. If you're going out in the sun, use a lip balm with sunscreen to keep them from getting dry or sunburned.

Using flavored or scented lip balms – Added flavoring and synthetic fragrances in lip balms can dry out skin or irritate it. Other ingredients that can worsen dry lips include humectants, menthol, camphor, and phenol. 
Constantly licking your lips

– Doing so dries out your lips even more. Although saliva may seem to add moisture instantly, it also evaporates quickly, leaving the skin drier than before. 

Dehydration

– This can come from consuming too much caffeine or not drinking enough water. Make sure to stay hydrated and use a humidifier to add moisture to the air and help your skin stay supple and your lips hydrated. 

Mouth breathing

– This dries out the mouth, giving you flaky or chapped lips. Breathing in and out of your mouth causes you to expel hot air, which then allows the moisture to evaporate quickly from your lips.  
4. Consider dermal fillers
Lip fillers can give you a plumper, fuller, and more kissable pout this coming New Year. These injectables are ideal if you have naturally thin lips, are noticing lines and volume loss changes due to aging, or just want to improve the overall appearance of your lips. 
What are they made of: Lip fillers

are commonly made with HA or hyaluronic acid, a naturally occurring substance in the body responsible for water retention.

Juvéderm

Ultra, Volift, and Volbella all contain HA and are US FDA-approved for lip enhancement. 

How do lip fillers feel:

You'll enjoy an enhanced pout, but retain the natural texture and softness of your lips. Kissing won't feel weird or different. And with quality

lip fillers

, many may find it hard to tell that you had work done on your lips.

Is the procedure painful:

The sensation varies, but for many, it can feel like tiny ant bites. You should also know that the lip area is full of nerves, which is why it can feel more sensitive than others. The use of numbing cream and the presence of lidocaine in the filler can help improve patient comfort.

What results to expect:

You can see improvements almost immediately, but it takes up to two weeks for the material to fully blend and settle with surrounding tissues. The results can last between 6 and 12 months. 

Are there side effects:

There may be some swelling, tenderness, and bruising after the procedure. These are temporary and resolve after a few days to a week. Make sure not to touch or massage the area for at least 24 hours.
Read our previous post for tips on caring for your lips after dermal fillers. 
To achieve natural-looking results with fillers, make sure to only see a skilled or an experienced injector. Do take note that filler injection is a process that requires both the skill and artistry of the injector to achieve a natural look. Avoid salons and spas, as well as a provider who offers to administer the treatment in a non-clinical setting. 
Check out the 7 things you need to know before doing lip fillers.
Schedule a consultation today
Do you want to improve the shape, volume, and overall appearance of your lips? Don't hesitate to consider dermal fillers. Contact Cutis Medical Laser Clinics in Singapore today and schedule a consultation with our aesthetic doctor.