glotherapeutics Cyto-luxe Eye Serum is a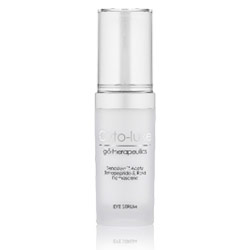 n innovative, silky serum that glides on skin to smooth and soften lines.
Helps slow the aging process by supporting the cells that maintain skin's youthfulness. Reduces puffiness and dark circles while delivering critical hydration to the delicate eye area.
Recommended For Ageless skin.
Directions
1. On clean skin, apply a small amount around the eye area in the morning and/or evening.
2. Follow with Cyto-luxe Eye Cream if desired.
Active Interest:
• Standstill Rose Damas (Rosa Damascena Leaf Cell Extract) – Slows aging of cells in the dermis which are responsible for the synthesis of collagen and supporting components in the extra cellular matrix. Also decreases the enzymes that degrade these important fibers, decreasing the appearance of fine lines and wrinkles.
• Brestine (Plankton Extract) – A skin beneficial marine-derived polymer. Within 15 minutes it has the ability to fill the furrows of the skin and smooth small wrinkles. When tested in vivo, results showed lasting effects for 6 hours after a single application.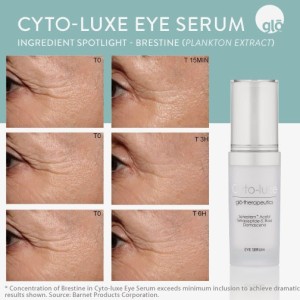 • Eyeseryl® (Acetyl Tetrapeptide-5) – A multi-functional ingredient that reduces puffy eyes and dark eye circles (with a draining effect), inhibits glycation and increases skin elasticity within 60 days of regular use.
• Senestem™ (Plantago Lanceolata Extract) – Cellular senescence is a phenomenon in which normal cells cease to divide. The presence of these dysfunctional cells increases vulnerability to age related skin problems. Senestem™ targets microRNA's to prevent this deterioration. The results are firmer skin and increased skin density. Pigmented spots are lightened.
Contact us for more information.