Your face is not the only thing that changes as you age. Your entire body ages and changes too, with common concerns like unwanted fat, sagging body skin, cellulite, and even intimate health issues.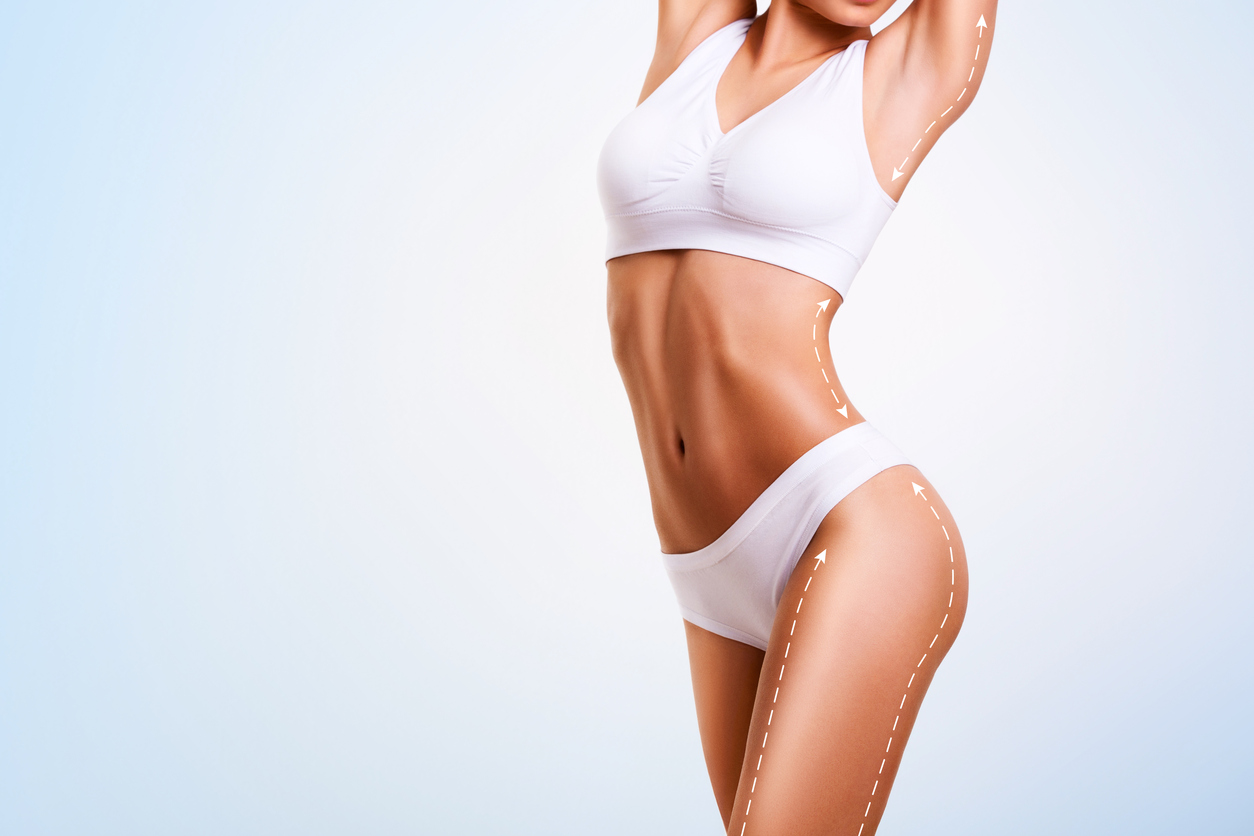 There is no replacement for proper diet and exercise. However, for some people who have stubborn fat deposits that is resistant even to their active lifestyle, they may consider non-invasive body treatments that can address this kind of concern.
We rounded up 5 non-invasive body procedures that is worth considering.
1. Cryolipolysis (CoolSculpting & Z Lipo) for Stubborn Fat
If you're looking for a non-surgical way to reduce unwanted fat, Cryolipolysis fat freezing is a good option. This non-invasive procedure uses cooling technology to target fat cells, with the goal of eliminating them for good. Once the fat cells are frozen, they undergo a process of "apoptosis" or natural cell death and are removed from the body as waste.
The controlled cooling technology is safe and is clinically proven to only target the fat cells without harming the skin and other tissues.
However, it is important to take note that fat reduction procedures such as Cryolipolysis can only target 'subcutaneous fat' or pinchable fat underneath the skin. Whereas 'visceral fat' or the fat located in between the organs that feels hard especially on the belly can only be reduced with diet and exercise.
CoolSculpting and Z Lipo are the two popular devices in the market that utilize this fat freeze procedure. While both use Cryolipolysis, they have a number of differences and distinct features.
The Basics of CoolSculpting
CoolSculpting from Zeltiq is made from United States and reduces unwanted fat by delivering controlled cooling temperatures using applicators of different sizes. These are specifically made to target and treat problem areas in the chin, arms, thighs, belly, as well as other smaller areas like bra fat and knee fat.
CoolAdvantage applicators are its newest advancement, which provides a shorter treatment time of just 35 minutes. The applicators work by suctioning the fat bulge in the area of concern. You can expect to see results within 60 to 90 days, once the body metabolized the dead fat cells.
It is also good to know that CoolSculpting has a high safety profile and proven effectiveness. It has built-in mechanism that detects if the skin is getting too cold. It shuts off automatically if the skin is found to be too cold.
The Basics of Z Lipo
Z Lipo by Zimmer is made from Germany and uses a different sizes of handpieces to target fat bulges in the arms, belly, and thighs.
What's unique about Z Lipo is that it has two built in applicators attached to the device, which means that two different areas can be treated at the same time. This reduces the overall treatment time for fat reduction.
Depending on the area of concern, a single session using two applicators can last between 60 and 90 minutes.
The handpiece used in Z Lipo has a pulse vacuum suctioning with a strong vacuum pressure. This enables the device to draw a good amount of fat bulge inside the body, targeting more fat in just a single session.
In order to improve the fat reduction results, both CoolSculpting and Z Lipo can be combined with Z wave treatment, which is a type of shockwave therapy that uses vibration to further breakup frozen fat cells. Research suggests that the use of Cryolipolysis along with shockwave therapy increases the fat reduction results when compared to normal massages.
2. Vanquish for Circumference Reduction (Inch-loss)
Vanquish is another non-invasive fat reduction procedure is FDA cleared for circumference reduction. Unlike CoolSculpting and Z Lipo, Vanquish uses heat through controlled radiofrequency energy to target fat cells to undergo "apoptosis" or natural cell death. This works well in losing inches off your entire waistline, arms, and thighs without downtime or surgery.
The effectiveness of Vanquish can be attributed to the science of impedance or the resistance of fat to heat compared to other body tissues. With higher resistance to heat energy, fat cells can absorb more heat, which then assists in effectively triggering the process of natural cell death.
Exposure to heat causes the fat cells to die naturally over time. They will then be processed as waste in the liver and cleared through the lymphatic system.
Another unique feature of Vanquish is that it get rids of the fat without any contact to the skin. The device hovers over the area of concern using an array of heat to target and kill fat cells without affecting the muscles or the skin.
3. Exilis Ultra for Skin Tightening
Exilis Ultra is a non-invasive skin tightening procedure that can give you jaw dropping results. It combines two safe and FDA-cleared energies: ultrasound and radiofrequency to tighten sagging skin on the face and the body. It also uses EFC (Energy Flow Control) to monitor and adjust the amount of energy, making sure that it is safe and effective.
Exilis Ultra features two unique applicators (small and big) to target areas of concern in the face and body. The smaller handpiece emits heat energy to deal with saggy skin in smaller areas such as the forehead, midface, eyelids, and other smaller areas. The bigger applicator, on the other hand, uses the same technology with controlled cooling to disrupt the fat cells in any part of the body that requires contouring or tightening (including the neck area).
This procedure can help you reverse the signs of aging with firming and tightening benefits. This is particularly helpful in areas that are resistant to diet and exercise. You can use Exilis Ultra to treat problem areas in the chin, around the eye, décolleté, abdomen, buttocks, banana roll, arms, elbows, legs, inner and outer thighs, and ankles.
4. Acoustic Shockwave for Cellulite reduction
Acoustic Shockwave therapy is an FDA-cleared non-invasive procedure that is clinically-proven to reduce cellulite and tighten loose and sagging skin. It involves the use of a handheld device that harnesses the energy of targeted vibration to further disrupt fat cells. This is beneficial in getting rid of excess fats in the body while breaking down any fat build up and stimulating collagen production in the skin
At Cutis Laser Clinics in Singapore, we use two shockwave therapy devices: BTL X Wave and Zimmer Z Wave. Both devices deliver acoustic waves, resulting in rapid vibrations and pressure to break down the fat cells beneath the skin to make the tissues softer and more active. This is also helpful in stimulating the lymphatic drainage and improving blood circulation.
Shockwave therapies can be combined with fat reduction treatments such as Vanquish and Cryolipolysis to improve and speed up the results. They can also help reduce the appearance of cellulite in the thighs and buttocks.
5. Ultra Femme 360 for Non-Invasive Vaginal Rejuvenation
Ultra Femme 360 is a non-invasive procedure that safety treats a woman's intimate area to promote her intimate health. This can rejuvenate a woman's intimate well-being by improving vaginal laxity (due to childbirth or natural aging process), boosting sexual satisfaction, and treating urinary stress incontinence.
This procedure uses a handheld device that simultaneously delivers ultrasound energy and radiofrequency waves. Both energies help trigger the body's natural regenerative process that results in new and stronger collagen. It also uses EFC to reassure the patients that optimal level of power is delivered, while adjusting and monitoring the energy in real time. This is to avoid discomfort or the risk for discharge or infection.
Ultra Femme 360 is also clinically-proven for labia remodeling and vaginal tightening. Most patients are able to notice an improvement after the first treatment, but overall results will continue to improve over time, particularly after the third session.
Start the journey toward a better you with these non-invasive body procedures. Contact Cutis Laser Clinics today and schedule a consultation and body assessment with our Harvard-trained aesthetic doctor, Dr. Sylvia Ramirez, to find out which procedures can address your concerns.
Tags: CoolSculpting, Z Lipo, Vanquish, Exilis Ultra, Acoustic Shockwave, Ultra Femme 360