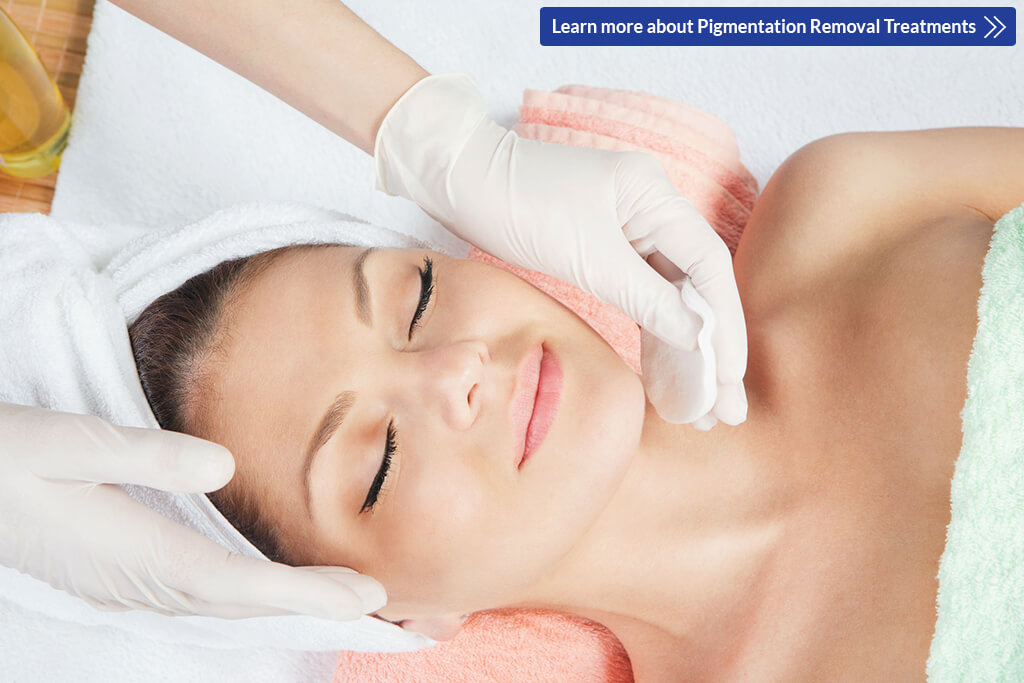 Skin irregularities like pigmentation does not only compromise the color and appearance of your skin but also affects your self-confidence.  It can be a source of low self-esteem when the pigmentation is quite noticeable whether it takes up a large or small portion of the skin.
Fortunately, there a number of pigmentation removal treatments and skin lightening methods that can address these concerns. These are cleared by the FDA, which makes them safer and more effective in treating hyperpigmentation.
Here are the safe and effective pigmentation removal treatments available in aesthetic clinics in Singapore:
1. Chemical Peels (Crystal Peel & VI Peel)
In general, chemical peel is an exfoliating treatment that removes the top layer of dead skin. It involves an application of a safe chemical solution on the skin which will "peel" off over time revealing a smoother and healthier skin underneath. This helps lessen the skin's dull appearance making it appear more radiant and glowing.
In Cutis Laser Clinics in Singapore, there are two types of chemical peels for pigmentation. First is the Crystal Peel, a gentle chemical peel which is formulated with well-known lightening ingredient such as kojic, hydroquinone, and vitamin C that gives your skin a youthful glow by lightening age spots, freckles, uneven skin tone and other discoloration.
Second is the VI Peel, a stronger chemical peel which uses unique, medical-grade ingredients such as trichloroacetic acid (TCA), salicylic acid and retinoic acid in reducing hyperpigmentation, as well as freckles, age spots, and melasma resulting in a healthy and youthful skin. VI Peel can also treat active acne and acne scars and improve skin's texture and clarity. The best part is it is suitable for all skin types, including those with dark complexions.
2. Limelight IPL
Another treatment that can get rid of your pigmentation on face and body is the Limelight, a non-invasive IPL procedure. It uses a safe, US FDA-cleared intense pulsed light (IPL) which draws out brown spots to the top layer of the skin which will then scab and fall off after three to four days.
Limelight is proven safe and effective in removing brown spots even in the deepest layers resulting in a brighter skin that is free of pigmentation. It is also effective in removing tiny veins on the face as well as skin redness to reduce a blotchy appearance. Limelight can be used to treat any part of the face, neck, décolleté and even the hands.
3. Dr. Sylvia Advanced Clear Skin (Rx)
While there a number of over-the-counter products that claim to remove skin pigmentation, not all live up to their promises. This is why it is best to trust a clinically formulated product like Dr. Sylvia Advanced Clear Skin. It is a three-step program used after cleansing and toning that consists of Skin Lightener (#3), Exfoliator Forte (#4) and Balancer (#5).
Skin Lightener (#3) and Balancer (#5) are formulated with safe levels of hydroquinone, a well-known lightening ingredient, which doesn't just stimulate the growth of new collagen, but also block melanin production responsible for pigmentation. While Exfoliator Forte (#4) is formulated with 14% alpha-hydroxy acid (AHA) which improves your skin texture and helps you maintain smoother, clearer skin.
Do take note that these are Rx products and are only available with a prescription from our Harvard-trained aesthetic doctor, Dr. Sylvia Ramirez.
4. Pearl Resurfacing Laser
If you are looking for a laser procedure in Singapore to treat your pigmentation, another option to consider is the Cutera Pearl Resurfacing. This procedure is US FDA-cleared in treating acne scars, wrinkles, sun damage, freckles and other types of hyperpigmentation.
Pearl Resurfacing laser uses pulses of light in a pre-selected pattern directed at the skin's top layer. It safely removes the damaged layer which allows the skin to create a protective dressing to minimize the downtime of the healing process.
During this process, collagen building takes place underneath the skin promoting the formation of new, healthy skin, with improved clarity and softness. Over a period of five to seven days, the protective dressing will naturally peel off revealing a healthier, smoother skin with a "pearly" glow.
Although there is a downtime of five to seven days after a Pearl procedure, a noticeable difference of having less age spots and wrinkles as well as a noticeably brighter skin can be seen with just one treatment. Currently, there is no other procedure that can provide an overall rejuvenation in one week.
5. Safe Oral Dietary Supplements with PhytoflORAL & Tranexamic Acid
If you prefer to improve your skin from the inside out, you may also consider safe oral supplements that contains PhytoflORAL and Tranexamic Acid – two clinically-proven ingredients that protect, brighten and nourish the skin from within.
PhytoflORAL is a natural antioxidant that can protect the skin from harmful UV rays and environmental toxins which helps to reduce skin darkening and pigmentation. It comes from non-chemical processed tomatoes that are rich in phytoene and phytofluene – two types of carotenoids (plant pigment) that can absorb UVA and UVB light and are the only carotenoids in nature that are colorless.
Tranexamic acid, on the other hand, is a new addition in the treatment of melasma, a light to dark brown or greyish patches of discoloration in the skin that is commonly caused by genetics, hormones and pregnancy. Tranexamic acid is made from an amino acid (protein) called lysine which was used to treat heavy bleeding. In safe and lower concentrations, Tranexamic acid was proven in clinical studies to reduce melasma significantly.
As with other dietary supplements, make sure to buy safe and proven products from certified aesthetic clinic in Singapore. These kinds of oral supplements are also recommended to be taken with supervision from an experienced aesthetic doctor.
In conclusion, with so many proven and safe treatment options, you don't have to let skin pigmentation wear you down. Say goodbye to your age spots, dark spots, and hyperpigmentation by consulting our Harvard-trained aesthetic doctor, Dr. Sylvia Ramirez.
Contact Cutis Laser Clinics in Singapore today.
Tags: Laser Clinic, Pigmentation Removal Treatment, Cutera Pearl, Skin Lightener (#3), Exfoliator Forte (#4), Balancer (#5), Limelight IPL,  Chemical Peels, Vi-Peel