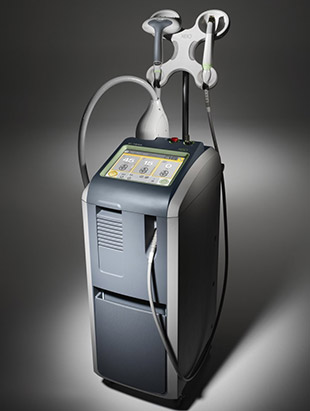 The Cutis 3D Non-Surgical Face Lift includes the Titan™, Laser Genesis™ and Trilipo™ combination, which are the three powerful collagen building treatments that work together to result in skin lifting and tightening.
The treatment starts with the Titan™ treatment, which is known in Hollywood as a "Non-Surgical Face Lift".
Titan™ is an FDA approved treatment where an infra-red device heats the deeper layers of the skin to stimulate cells known as fibroblasts to build collagen. Titan™ can improve jowls, sagging cheeks, laxity in the neck and even droopy eyelids with repeated treatments. To lock in the heat generated by the Titan™, it is followed with Laser Genesis™.
Laser Genesis™ is also known as the pre-party treatment that targets the second layer of the skin but focuses more on improving texture. Laser Genesis™ is also an FDA approved treatment that can improve fine lines, pores, acne scars by building collagen in the superficial layers of the skin.
Lastly, it is followed with theTrilipo™ Technology that simultaneously improves collagen and elastin stores, while gently contouring the face. The treatment takes approximately 90 minutes.
After the treatment is a recommended quick makeover using glō•minerals™ mineral make-up, if desired. With the Cutis 3D Non-Surgical Facelift, you will walk out with improved skin lifting and tightness, without any downtime.