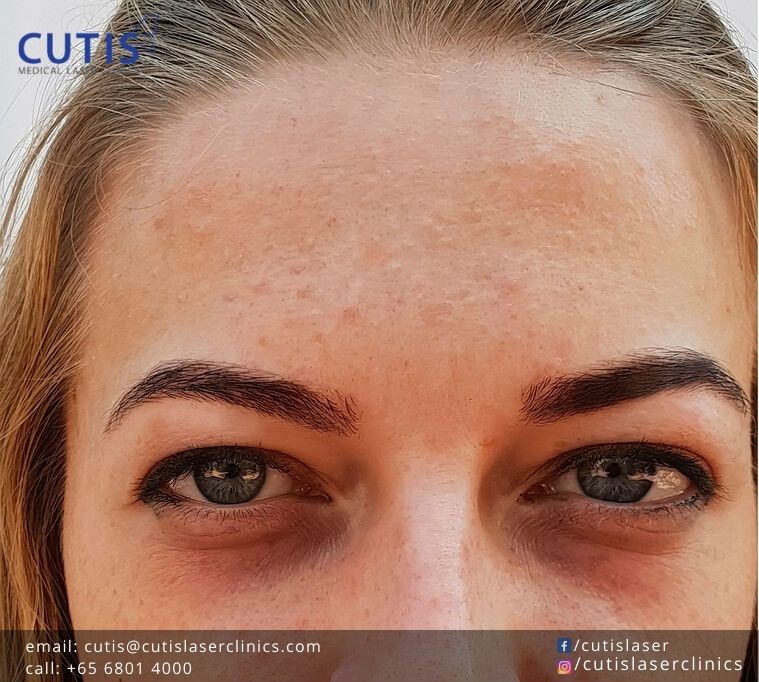 Since dark circles under the eyes can be hereditary, many believe that using eye creams won't do anything. While this may be true for some people, there are cases where the right product can help make an improvement. Eye products with certain ingredients can help combat dark circles and make your eyes look youthful. 
What you should know about dark circles
A number of things can influence the color of the skin under your eyes. These include the skin's pigment and thickness, blood vessels, and the fluid accumulation under the area. The under-eye area can appear darker due to thinning skin or constricted blood vessels that can cause hyperpigmentation.
While both genetics and aging play a role in the appearance of dark circles, you can also develop it for a number of reasons. Sleep deprivation, poor diet, and drinking too much alcohol can all contribute to under eye circles. 
Rubbing your eyes may also play a part, as it can cause redness and can break the tiny blood vessels in your eyelids. When this happens, the blood leaks and flows into the surrounding tissues, giving the skin under your eyes a darker or shadowy hue. 
Yes, eye creams can help
Some eye creams use ingredients that can constrict blood vessels and lighten pigmentation to fix or improve dark circles. When buying eye creams and other eye products, it is advisable to look for the following ingredients. 
Vitamin C

– This antioxidant ingredient helps fight oxidative stress, which can worsen dark circles or pigmentation. Eye

products with vitamin C

have lower concentrations than those that are used for other areas of the face.

Caffeine

– Eye formulas with caffeine can help brighten the skin and reduce dark circles. They can also improve the appearance of puffy eyes and fine lines. Caffeine also helps with microcirculation, which temporarily reduces discoloration under the eyes.  

Retinol

– This vitamin A derivative promotes cell turnover, which helps prevent lines and wrinkles. Just be sure to choose a retinol product that is specifically made for the skin around the eyes. Products with the right retinol formulation can help reduce visible signs of aging around the eyes. 

Peptides

– These structural proteins help strengthen the skin layers and stimulate collagen growth.

Peptides

, furthermore, improve microcirculation that has a positive effect on blood flow. They also provide a lifting effect and improve the appearance of puffy eyes.

Hyaluronic acid

– This jelly-like substance can give your skin a plump and glowing appearance by locking in moisture. This can then conceal some darkness under the eyes, as well as improve dry skin and appearance of fine lines.
What we recommend
At Cutis Medical Laser Clinics, we have the Elastifirm Eye Restore with Peptides and Arnica from Dr. Sylvia Skin Care. This product is clinically formulated with anti-aging ingredients, such as peptides, hyaluronic cream, and arnica (reduces inflammation which is known to cause puffiness). 
Its blend of botanical proteins reduces the appearance of dark eye circles and fine lines. Elastifirm Eye Restore also improves microcirculation and blood flow. This reduces the buildup of pigment and dilated blood vessels, which contribute to darkening of the area under the eyes.  
What about eye fillers?
Dermal fillers can help too, not just with improving eye bags but also with puffiness and fine lines. Injectable dermal fillers plump up the treated area for a natural and younger-looking appearance. Many fillers today are made with hyaluronic acid (Juvéderm), which is also a naturally occurring substance in the body. 
Fillers can improve dark circles and eye bags, as well as reduce lines and wrinkles. They can add volume, soften creases, and enhance contours resulting in a natural, refreshed look. Depending on the type of fillers used, the results can last from six months to a year (or even more). 
Combat dark circles with the right eye cream. Get in touch with us to learn more about our medical-grade products or schedule a consultation with our aesthetic doctor to find out if fillers or other anti-aging treatments are right for you.