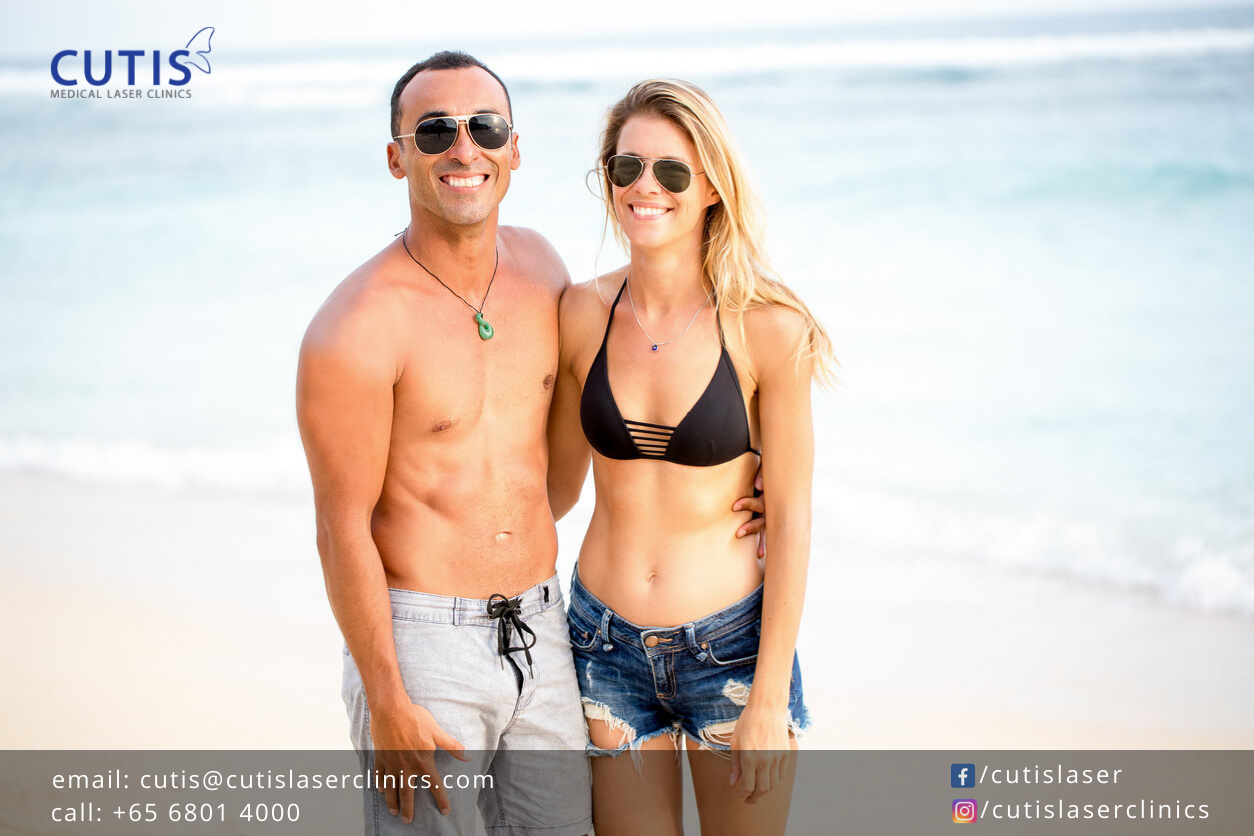 There is a reason why skincare companies manufacture separate products for the face and body. The skin on your face is thinner than your body, which means that it requires more delicate formulas to avoid irritation. This is also the reason why you can't just use traditional bar soaps (which are often dyed and scented) to effectively cleanse your face.
The same is also true for aesthetic and cosmetic treatments. Procedures for the face will not necessarily be effective on the body, which has thicker skin and a longer cell turnover cycle. The makers of VI Peel recognize these differences, which is why they designed a chemical peel specifically for the body. 
What makes VI Peel Body different?
VI Peel Body is a professional-grade chemical peel designed for treating body concerns. It contains a more powerful formula to tackle the thicker epidermis and is formulated with protective ingredients for nurturing the skin during the post-peel healing process. 
VI Peel Body is completely non-invasive and virtually pain-free. It can penetrate deeper to peel off dead skin cells, targeting specific body concerns and making a true corrective change. VI Peel Body, furthermore, speeds up cellular turnover and stimulates collagen production. It works in four unique ways: 
Exfoliates or removes dead surface cells immediately

Penetrates deeper to target acne, wrinkles, and uneven texture

Hydrates and lightens pigmentation as it firms

Reduces oil production and suppresses pigment
What are the treatable concerns? 
VI Peel Body helps address troubled areas to reveal a smoother and more radiant complexion in just one treatment. It is also safe for all skin types, tones, and textures. You can turn to this chemical peel for: 
Body acne and acne scarring

–

VI Peel Body

penetrates the thicker epidermis to target body acne and other textural concerns. It can help clear body acne and stop repeat flare-ups. You can also turn to

VI Peel Body

to alleviate acne and acne scarring from private areas. 

Body pigmentation

– This

chemical peel

contains mandelic acid that can help regulate sebum production and lift the excess pigment from the surface of the skin, including the knees and elbows. It also speeds up cell renewal, making the skin appear brighter and smoother.

Scars

–

VI Peel Body smooths scars from surgeries or injuries. It can improve scar appearance by evening the pigment of the skin and stimulating collagen, which helps rebuild the dermal structure. Multiple treatments may be needed depending on its severity and the length of time the scar has been present. 
Stretch marks

– These are a type of scars that develop due to the stretching of the skin. They are treated in the same way as other scars.

VI Peel Body

can be used to soften the

appearance of stretch marks

when the initial trigger for the injury has stopped and the skin has fully recovered. 
With VI Peel Body you may be able to see changes after just the first session, but the recommended number of treatments is three for most conditions. There are also cases where two to four treatments may be needed for optimal outcomes, particularly for acne and hyperpigmentation. This type of peel can also be performed every 4 to 8 weeks.
Schedule a consultation today
Want to learn more about how VI Peel Body can improve your body skin? Contact Cutis Medical Laser Clinics in Singapore today and schedule a consultation with our Harvard-trained aesthetic doctor, Dr. Sylvia Ramirez.