Advancements in aesthetic medicine have allowed practitioners to firm and lift sagging skin without surgery. Radiofrequency (RF) is one common modality/technology used to achieve this, specifically by heating the skin's deeper layers. It promotes the release of heat-shock proteins, which help produce collagen needed to tighten skin.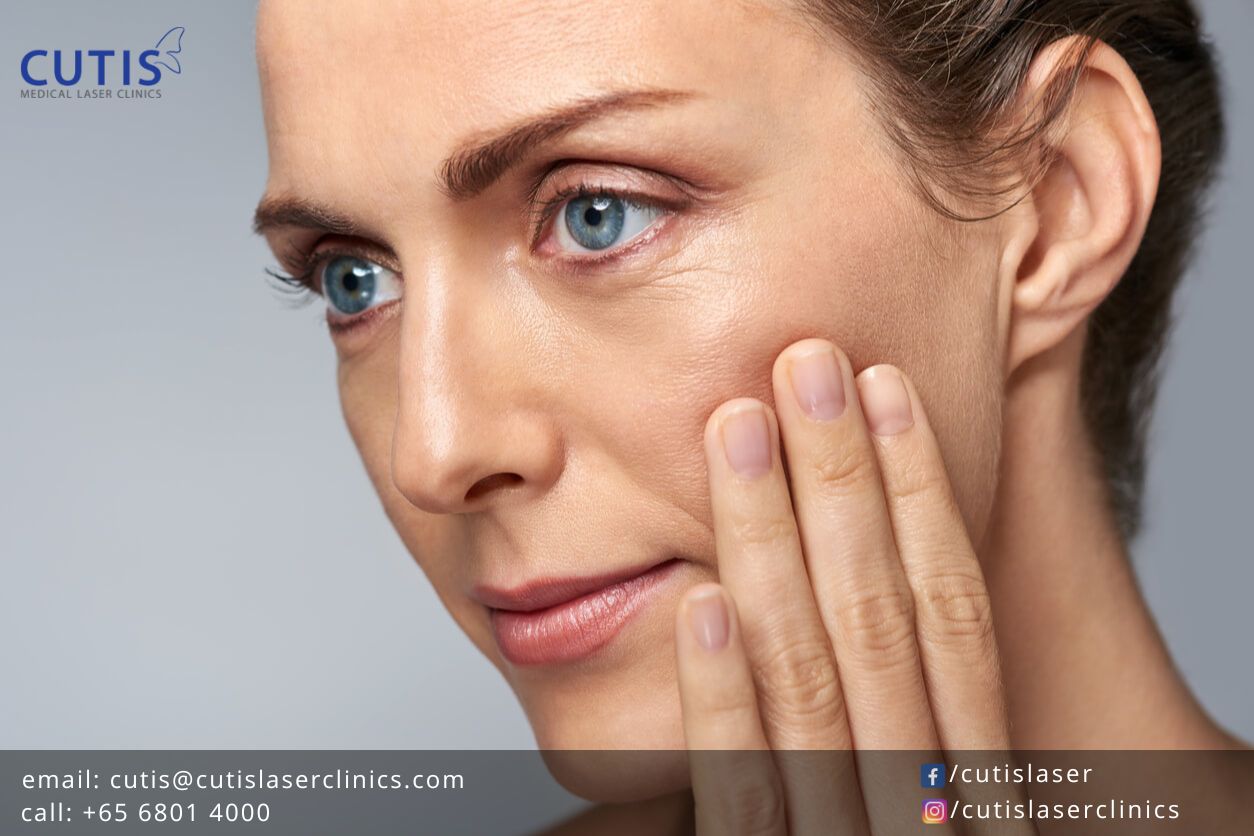 How does RF tighten skin? 
RF skin tightening involves the use of energy to heat the dermis, the skin layer that has collagen, connective tissues, and other structures. This heat stimulates the production of collagen, the protein that gives the skin strength, support, and elasticity. Collagen declines as we age, contributing to wrinkles and sagging skin. 
Non-invasive skin tightening via RF uses a device that heats the skin to between 40 and 45°C. And as previously mentioned, this causes the body to release heat-shock proteins that stimulate the creation of new collagen fibers. The procedure is relatively short (about an hour), nearly painless, and has minimal to no downtime.
Take note: Collagen creation takes time, about two to three months. This is why you cannot expect dramatic results immediately. The tightening effect is gradual and natural-looking, but you'll notice visible changes in your skin tone and overall appearance. A series of treatments is also needed to get the desired results. 
What do studies say?
A 2020 study about the use of radiofrequency in aesthetics noted that the RF procedure is generally safe and effective, with limited recovery time needed after the treatment. It also stated, however, that it cannot produce dramatic results as that of an invasive or surgical procedure. 
A smaller-scale study in 2018 found that three sessions of RF treatments improve the appearance of wrinkles in about 70 women. Another small 2017 study also found that 5 weeks of RF therapy helped with reducing facial fat, while another research of the same year reported benefits regarding skin contouring or improved body shape. 
Are there side effects?
Since RF treatment is non-invasive, you can immediately go back to your normal routines. Some patients, however, may also experience minor side effects after the treatment. These include: 
Skin redness

Pain or discomfort

Swelling

Skin discoloration or darkening
RF skin tightening at Cutis
At Cutis, we have two devices/procedures that use radiofrequency for non-invasive skin tightening and rejuvenation: Exilis Ultra 360 and Imperium Deep Restoration. Continue reading to find out what these procedures entail and what they can do for your skin. 
Exilis Ultra 360
The basics: Exilis Ultra 360 is a US FDA-approved treatment for skin tightening. It uses a combination of radiofrequency heating and ultrasound to address different face and body concerns. This combination enables efficient delivery of energy while providing a synergistic effect. 
How it works: The device has two applicators, small and big, for treating different areas and concerns. The small one is for the face, reducing wrinkles and tightening other smaller areas, while the big one is for targeting the fat cells to trigger natural cell death or apoptosis.
What Exilis does is deliver monopolar RF energy to penetrate the deeper layers. It assists in the production of new collagen, tightening the skin and reducing the appearance of wrinkles, cellulite, and stretch marks. It can also target and eliminate fat cells, helping reduce the fat layer thickness in the treatment area. 
Benefits: Exilis Ultra provides head-to-toe rejuvenation, improving the skin's overall appearance without cuts or needles. It can virtually treat any area of the face and body and can:
Treat mild skin laxity or loose skin 

Improve jowls or early signs of sagging skin on the lower face

Reduce facial lines and wrinkles

Reduce or eliminate stubborn fat bulges

Smooth and tone skin

Results to expect: You may see visible improvements after just a single session, but significant results appear after three months. This is because the collagen remodeling process takes 90 days. You will also need multiple sessions (spaced a week apart), depending on your needs and goals.
For further reading:Skin Laxity Improvement: 5 Reasons to Consider Exilis Ultra 360
Imperium Deep Restoration
The basics: Imperium Deep Restoration uses a device with several protocols for the face and body. It treats the skin with diathermy or deep dermal heating, which generates localized heating in the treated area. This then prompts the fibroblast to create more collagen and elastin.
How it works: Imperium features Sonoblade 25, which transmits a series of vibrations within the skin. It uses the elastic wave technology (low-frequency ultrasound 25kHz) to cleanse and exfoliate the skin, as well as stimulate skin cell turnover.  
For firming and lifting the skin, Imperium Deep Restoration uses fractional pulsed crown RF. This creates 125 micro holes in the epidermis, as well as emits pulsed radiofrequency that targets the deeper layers while preserving the superficial layers. This helps with stimulating new collagen.
Benefits: The use of pulsed crown RF helps generate tissues in a natural matter. The thermal stimulation of the deep dermis and the mechanical perforation contribute to collagen remodeling. This can lead to a host of benefits including:
Skin tightening

Firming and remodeling of the dermis

Reduction of deep wrinkles

Skin tissue regeneration

True skin rejuvenation
Results to expect: Imperium offers immediate improvements, but you'll need about two to three sessions (spaced three to four weeks) for lasting results. The changes are not overt, but you'll be able to see visible changes in your skin's overall appearance.  
For further reading:Which Imperium Face Treatment is Right for You?
Book a consultation
Want to learn more about our RF treatments and other non-invasive skin tightening procedures? Contact Cutis Medical Laser Clinics in Singapore and schedule a consultation with our aesthetic doctor to find out which procedure suits you best.