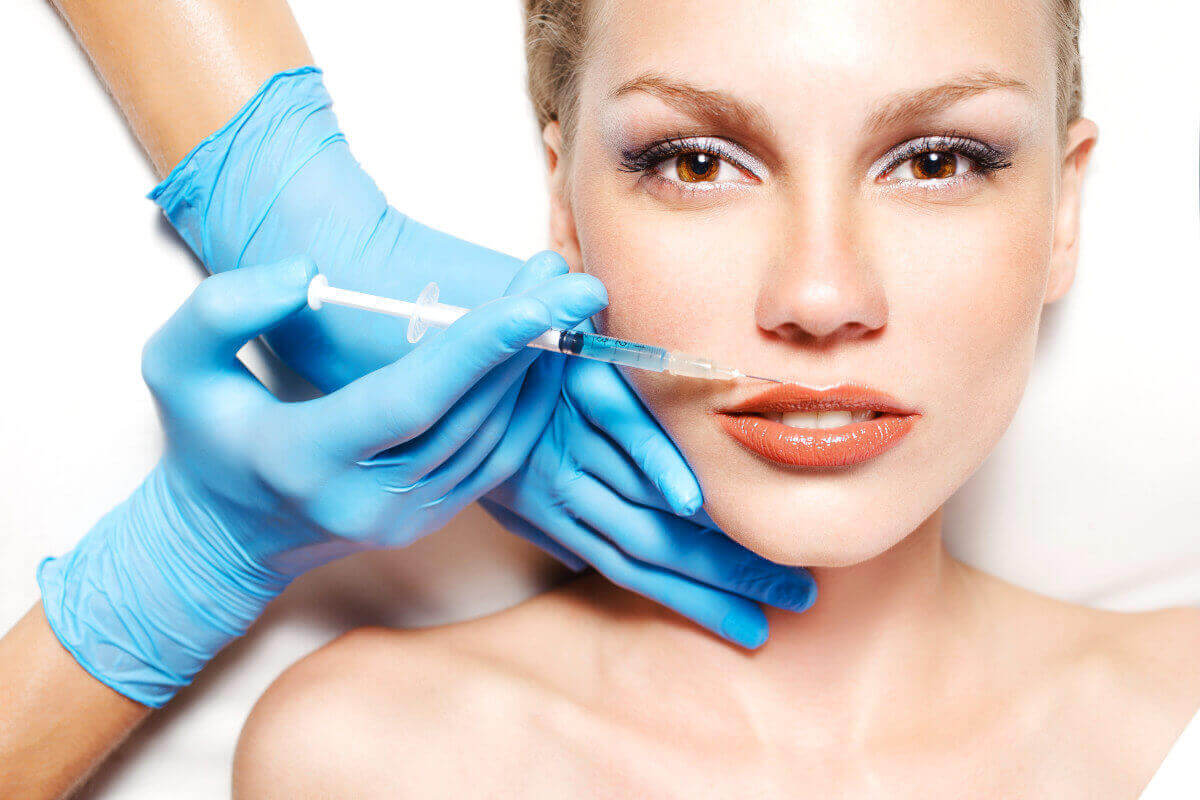 RealSelf, the leading online website for people to learn and share experiences about cosmetic procedures, recently released their aesthetic trends report for 2018.
The report was based on the behavioral trends of millions of users researching on the website. While it is no surprise that Botox and breast implants are among the top researched treatments, there is an increase in searches for less invasive procedures such as CoolSculpting and Juvederm.
According to Dr. Lara Devgan, RealSelf Chief Medical Officer and board-certified plastic surgeon, "The growth of minimally invasive procedures reflects the rising interest in treatment options that deliver results with little downtime, and the trends we've observed on RealSelf indicate this demand will continue to rise in 2019."
Top 10 Most Researched Minimally Invasive Cosmetic Treatments in 2018
1. Botox
2. CoolSculpting
3. Juvederm
4. Laser Hair Removal
5. Accutane
6. Mole Removal
7. Retin-A
8. Microneedling
9. Restylane
10. Chemical Peel
Most Researched Minimally-invasive Treatments
The numbers are clear, most users are still interested in injectables. From the list above, three injectable brands are included in the top 10 – Botox (1), Juvederm (3), Restylane (9).
Well-known as the anti-wrinkle treatment, Botox has gained an 11% interest increase compared to 2017 for both men and women. Botox, the brand name for Botulinum toxin, is well-known in temporarily relaxing wrinkles caused by repetitive muscle movements (facial expressions) giving a refreshed, youthful appearance.
If you've been curious about getting a Botulinum toxin injection, you may want to read first this article about getting Botox in Singapore.
Another effective injectable treatment is Juvederm filler, an FDA-cleared procedure used for "filling in" and restoring lost volume under the skin that has sunken down due to aging.
Fillers can be used to improve different fine lines on the face, add volume to the cheeks, reduce eye bags and dark circles, fill the lips as well as to correct nasolabial folds. Juvederm fillers are made from hyaluronic acid which occurs naturally in the body including the skin, resulting in a soft, full and natural look.
Most Researched Minimally-invasive Body Treatment
Rounding up the top 2 spot in the list is CoolSculpting, an FDA-cleared fat freezing procedure that reduces stubborn fat without surgery or downtime.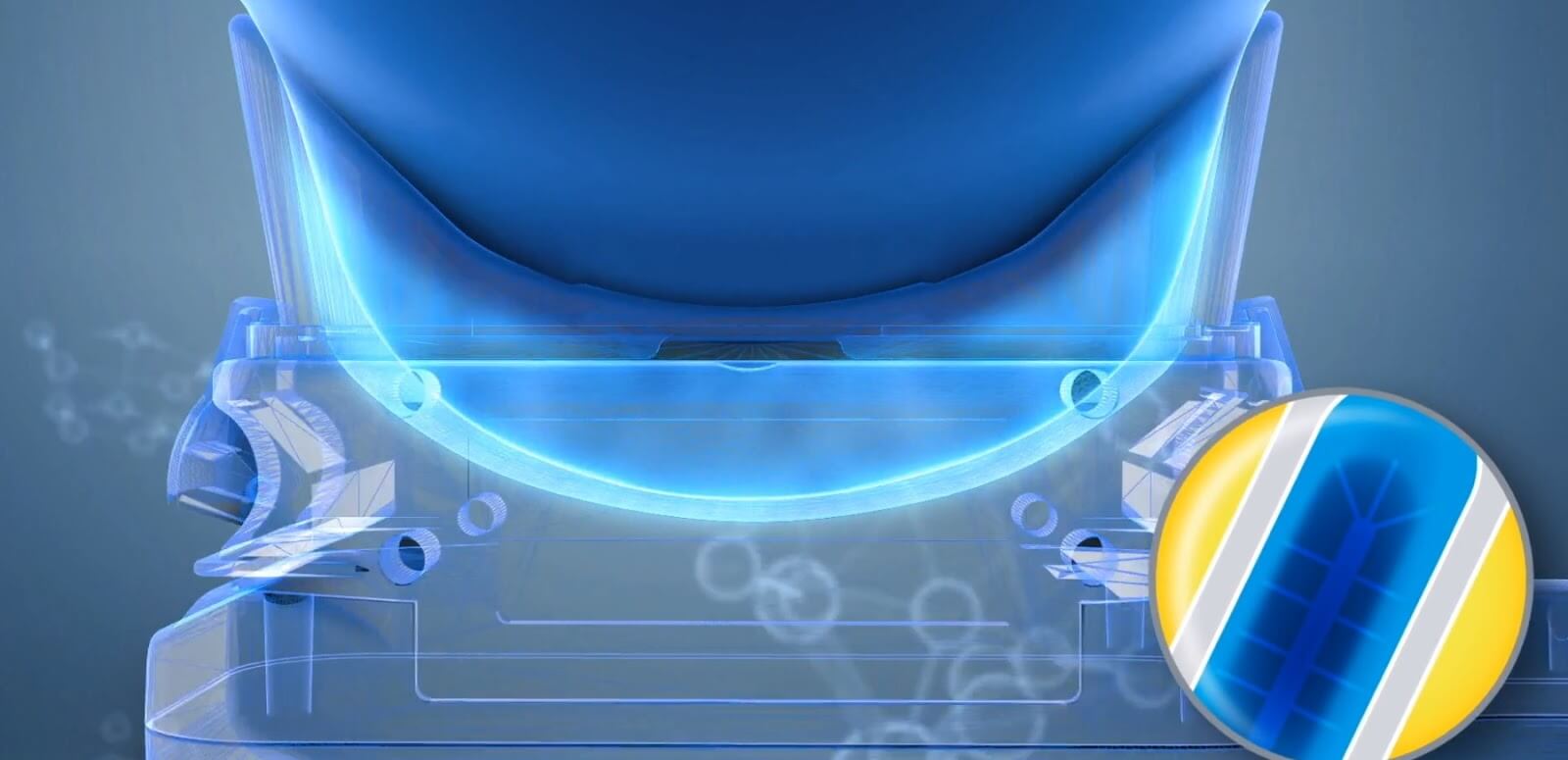 CoolSculpting by Zeltiq works by using freezing only the fat cells without harming the skin or other tissues. When exposed to cooling, the fat cells undergo the process of "apoptosis" or natural cell death.
CoolSculpting can treat stubborn fat that is resistant to diet and exercise including the abdomen, waist, back, arms, thighs and even smaller areas such as double chin, knee fat or bra fat. Moreover, CoolSculpting can also safely get rid of fat in a man's breast (pseudo-gynecomastia) without surgery.
Other safe devices that use Cryolipolysis include Z Lipo by Zimmer. Read more about the difference between CoolSculpting and Z Lipo.
Most Researched Procedures in 2018 Based on Gender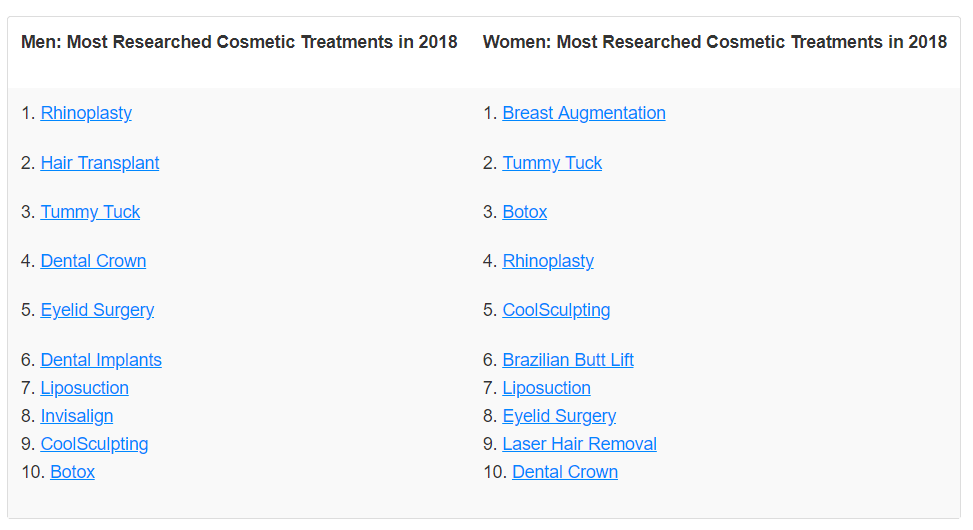 Interestingly, men have expressed a lot of interest in searching for rhinoplasty (nose surgery) being at the top of the list to improve their appearance and stay competitive especially in their workplace.
However, for those who are not yet ready to go under the knife, rest assured that there is a non-surgical nose lift that can improve the height of the nose bridge and nose tip.
The 2019 Aesthetics Watch List
According to RealSelf, 2019 will be the year of "baby Botox" as this keyword is gaining popularity, especially to millennials ranging from 18 – 24 years old users.
They also saw visible spikes this year in interest for "nonsurgical treatments" that offer a less invasive alternative to traditional surgery including a body treatment that tones the muscle without surgery.
If you want to find out more about the procedures mentioned in this article, contact Cutis Laser Clinics in Singapore today and schedule a consultation with our Harvard-trained aesthetic doctor, Dr. Sylvia Ramirez.