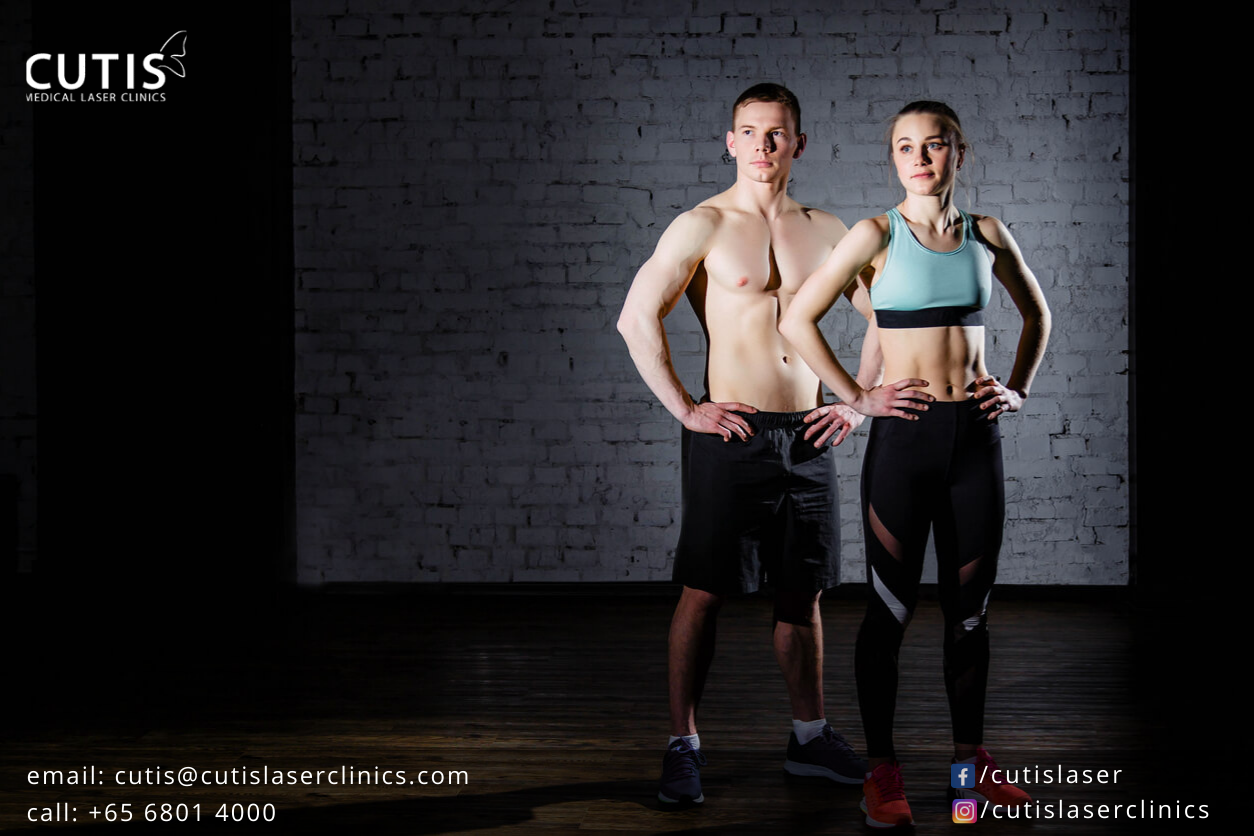 One thing that sets ThermoSculpt apart from other non-invasive body shaping procedures is that it offers total body reinvention. The procedure is specifically designed not just for muscle toning, but also fat burning and skin laxity improvement. It involves the deep heating of tissues and electrical muscle stimulation. 
So, how does ThermoSculpt achieve this? How can this procedure reinvent your body without cuts, needles, or longer downtime?
It's all about diathermocontraction
ThermoSculpt uses diathermocontraction, a unique and patented energy created by Brera Medical. It combines diathermy and faradic muscle contraction and uses a technical device called the Imperium Med 400 system. This emits high-intensity radiofrequency energy (400 watts). 
Diathermy

– is a form of physical therapy that helps with tissue repair and pain relief. It uses a high-frequency electrical current that generates heat deep within the muscular tissues, increasing blood flow and accelerating cellular metabolism. Diathermy can also help hasten recovery from injury and destroy unhealthy tissues. 

Faradic muscle contraction

– is also known as electrical muscle contraction using faradic current. It applies electrical body pulses in the area of concern to stimulate muscle contraction. It targets superficial and deep muscles, as well as helps burn fat.
The procedure relies on deep dermal heating, muscle stimulation, and the emission of radiofrequency. This means no needles or incisions are required. 
Various treatment protocols
The system used to perform ThermoSculpt involves the use of different handpieces to carry out various treatment protocols. These include: 
UltraCav 40

– destroys and breaks down fat cells through ultrasonic radio waves. It targets smaller areas of fat, which helps contour and shape the body.

BQUAD 40

– heats fat cells and liquefies fat using radiofrequency heating. It uses spherical-shaped electrodes for sculpting and defining the body.

Thermogym

– tones the muscles, reduces fat, and improves lymphatic drainage using diathermocontraction. It stimulates muscle contraction by placing up pairs of radio adhesive electrodes in the treated area.
Rejuvenation in different areas of the body 
Diathermocontraction triggers various processes that enable body rejuvenation. This is ideal for areas that require fat burning, muscle toning, and overall improvement. Common treatment areas include:
Abdomen

Gluteus (buttocks)

Inner Arms

Thighs

Knees
The combination of deep dermal heating and electrical muscle contraction can also help with a number of body processes and concerns, such as: 
Skin laxity

Muscle toning

Buttock lift

Liporeduction

Skin dimpling (cellulite)

Lymphatic drainage

Improvement of blood circulation 

Functional recovery of adipose tissue
The ideal candidate for ThermoSculpt
Both men and women looking to tone their muscles, burn fat, and tighten skin can turn to ThermoSculpt. It is ideal for those who are close or within their ideal body shape or weight but have specific areas that they want to tone. It can improve your figure, so you can look and feel more confident in your own appearance.
You will also need multiple sessions of ThermoSculpt, depending on your needs and goals. A consultation and body assessment with our aesthetic doctor will help determine the number of treatments needed to achieve your desired goals.
Important things to take note of: 
ThermoSculpt is not a weight-loss treatment

– It is a body rejuvenation procedure and not a substitute for a healthy diet and exercise.

The procedure is not the same as a fat reduction procedure

– While

ThermoSculpt

can help burn fat, it is not a

fat reduction treatment

. You can choose to undergo a

fat reduction

procedure first if you have excess or localized fat bulges in the areas you want to tone or improve. 

There is no downtime

– As the treatment is non-invasive, there is virtually no downtime. This only means that you can immediately return to your normal routines. 
Schedule a consultation and body assessment 
Are you considering ThermoSculpt to tone and shape your body? Contact Cutis Medical Laser Clinics today and schedule a consultation and body assessment with our Harvard-trained aesthetic doctor in Singapore, Dr. Sylvia Ramirez, to find out if it's right for you.