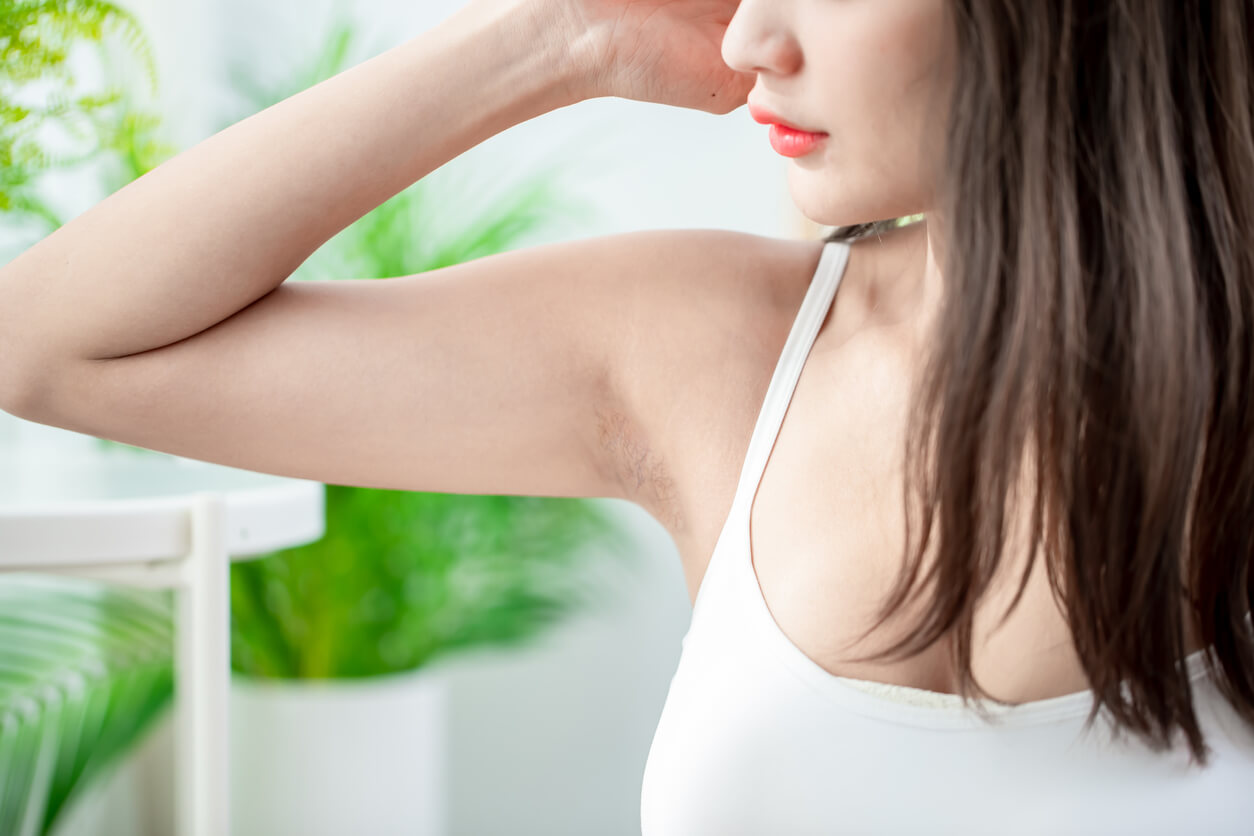 While having dark underarms or inner thighs is not a serious health concern, it can be a cause of embarrassment for many individuals.
If you too are bothered with this problem and want to lighten your skin, it is helpful to understand the factors that can contribute to discoloration or darkening of the skin under your arms and in between your inner thighs.
Here are some of them:
Improper or poor hair removal techniques (excessive shaving or long-term use of depilatory creams that irritate the skin)

Accumulation of dead skin cells in the area

The use of antiperspirant and deodorants

Hyperpigmentation

Friction due to tight clothes

Hormonal imbalance (during pregnancy, menstruation, or having Polycystic Ovary Syndrome)
Do take note that this darkening of the skin can also be hereditary. It can also be due to a skin pigmentation disorder called Acanthosis Nigricans (AN), the medical term for darkened or thickened skin that usually occurs in the armpits and around the neck and groin. Furthermore, AN typically occur in people with diabetes or abnormal hormone levels.
What Can Work?
The good news is there are a number of treatments that can treat existing dark underarms and inner thighs. Several creams and home remedies are available, but it is best to talk to an aesthetic doctor for a safe skin lightening procedure that works.
At Cutis Laser Clinics in Singapore, we provide the Pink Intimate System, a non-invasive skin lightening and rejuvenation procedure that can brighten sensitive areas with no side effects and downtime.
Continue reading below to find out how it can improve the appearance of darkened underarms and groin (inner thighs).
What is the Pink Intimate System?
The Pink Intimate System is a painless skin lightening system made in Italy. It can brighten the skin in sensitive areas using a topical and non-invasive application that is specifically formulated, CE marked, and HSA Singapore registered. It can be used on different areas of the body such as:
Inner thighs
Underarms
Areola

(the skin surrounding the nipples)

Mons Venus

(the skin above the pubic area)

Labia Majora

(the outer folds of skin that are situated on the vaginal opening)

Perianal Region

(the area around the anus)

Inguinal Region

(the area of the crotch)
How Does it Work?
The whole procedure can take about 45 to 60 minutes. It starts with a deep cleansing of the skin and followed by the application of the Pink Intimate System.
The solution uses a delicate mixture of safe lightening ingredients like glutathione and kojic acid. These are clinically formulated to lighten unsightly blemishes and intimate areas.
It also contains other nourishing and soothing ingredients such as:
Retinol – promotes collagen release at a dermal level
Modulated Chloretic Acid

– increases the permeability of the skin, which allows effective absorption of the solution

Bisabolol

– calms and soothes skin irritation (ideal for those with sensitive skin)

Vitamin B12

– reduces redness and dryness, and promotes skin cell production

Glycyrrhiza Glabra Root Extract

– for anti-inflammation
What to Expect
You may be able to notice improvement on the treated area after the first application of the solution. Just make sure to follow the recommended protocol, which is six sessions, with an interval of 7 to 10 days apart.
The entire procedure is safe and gentle, and does not require any recovery time so you can go back to your normal activity after the procedure.
Does it Hurt?
Most patients reported that the procedure has very minimal discomfort. There might be some slight tingling sensation when the solution is applied but it resolves quickly when its absorbed by the skin.
Sensations may vary for more sensitive areas such as the intimate regions but rest assured that the procedure itself is gentle and tolerable.
Is There Any Preparations Needed?
Yes, but it's quite simple. Make sure to avoid shaving, waxing or tweezing the area, at least three days before your procedure. This ensures that the skin is intact and the area is free from any irritation or rash.
Why Choose the Pink Intimate System?
The Pink Intimate System is dedicated to safely and effectively lighten sensitive areas without downtime or side effects. This allows you to feel better or more confident in your own skin.
You can read our previous blog to learn more about this non-invasive lightening and rejuvenation solution.
Schedule a Consultation Today
Say goodbye to dark underarms and inner thighs with the Pink Intimate System. Contact Cutis Laser Clinics in Singapore and schedule a consultation with our Harvard-trained aesthetic doctor, Dr. Sylvia Ramirez, to find out if this non-invasive skin lightening solution is right for you.
Tags: Skin Lightening, Pink Intimate, Aesthetic Doctor