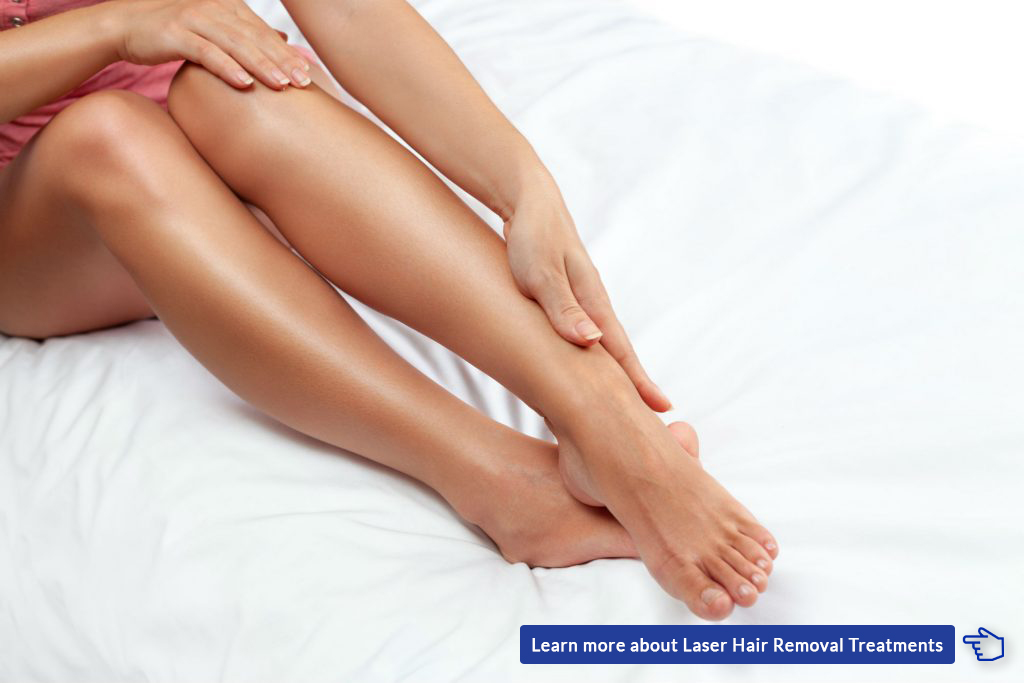 As much as we try to shave, wax, tweeze, and thread, stubborn hair keeps coming back. If you've tried every hair remover method in the book but continue to deal with problems such as stubble and fast hair growth, try something new.
Cutera CoolGlide Laser Hair Removal is a safe and effective way to achieve permanent hair reduction that lasts longer than most other methods.
Cutera CoolGlide hair removal works by using US FDA-cleared 1064 Nd:Yag laser technology to damage the hair follicles and disable hair growth. Also, the laser handpiece has a built-in cooling design which improves patient comfort.
It is a suitable hair removal treatment especially for patients with darker skin types including tanned skin.
Are you ready to say hello to smooth, beautiful skin?
Check out the answers to these common laser hair removal questions and see why this procedure is the solution you've been looking for.
1. How Does Laser Hair Removal Work?
Hair removal for women and men starts at the hair follicles. During treatment, the CoolGlide lasers penetrate the skin in the targeted area by delivering light energy to heat hundreds of hair follicles in mere seconds.
Due to the device's innovative cooling design and ability to create longer wavelengths, this form of laser hair removal has been found to be highly safe and effective.
2. Is it Effective? How Many Sessions Will I Need?
Everyone is different. Some women may have more hair than others, while some have different skin tones and textures. All of these factors can contribute to the number of treatments you will need.
However, most patients will require an average of 8 to 12 sessions to see optimal and effective results. This is because the laser technology targets hair growth in the growth (Anagen) stage. In some areas, only 10 to 15 percent of hair is permanently treated in a single session, making multiple sessions a must.
3. How Do You Know It's Safe?
If you want to ensure a safe and effective treatment, make sure to consult a certified aesthetic doctor who is highly experienced and licensed to administer laser hair removal treatment.
It will also help if you do careful research to check the origin of the laser hair removal machine and whether it is FDA-cleared for safety and effectiveness.
4. Is the Procedure Painful?
The amount of discomfort you feel during laser hair removal will primarily depend on the area being treated and your unique level of pain tolerance. However, most patients find that the treatment is completely tolerable.
For those who are hesitant about the pain, a numbing cream can be applied to the skin prior to treatment. If you have sensitive skin and are concerned about how it will handle the treatment, ask for a patch test.
5. What Areas Can Be Treated?
Men and women often rely on laser hair removal to get rid of hair in unwanted areas. Both body and facial hair removal can be achieved with the CoolGlide technology.
Some of the most common areas treated with laser hair removal include the face, back, chest, bikini area, arms and legs.
6. Are There Any Preparations Needed Before the Procedure?
Yes, there are a few things to avoid before your hair removal treatment.
First, avoid shaving the area at least 24-48 hours before your treatment. The hair should be long enough for "stubble" to be visible. Your aesthetic doctor needs to be able to see some hair growth from follicles to perform an effective treatment.
Second, try not to tweeze or wax the area to be treated at least 2 weeks before your laser treatment.
Third and most important of all, avoid artificial tanning or sun exposure without sun protection at least 2 weeks before and after hair removal treatment. Suntanned skin will have a higher sensitivity to the procedure due to the altered skin color and for your skin's safety, you will be advised to reschedule your treatment.
If you're tired of relying on conventional hair removal methods like shaving and tweezing, consider laser hair removal today.
Want to learn more about how to remove hair using Cutera CoolGlide laser hair removal? Schedule a consultation with Dr. Ramirez today at the Cutis Laser Clinic in Singapore.
Tags: Aesthetic Doctor, Permanent Hair Reduction, Laser Hair Removal