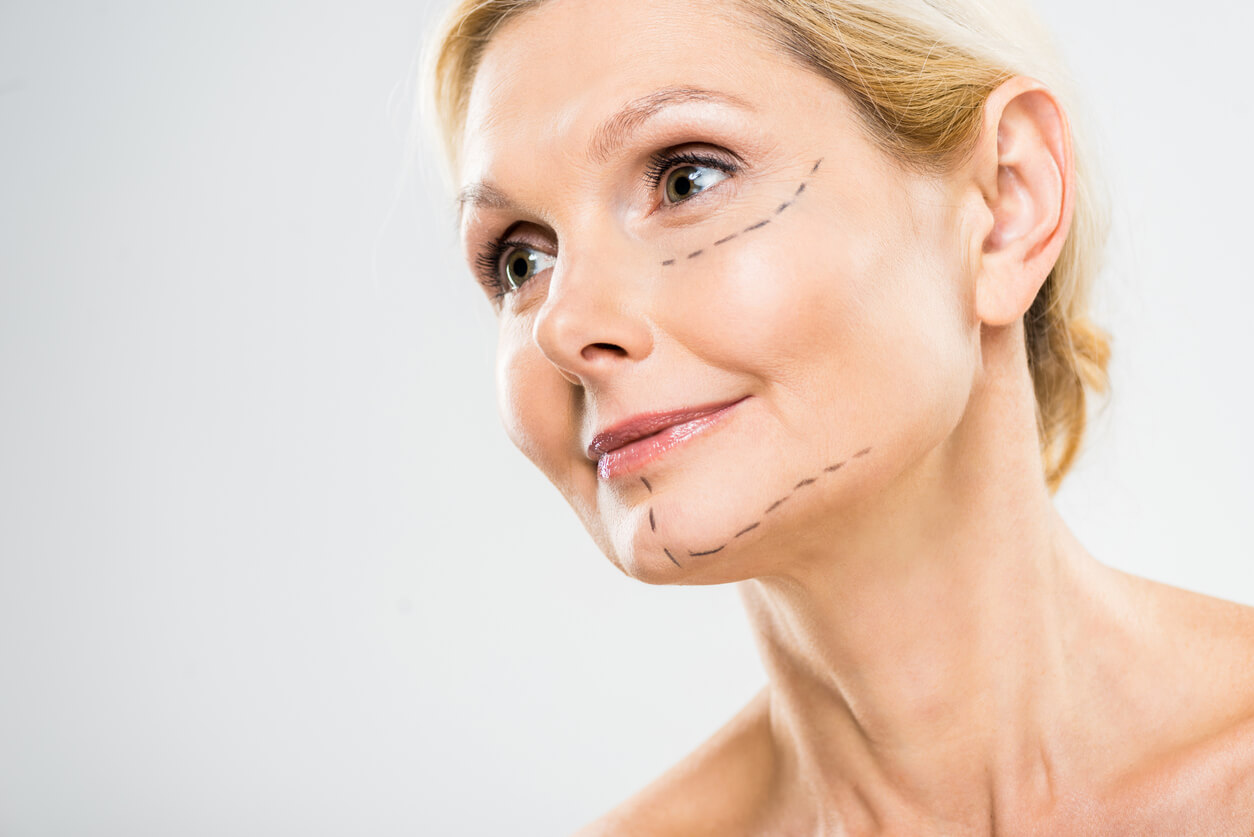 Advancing in years may mean more wisdom, but there is also an unwelcome changes in the form of loose skin. The skin sags mainly because of the decrease of collagen (the protein that gives your skin strength and flexibility) levels in the body caused by aging and other factors like UV rays exposure and smoking. 
Another reason the skin sag is the loss of facial fat, causing the face to look droopy. Facial bones may also recede and lose their volume over time, contributing to a deflated look and older appearance. 
You may also notice fine lines and wrinkles in the face, as well as sagging skin around the cheeks and mouth, showing up as jowls.
Can you fight sagging skin?
It is common for the skin to sag and become thinner and fragile as you age. You may not be able to completely stop the skin from sagging, but there are several things you can do to slow down its appearance or prevent it from becoming more severe. Here are some of the things that can help:
Wear sunscreen daily

– This can protect you against sun and UV rays, which is responsible for the majority of visible skin aging. Choose a lightweight and broad-spectrum product with an SPF of at least 30.
Eat a healthy diet and avoid smoking

– Load up on fruits and vegetables, as well as foods rich in Vitamin C and omega-3 fatty acids. You should also quit smoking (if you do) to avoid premature skin aging and cancers.
Invest in the right products

– Use antioxidant serums to reduce free radical damage due to UV rays/light, as well as retinoid product to reduce wrinkles and stimulate collagen production over time. 
Consider Aesthetic Treatments (Combat Sagging Skin)
To effectively fight the signs of aging, you can also get help from non-invasive skin tightening procedures. Here at Cutis Medical Laser Clinics, we offer a number of energy-based treatments that can help reverse sagging skin without any injections or going under the knife.
Ultherapy
Ultherapy in Singapore is a non-invasive facelift procedure that uses an FDA-cleared device called Ulthera. It delivers time-tested focused ultrasound energy that penetrates into the deeper layers of the skin, triggering a natural response that jumpstarts the process of new collagen production.
This procedure can be used on the skin on the face, brow, under the chin, and on the neck. It can also help improve the appearance of fine lines and wrinkles on the face and chest areas. You may notice improvement after the first treatment, but full and visible results are seen after two to three months.
Ultherapy can be an annual treatment to slow down the effects of aging. It is also like putting more collagen in your collagen bank, as this essential protein depletes over time. It is also better to do Ultherapy than not doing anything at all.
Ultherapy has no downtime, which only means that you can go back to your normal routines right after. You can read our previous post to learn what to expect before and after Ultherapy.
Titan
Titan is a nonsurgical skin tightening procedure that uses an FDA-cleared infrared light to stimulate collagen production. This can be used for tightening lax skin in your face, arms, abdomen, and legs, as well as improving lines and folds. It can give your skin a youthful glow without cuts, needles, or longer recovery time
This works by delivering light energy that provides a uniform distribution of energy for heating the deep dermis. The use of infrared light causes immediate collagen contraction, resulting in tighter skin. New collagen will continue to tighten and firm the skin over time, resulting in further improvement of the loose skin, lines, and folds. 
Titan can also be combined with Laser Genesis (an FDA-cleared procedure that promotes healthy skin using innovative laser technology) in 2D Skin Rejuvenation. This furthers improve skin's texture and firmness, resulting in smoother and more youthful-looking skin. 
Exilis Ultra
Exilis Ultra is a non-invasive treatment that can tighten the skin, reduce fat cells, and promote collagen production. It can also help reverse sagging skin as well as improve skin around the eyes, chin, jawline, décolleté, arms, elbow, buttocks, as well as thighs, banana rolls, and ankles.
The procedure uses an FDA-cleared device that simultaneously delivers radiofrequency and ultrasound energies. This comes with two applicators: small and big. The small one heats the deep layers to treat small areas of the body (face, hands and arms), while the big applicator has a controlled cooling to tighten loose skin and reduce fat.
Exilis Ultra offers dramatic skin tightening without the extensive recovery period associated with surgery. It has no downtime or side effects, which means that you can return to your normal activities directly after the session. Check out our previous post to learn more about this non-invasive skin tightening for the face and body.
With the procedures mentioned above, you can now a younger-looking appearance without surgery or downtime. Contact Cutis Laser Clinics today and schedule a consultation with our Harvard-trained aesthetic doctor in Singapore, Dr. Sylvia Ramirez, to find out more about these non-invasive treatments.