Saggy jawlines and jowls are common side effects of aging. Hanging skin in this area is often caused by a loss of elasticity and/or fat volume around the bottom section of the face.
When too much sagging occurs, it can make your face look off balance. To fix a sagging jawline and jowls without resorting to surgery, try non-invasive treatments designed to tighten and lift skin. Ultherapy and Dr. Perfect V-Line are two such safe treatment options that can help you achieve a firmer, more youthful jawline and jowls.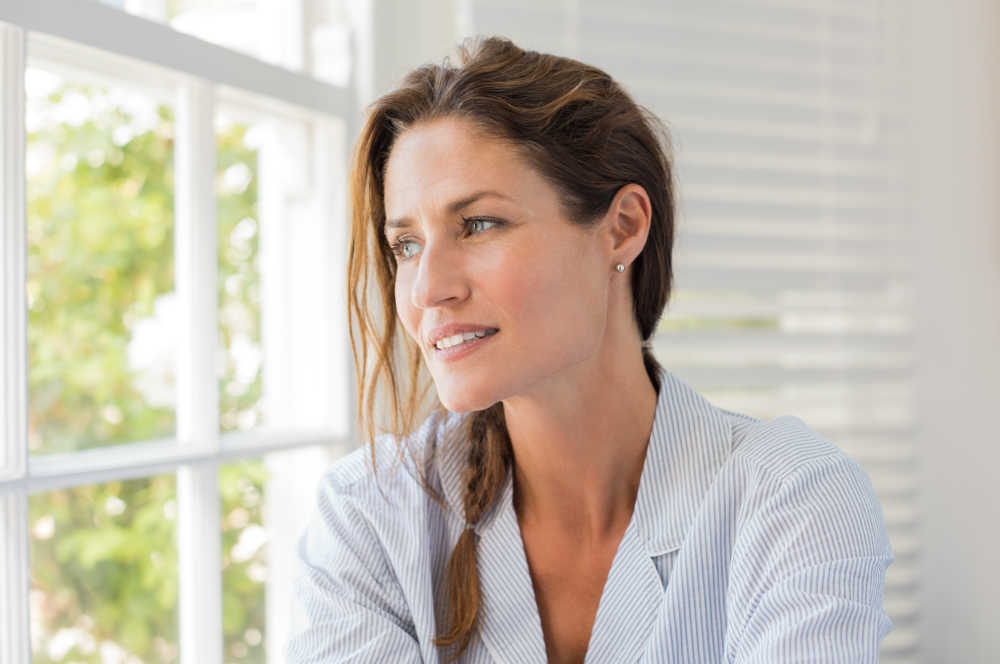 Ultherapy
Jowls are small pouches that develop along the jawline due to gravity and a loss of elasticity, causing the skin to hang down. In addition to making you appear more aged, jowls along with a sagging jawline can make you look tired and sad even when you're not. Ultherapy is a type of ultrasound treatment designed to tighten skin and smooth out loose facial skin.
Ultherapy uses sound energy to bypass the surface of the skin to treat the underlying tissues. The ultrasound technology stimulates collagen production, creating a lifting effect of tissues over the course of two to three months. The treatment generally takes about 60 to 90 minutes on average. There is no downtime following the procedure and you can return to your normal activities immediately.
Ultherapy skin tightening typically requires just one treatment. However, people with severe skin laxity may require multiple treatments to achieve desirable results. Also, results can vary from patient to patient as everyone's biological response to ultrasound energy is different. As the skin continues to age, you may also need to undergo future sessions to maintain results.
Dr. Perfect V-Line
PDO therapy is an effective cosmetic procedure designed to tighten and lift sagging skin tissues. During the treatment, absorbable polydioxanone (PDO) threads are implanted into the subcutaneous layer of skin using fine needles. Dr. Perfect V-Line is one of the newest PDO thread concepts. When inserted into the skin, the threads trigger an autoimmune response that results in the formation of collagen.
With the Dr. Perfect V-Line treatment, patients are able to return to their daily activities directly after the procedure. Side effects and allergies to the sutures are rare. The threads are safely absorbed into the body over a two to six month period. Once fully absorbed, you may require additional treatments to maintain your results. There are several types of PDO threads available which can last several months to several years.
The Dr. Perfect V-Line procedure has several advantages over precious PDO thread therapy options. Dr. Perfect uses only 100 percent polydioxanone to maximize results. This clinically-proven, bio-compatible material is widely used in the medical field for suturing.
The threads are effective at lifting tissue while providing skin rejuvenation. In addition to being useful for jawlines and jowls, the threads can also be used on other areas of the face, as well as the arms, thighs, and abdomen.
If your sagging jawline or jowls are affecting your self-confidence, opt for a non-invasive treatment to smooth out your facial contours. Contact our skin specialist at the Cutis Laser Clinics in Singapore to learn more about Dr. Perfect V-Line or the Ultherapy procedure.
Tags: Laser Clinics Singapore, Ultherapy Skin Tightening, Dr. Perfect V-Line