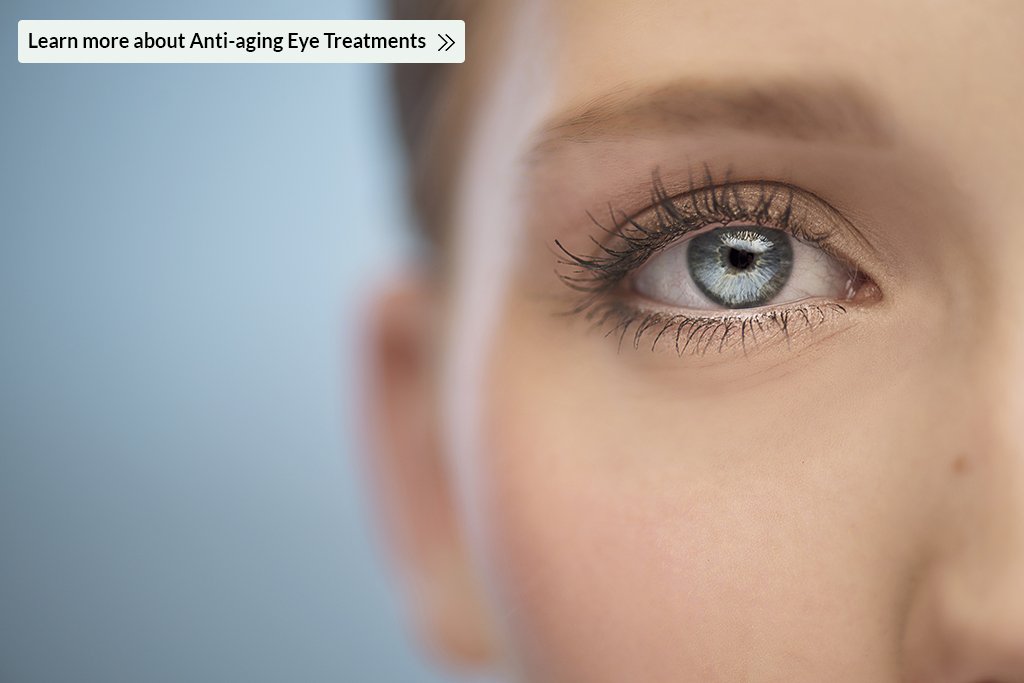 Over time, our skin becomes thinner and less elastic, showing noticeable signs of aging like wrinkles, fine lines, and age spots. The eyes, or the delicate skin around it, is among the first areas to show visible changes – loose skin, droopy eyelids, puffiness, and dark circles.
While the use of concealer can sometimes do the trick, it does has its limitations. If you want to have youthful eyes, even without using any cosmetics, using medical-grade product and safe non-surgical treatments can just do the trick.
1. Use an Anti-Aging Eye Cream Daily
Good eye creams are light and non-greasy giving your eyes enough moisture without causing your skin to breakout. Lookout for eye creams with anti-wrinkle formulations such as Argireline and Syncoll™, two safe and clinically-proven ingredient that reduces fine lines and wrinkles while improving the skin's texture.
Both ingredients can be found in ELASTIfirm Eye Cream from Dr. Sylvia Skin Care. This anti-aging eye treatment can moisturize your eye area and protect it against free radicals. It can enhance the skin's texture and condition and help it resist environmental aging.
ELASTIfirm Eye Cream is also boosted with Vitamin C, Olive Squalene, and natural moisturizing factors, which can make the skin appear smoother. Another good thing about this product is that it is non-greasy and can be used daily or applied under makeup.
2. Get Rid of Wrinkles at the Corners of the Eyes (Crow's Feet)
One limitation of using a concealer is that it cannot hide wrinkles at the corners of your eyes. What's even worse is that some concealers form creases, settling into fine lines which makes it more obvious.
The only way to get rid of with these wrinkles is to treat the root cause of it. Wrinkles in the corners of the eyes are called dynamic wrinkles which occur whenever we use our muscles to form facial expressions such as smiling or frowning.
One of the most popular and safe treatment to get rid of dynamic wrinkles is Botulinum Toxin (or more commonly known as Botox). Commonly known as an injectable wrinkle treatment, Botox is used to remove wrinkles in the corner of the eyes, forehead lines and frown lines in between the brows.
Botox has been FDA-cleared for many years and is one of the most well-known cosmetic procedures that is proven safe by over 11 million patients who have experienced its effective results.
The treatment works by temporarily blocking the signal from the nerves to muscles, relaxing and softening the wrinkles formed due to muscle contraction. The entire procedure takes at least 15 minutes. For some, the procedure involves the use of topical anesthetic cream to make the treatment more comfortable. According to most patients, the treatment has minimal to no pain at all.
Rest assured that the "frozen" look can be avoided as this is dependent on the dosage is given and the technique of the injector. However, when injected by an experienced aesthetic doctor in Singapore, Botox can look very natural making you appear more refreshed (as if you just had a good rest).
The results can last between and three to six months, but its effectiveness is likely to last longer with repeated injections. There is also no downtime needed, so you can immediately go back to your normal routine.
Just be sure to avoid massages or manipulation of the area for three to four hours and strenuous exercise 24 hours after treatment to avoid the spread of Botox on areas where they shouldn't be.
3. Remove Under Eye Bags and Dark Circles
Once of the common reasons why we use concealers is to cover dark under eye circles that often make us look tired. Dark circles may be due to various reasons such as skin laxity or loose skin, formation of a "tear trough" or a sunken area under the eyelid (eye bags), or pigmentation from fine blood vessels.
If the cause is skin laxity and formation of sunken area, the safe and effective treatment will be Dermal Fillers, injectable gels used to plump up the lips, contour the face, enhance cheekbones, and decrease the appearance of fine lines and dark circles.
In Cutis Laser Clinics in Singapore, our Harvard-trained doctor, Dr. Sylvia Ramirez, usually recommends to start with cheeks fillers first as this is the main foundation of our face and even just the treatment on the cheeks area will result in improvement in the under eye area.
Our clinic uses two types of dermal fillers: Hyaluronic Acid and Calcium-based microspheres.
Hyaluronic Acid (HA).

HA fillers like

Juvederm

® are made of Hyaluronic acid, a substance naturally present in the body. They can be used to

improve eye bags

, fine lines, and nasolabial folds. These

dermal fillers

are also beneficial in filling the lips, adding volume in the cheeks, and increasing the height of the nose bridge without surgery.

Calcium-based.

Just like HA fillers, calcium-based microspheres like Radiesse® are made of minerals naturally found in the body. Such

dermal fillers

can improve lines on the face, fill the lips and nasolabial folds, and add volume to the cheeks. Radiesse® can plump the skin and replenish lost volume over time, giving you a refreshed look.
Minimal swelling may be present in the treatment area after a day or two. Temporary bruising may also occur, but you can reduce this by applying cold compresses after the procedure. You should also avoid touching the area within 24 hours, as well as sunbathing, exercise, and alcohol drinking.
4. Improve Collagen Production in Your Eyes
Collagen plays an important role as it maintains the structure, smoothness, and elasticity of our skin, especially around our eyes. However, as we age, our collagen breaks down which is our eyes can look saggy and droopy.
If you want to lift and tighten saggy eyes without any injection or surgery, you may want to consider Ultherapy and Exilis Ultra.
Ultherapy is an FDA-cleared non-invasive face lifting procedure that uses ultrasound energy to stimulate collagen production in the deeper layer of the skin – the same layer that is addressed during cosmetic surgery!
Ultherapy works by bypassing the surface of the skin to deliver the right amount of ultrasound energy at the right depths and the right temperature. This energy triggers a natural response under the skin, jumpstarting the regenerative process that produces fresh, new collagen.
The result is gradual tightening and firming of the eye area which results in a natural lift of skin over time. Since Ultherapy is non-invasive, it does not require any downtime so you can return to your normal activities after the treatment.
In Cutis, we also combine Ultherapy with Exilis, an FDA-cleared aesthetic device that simultaneously delivers ultrasound and radio frequency energies to tighten the skin and promote collagen production.
Exilis uses an EFC™ (Energy Flow Control) to ensure that the optimal level of power is delivered with the energy being monitored and adjusted in real time.
Exilis can be used to treat the skin around the eyes, the cheeks, the jawline and other smaller areas of the face and body. Iy heats the skin's deep layer to stimulate collagen production, reduce wrinkles, and tighten the skin.
The best part about Exilis is that it is a very tolerable treatment with sensations comparable to a hot stone massage. It is also non-invasive, which means that it does not involve any surgery or injection. Furthermore, it can improve your skin without downtime or discomfort.
Don't let the skin around your eyes reveal your age! Contact Cutis Laser Clinics today and schedule a consultation with our Harvard-trained aesthetic doctor in Singapore, Dr. Sylvia Ramirez, to learn more about the products and treatments that can reverse skin aging around your eyes.
Tags: Anti-Aging Eye Care Treatment, Botox, Dermal Fillers, Ultherapy, Exilis Ultra