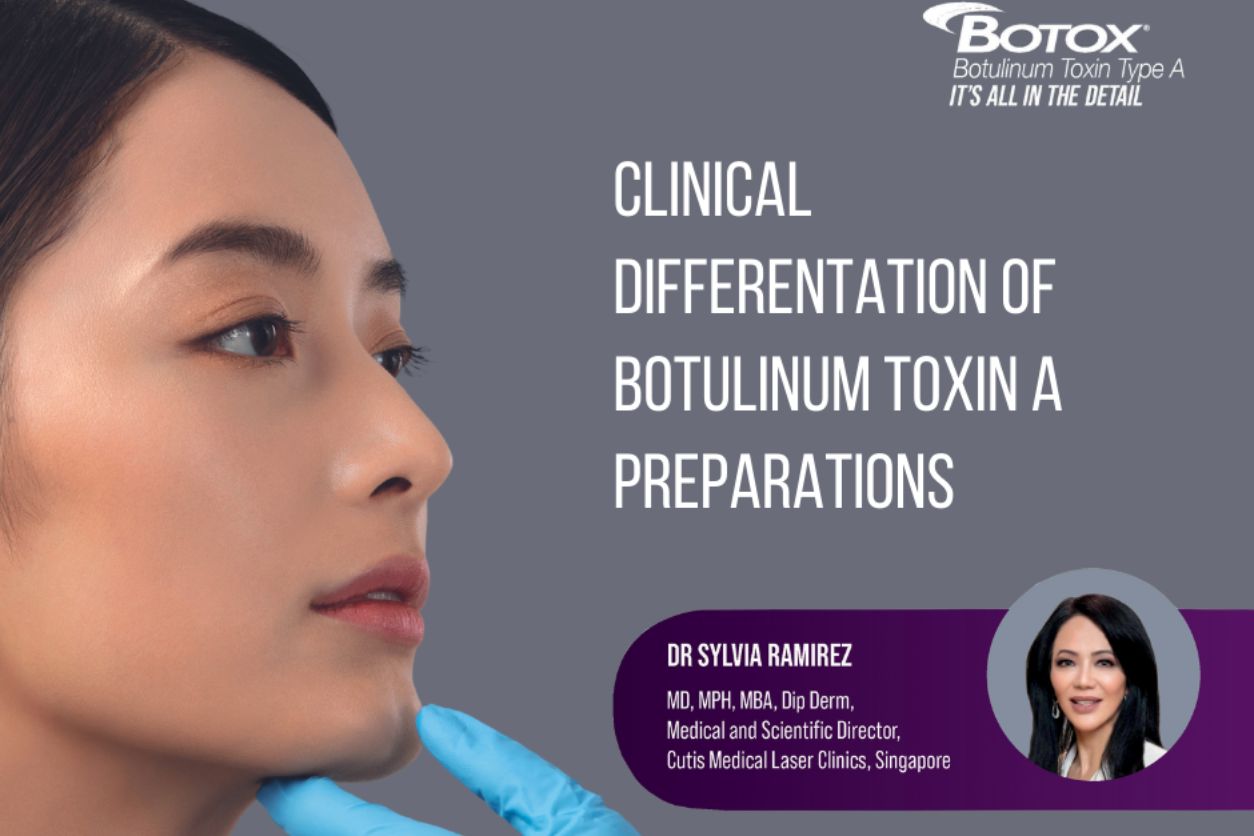 Our very own Dr. Sylvia Ramirez presented a lecture on the topic of Clinical Differentiation of Botulinum Toxin A Preparations during the 2021 Allergan Aesthetics Summit, held on 22nd November. Her presentation also included Questions and Answers regarding the neurotoxin's dosage, formulation, and immunogenicity.  
In this lecture, Dr. Ramirez discussed the importance of understanding the differences between botulinum toxins and how it affects patient satisfaction. She also shed light on the following topics:   
Differences in Manufacturing and Formulation

Comparative Clinical Trials – Dose and Duration

Immunogenicity by Formulation

Immunogenicity by Clinical Indication
Botulinum toxin is a well-known treatment for temporarily reducing the appearance of facial wrinkles, but also has therapeutic uses like treating excessive sweating and neck spasms. 
As mentioned in the lecture, Botulinum toxin type A products are not interchangeable. This is why several factors including efficacy, safety, track record, and manufacturing  should be considered when choosing a toxin. 
The neurotoxin, furthermore, is a biologic drug with a complex manufacturing process that varies from batch to batch. A slight change in the process can alter the clinical formulation and immunogenicity of the toxins. 
Dr. Sylvia's lecture also featured clinical studies and trials related to Botulinum toxin Type A's dose and duration, as well as a meta-analysis on dosing for aesthetic and clinical indications and how it affects the formation of antibodies. 
Dr. Ramirez's lecture included questions and answers about several issues, including: 
Primary and secondary non-response to botulinum toxin treatments

Truly identified case of antibody formation 

Advice for patients who claim to have a lack of effects after some years of treatment

Roles of dosage, duration, and interval of treatment in the formation of antibody and immunogenicity 

Opinion on the theory of pure toxin
Dr. Sylvia is a consultant for Allergan Aesthetics, an AbbVie Company. She also has years of experience performing Botox and filler injections. This lecture demonstrates her commitment to continuous education and staying up to date with the recent insights and knowledge in the medical aesthetic field and sharing it with others. 
Allergan Aesthetics summarized the lecture by Dr. Sylvia in a newsletter that was given to all practicing aesthetic doctors here in Asia Pacific. 
Marking 20 Years of Botox
Botox® Cosmetic is celebrating its 20th year this 2022. The neurotoxin brand was first US FDA-approved two decades ago, primarily for temporarily improving the look of moderate to severe frown lines in adults. Since then, Botox® Cosmetic has become a household name and trusted brand with a high patient satisfaction rate.
Botox® Cosmetic is also one of the most common facial wrinkle treatments at Cutis. The brand is the first product of its kind on the market to be FDA-approved not just for frown lines, but also for forehead lines and crow's feet. Botox's 20th year is a celebration of its rich history, including the people, providers, and patients who have helped make Botox what it is today.