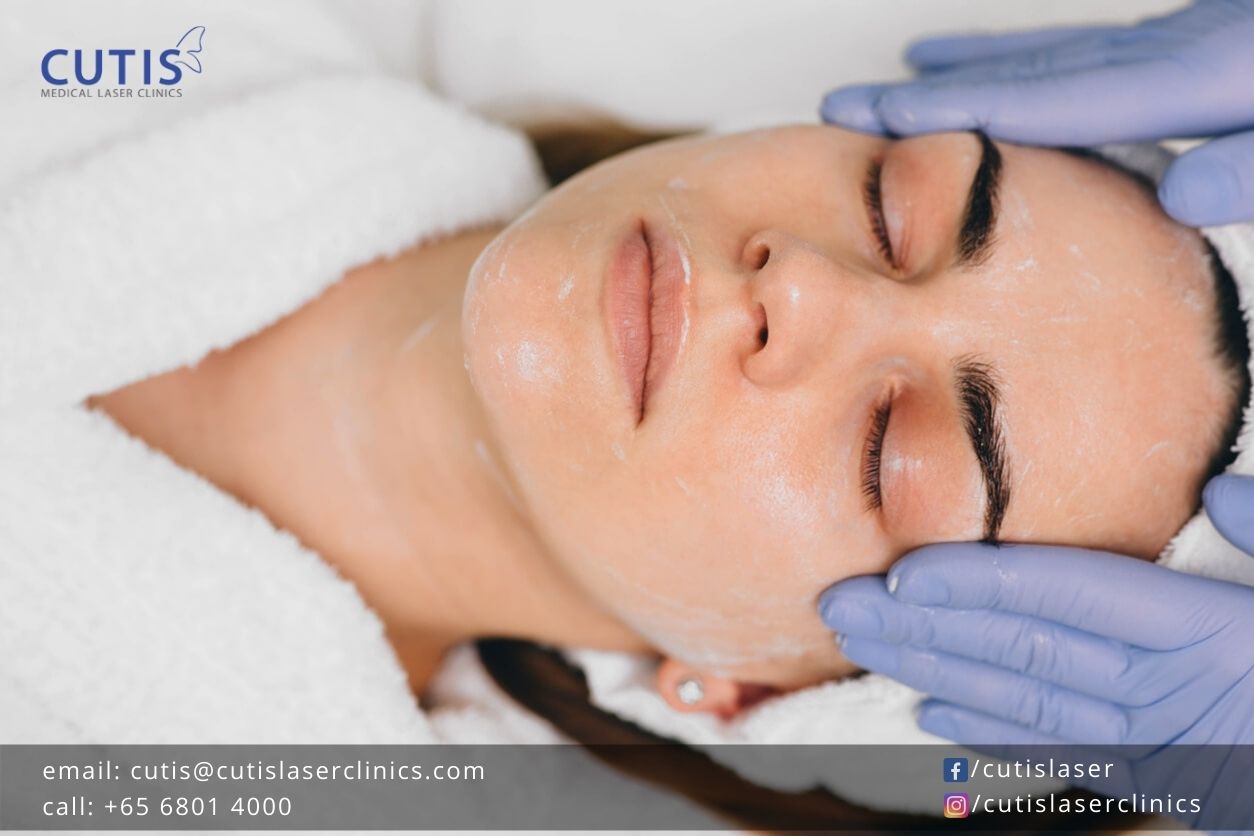 When it comes to restoring your skin, you need more than just rejuvenating beauty and skin care products. While quality creams, serums, and formulas can help, there are also cases where you can benefit from a professional facial session. This is especially true if your skin looks dull or is always in need of cosmetics to conceal certain issues.
Here at Cutis Medical Laser Clinics, we have a number of skin rejuvenation facials that can help restore your glow. Our facial treatments are also designed to address or improve specific skin care issues. Continue reading to learn more about and find which of our medical-grade facials is right for you.
1. For congested and blemish-prone skin: Clarifying Facial with Sapphire
This medical-grade facial combines the Sapphire Blue Light Therapy, along with gentle extractions, DiamondTome Microdermabrasion, and a specialized mask. This helps clarify skin by removing dead skin cells and impurities. Those with oily, congested, and acne-prone skin can benefit from this facial.
The Sapphire Blue Light Therapy, which is the main feature of this facial, uses blue LED in the range of 415nm to treat acne and other related issues. This is US FDA-cleared for killing acne-causing bacteria, clearing inflammation, closing the pores, and healing the skin. Clarifying Facial leaves you with a clear and nourished complexion. 
2. For replenishing the skin and addressing a range of concerns: Hydra Dermabrasion
Also known as HydraFacial, Hydra Dermabrasion uses water and oxygen to gently exfoliate and hydrate the skin. It is a multi-step treatment that features a gentler and a more comfortable procedure than microdermabrasion. It is safe for all skin types and can treat a range of skin issues such as oily skin, pigmentation, and signs of aging.
At Cutis Medical Laser Clinics, we have two types of hydra facials. The first one is the clarifying facial, which provides the added benefit of reducing dark circles and puffy eyes. We also have the anti-aging facial, which improves muscle tone, softens the skin, and increases cellular activity.
Check out the 5 reasons to love Hydra Dermabrasion.
3. For addressing signs of aging: Anti-aging facial with Perfectio+
This skin rejuvenating facial is named "Best Firming Facial" from HerWorld Spa Awards 2019. It involves Perfectio+ Dual Light Therapy and DiamondTome Microdermabrasion, along with a specialized mask for further skin nourishment. It is suitable for all skin types, especially in areas where skin firming is desired.
The Perfectio+ Dual Light Therapy combines red and infrared light to treat the skin from the surface to its core. This facial is also cleared by the US FDA to rejuvenate the skin, reduce fine lines, and stimulate collagen production. Anti-aging facial with Perfectio+ also improves dull skin and reduce age spots by targeting the melanin.
4. For improving skin laxity: Premium Anti-Aging Facial with Exilis 
This skin rejuvenation treatment features the use of BTL Exilis Ultra to firm and tighten the skin. Exilis Ultra is a US FDA-cleared non-invasive skin tightening treatment that uses radiofrequency and ultrasound energy. The device can address different face and body concern and is clinically proven to target fat deposits and tighten skin.
Our Premium Anti-aging facial also involves DiamondTome Microdermabrasion and a Gold Collagen face mask. This is suitable for all skin types, more particularly in areas where skin firming is needed or where signs of skin laxity are visible.
5. For brightening and regenerating the skin: V Carbon
This anti-aging facial uses activated vegetable carbon to detoxify, purify, and brighten your skin from within. V Carbon Facial also features a blend of safe and natural exfoliating ingredients with clinically proven antioxidants (Liquorice and Black Ginger Extracts). This reduces inflammation and protects the skin from within.
The V Carbon facial exfoliates the skin and stimulates collagen production to clarify and brighten the skin. This makes it a good choice if you're looking to reduce blemishes, clear pores, remove dead skin cells, and improve fine lines. It is suitable for patients with dull and oily skin, acne, blackheads, and enlarged pores.  
Schedule a consultation today 
A consultation with our aesthetic doctor can help you learn more about what to expect from the facial, as well as the recommended number of sessions needed to achieve and maintain your desired results.
Contact Cutis Medical Laser Clinics in Singapore and schedule a consultation with our Harvard-trained aesthetic doctor, Dr. Sylvia Ramirez, to determine which facial treatment suits you best.