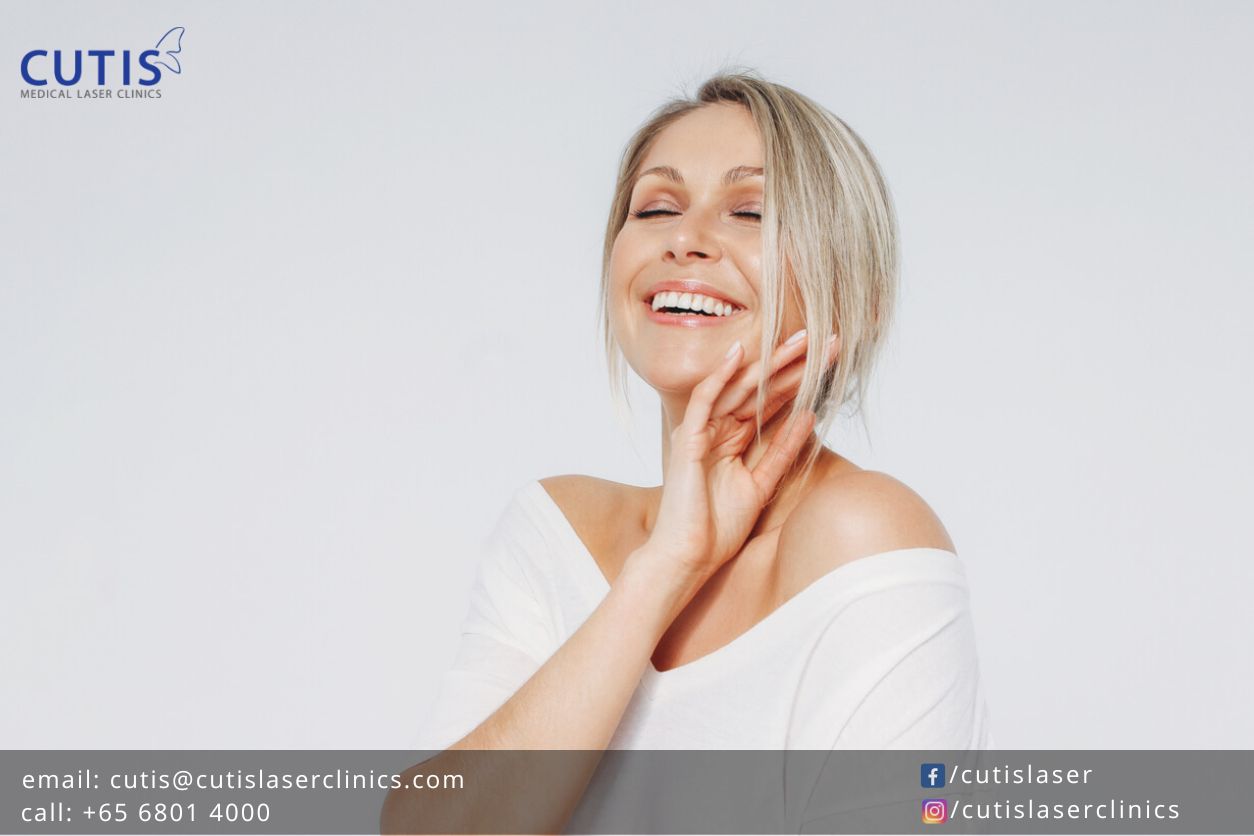 Botox and dermal fillers are not the only cosmetic injectables that can help improve signs of aging. Profhilo, which is referred to as a bioremodeling injectable, can also do the same, with other benefits such as restoring hydration, addressing laxity, and improving overall skin quality.  
So, what exactly is Profhilo?
Profhilo, as previously mentioned, is a skin bioremodeling injectable that can help you achieve smoother, tighter, and more glowing skin. It contains 100% pure hyaluronic acid (HA) and bio-stimulates essential skin proteins that can help restore hydration and improve skin laxity. It is ideal for dull, tired, and aging skin.
This injectable transforms the skin through a slow release of hyaluronic acid. This then enables bioremodeling of the skin by stimulating the production of four types of collagen (I, III, IV, and VII), elastin, and proliferate adipocytes (fat) stem cells. Its high and unique concentration of HA allows firming, lifting, and hydration of the skin.
When it comes to injection technique, it uses the BAP (bio-aesthetic points), with only five injection points on each side of the face (with a total of 10). This helps achieve good results with fewer sessions and less discomfort, while also minimizing the risk of bruising. The BAP technique also delivers a natural and lasting refreshed appearance. 
Take note: While Profhilo and certain dermal fillers both contain hyaluronic acid, they work differently. Profhilo is not a filler and therefore cannot address issues associated with volume loss like eye bags and sunken cheeks. 
What Profhilo does is improve skin texture, firmness, and hydration. It can improve fine wrinkles in the skin, but cannot address deeper or more pronounced lines, which probably need Botox.
To learn more about the difference between Profhilo, Botox, and dermal fillers, check out and read our previous post.
Who is Profhilo right for?
Profhilo skin bioremodeling is ideal for both men and women looking to improve skin hydration, elasticity, and overall quality. There are no age limits or restrictions, but it is generally recommended for patients 30 and above. It can give you intense hydration benefits, with improvement in the tone, texture, and overall quality of the skin. 
Those who are in the younger demographic can notice more of a preventative effect with increased hydration levels. People in their 40s and 50s can see a reduction in fine lines and wrinkles with smoother and plumper skin. Those in their 60s can also see an improvement in their overall complexion, but may need other aesthetic treatments to tackle other signs of aging.
This injectable is worth considering if you notice:
Dry skin

Dull complexity

First signs of skin laxity/lax skin

Visible signs of aging like fine lines and wrinkles

That you are looking older than your age
Profhilo is also ideal if you're looking to improve your skin firmness and want a more glowing or luminous complexion.
Learn more about why Profhilo is the aesthetic treatment you need to transform and remodel your skin.
What are the benefits of Profhilo?
Stimulates elastin and collagen levels

Boosts skin hydration

Treats fine lines and wrinkles

Improves the overall quality of the skin

Stimulates tissue repair, which is ideal for acne scarring
It is commonly used on the face and neck, but it can also be used on other areas, including the:
Hands

Chest and abdomens

Knees

Depressed acne scars
How many Profhilo treatments do I need?
You may be able to see improvements after two sessions, which will continue to improve over two to three months. It is also worth knowing that Profhilo stays in the skin for about 28 days, where it stimulates collagen and elastin by slowly releasing hyaluronic acid.
Two is the recommended number of sessions, but this can still depend on your skin quality. The results can last for about six months, but can still vary from patient to patient. Maintenance or touch-up treatments are recommended every six to nine months to maintain youthful results. 
Are there side effects and downtime? 
Profhilo contains 100% pure hyaluronic acid, which the body completely metabolizes over time. And while you may notice some bumps after the injection, they disappear within 24 hours. It is also common to experience mild redness and swelling after the procedure, but these are temporary.
It is also good to know that Profhilo does not contain additives like Lycodine and BBDE, which are known to increase the formation of lumps. Downtime is minimal to none and patients are advised to avoid aspirin, anti-inflammatory medications, and alcohol 24 hours before the procedure.
Schedule a consultation today
Profhilo can be combined with other aesthetic procedures to suit your needs and goals. Contact Cutis Medical Laser Clinics in Singapore and schedule a consultation with our aesthetic doctor to learn more about Profhilo or to find out if it is right for you.