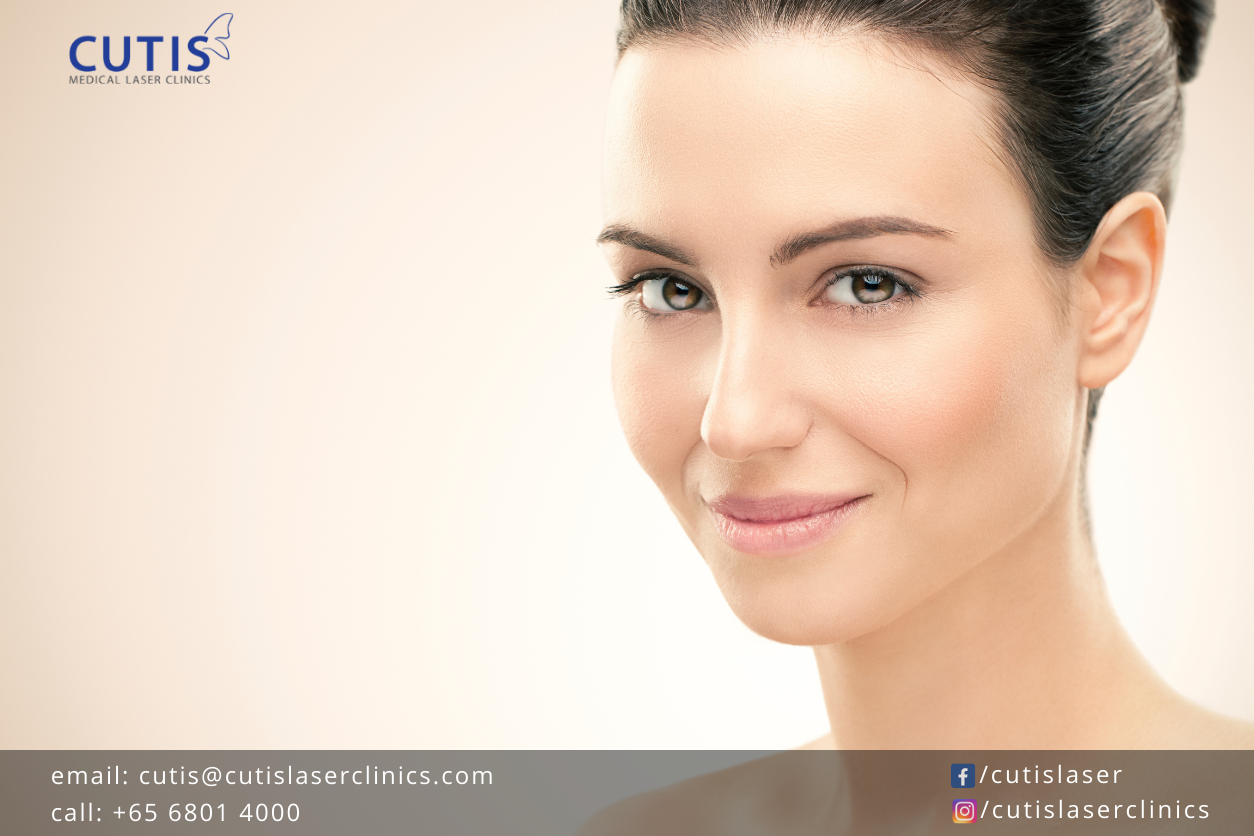 When it comes to fading dark spots, exfoliating treatments like chemical peels are a good choice. They remove the outer or damaged layers of the skin to reveal a healthier and more youthful complexion underneath. They can reduce pigmentation and uneven skin coloring, as well as improve acne scars, fine lines, and wrinkles.
Not all peels, however, are created equal. Some can do more or produce dramatic results, while others provide subtle improvements and can only penetrate the outermost layer of the skin. Some peels can also be harsh and may not be ideal if you have sensitive skin or dark skin complexion. 
So, what chemical peel should you try for lightening pigmentation?
Here at Cutis Medical Laser Clinics in Singapore, we have several treatments that can fade or improve dark spots. One procedure we believe is worth considering is Meso-Peel. This is not your typical chemical peel. It combines Dermapen 4 microneedling with a professional peel called Über Peel to address pigmentation concerns.
What exactly is Meso-Peel? 
Meso-Peel involves the use of Über Peels, which are chemical peel formulations designed to enhance microneedling procedures. One thing that makes Über Peels different is that they can improve and tackle several skin issues at once, eliminating the need for complicated solutions. 
Über Peels
At Cutis, we have the Über Pro Peel, which features a specific blend of active ingredients that can address different skin concerns. It helps promote cellular turnover and is ideal for hyperpigmented conditions, acne or problematic skin, and signs of aging like fine lines and wrinkles. 
Benefits of Über Pro Peel:
Resurfaces/refreshes top layer of the stratum corneum (skin's outer layer)

Lightens pigmentation and evens coloring

Provides a softer, smoother skin appearance

Reduces lines and wrinkles
Dermapen 4 microneedling
This automated microneedling device has 16 microscopic needles that vertically pierce the skin. This causes micro-injuries, inducing an immune response that facilitates faster wound healing and stimulates new collagen. It also creates fine fractional channels that allow the skin to transport more active ingredients deeper.
Benefits of Dermapen 4:
Promotes collagen growth

Reduces the

appearance of enlarged pores

and helps tighten skin

Has a dedicated scar setting and protocols for the revision of scars

Can improve

acne scarring

, fine lines, wrinkles, and pigmentation

Virtually pain-free with little to no downtime
Why Meso-Peel?
The procedure combines two effective skin technologies that can brighten and rejuvenate the skin. Dermapen 4 creates micro-injuries in the skin that help stimulate collagen growth. Über Peel, meanwhile, refreshes the skin's top layer to fade pigmentation and give the skin a softer, smoother appearance. 
The combination of Dermapen 4 and Über Pro Peel can transform your skin by: 
Lightening dark spots and pigmentation

Stimulating collagen growth

Promoting cellular turnover

Reducing scars, lines, and wrinkles

Improving the tone and texture of the skin
Other tips for preventing pigmentation 
While aesthetic treatments like Meso-Peel can fade pigmentation, it is also important to mind your skincare habits. Below are a few things that can help you prevent future hyperpigmentation. 
Wear sunscreen every day

– UV rays can damage your skin and make existing dark spots darker. Be sure to wear a broad-spectrum sunscreen daily with SPF 30 or higher. 

Don't pick or pop blemishes

– This can cause further inflammation and increase your risk of post-inflammatory hyperpigmentation and

acne scarring

. Read this blog for tips on

how to stop touching your face

. 

Moisturize your skin

– Keep your skin moisturized to prevent dryness and irritation. Look for those with hyaluronic acid or lightening ingredients like niacinamide or vitamin B3. This can help treat hyperpigmentation and minimize

enlarged pore

appearance. 

Treat breakouts and other blemishes early

– Doing so can prevent marks, spots, and scars after a blemish has healed. Early treatment can also reduce your likelihood of needing stronger medications in the future. 
Want to learn more about Meso-Peel and how it can transform your skin? Contact Cutis Medical Laser Clinics in Singapore today and schedule a consultation with our Harvard-trained aesthetic doctor, Dr. Sylvia Ramirez.