Unwanted fat on your arms do more than just make you feel self-conscious about your upper body. There is also the issue of not being able to fit into your old or favorite clothes, as well as finding the right poses to hide your arms in pictures.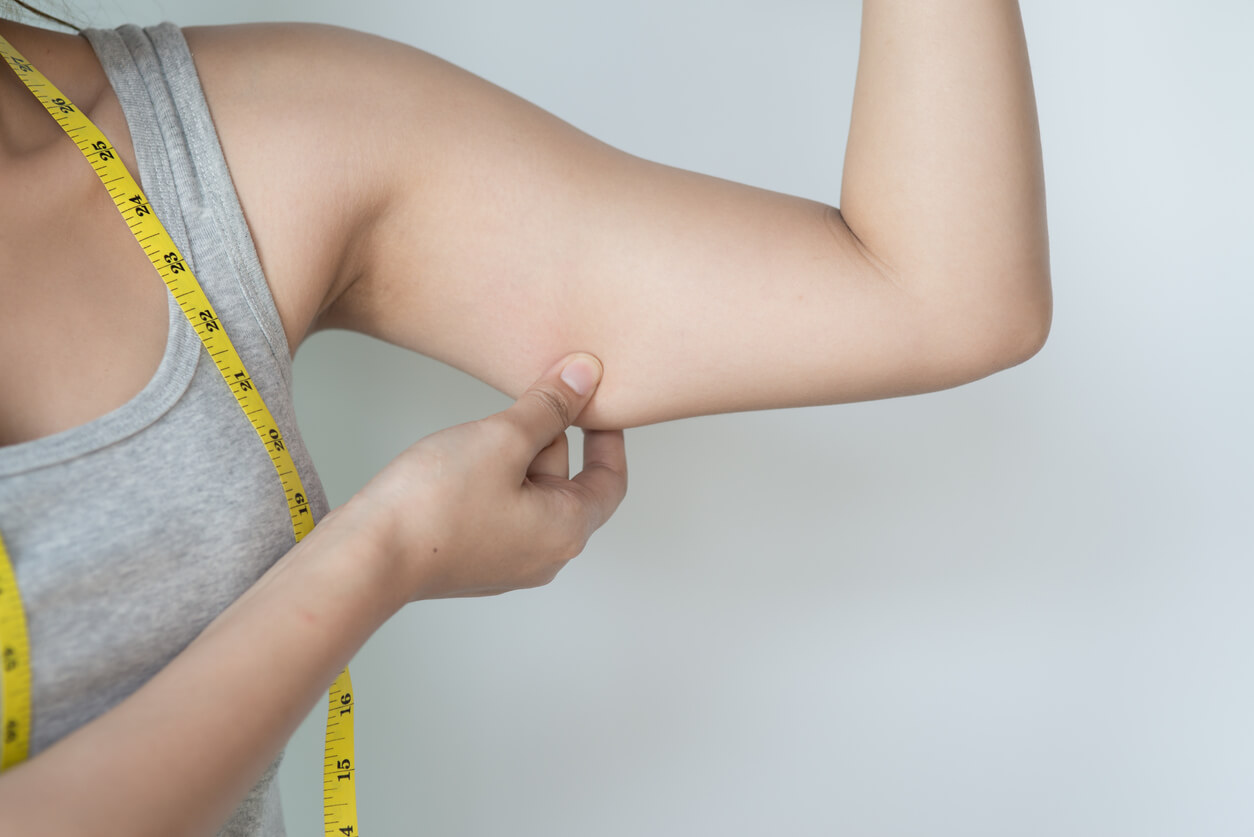 Upper arm exercises like chin-ups and barbell curls can help tone up and strengthen the arms at the same time, you can also get the help of non-invasive fat reduction treatments to effectively remove stubborn fat. This works especially if your arm does not respond well to your diet and exercise.
In our blog all about body fat, we mentioned that non-invasive fat reduction refers to the removal of fat without surgery or downtime. This means that there is also no incision or cuts involved, as well as introducing anything inside the body, which is often the case for surgical procedures like liposuction.
Here are the two non-invasive fat reduction procedures that can help you achieve slimmer and toned arms.
Cryolipolysis (Fat Freezing)
Cryolipolysis is an FDA-cleared technology that freezes and kills fat cells. It works by exposing only the fat cells to cold temperatures, which triggers the process of apoptosis or natural cell death. This will then cause the fat cells to die naturally and cleared through the lymphatic system, and processed as waste in the liver.
Fat freezing is ideal for treating arm fat, as well as pinchable fat bulges in the belly, back thighs, and double chin. It is also good to know that once the fat cells are frozen and treated, they are gone for good and will not come back. This means that you won't have to worry about the fat cells migrating to other areas of the body.
At Cutis Laser Clinics in Singapore, we have two safe and effective devices that use Cryolipolysis: CoolSculpting by Zeltiq (made in the US) and Z Lipo by Zimmer (made in Germany).
CoolSculpting.

This is an FDA-approved device that features applicators of different sizes. It delivers controlled-cooling technology to target and kill fat cells in the arms, belly, and thighs. It also has a smaller applicator called CoolMini, which is ideal for

targeting smaller pockets of fat

such as double chin, knee fat, and bra fat in the armpit area.

Z Lipo.

This device uses cold temperatures to target fat deposits by suctioning the fat bulges in the arms, belly, and thighs. With it's new applicator, Z Mini, Z Lipo can also treat smaller areas such as the double chin. One thing that separates it from

CoolSculpting

is that it has two handpieces attached to its device, which can both be used in one session. This only means that it can treat two areas at the same time, reducing the overall treatment time.
Vanquish ME
Unlike Cryolipolysis, Vanquish ME by BTL uses heat to kill fat cells. It uses an FDA-cleared selective radiofrequency (RF) technology to disrupt the fat cells to the point of natural elimination. It safely heats the treated area to reduce inches off your arms, belly, and thighs.
Vanquish works by delivering selective heating that solely targets fat cells and triggers natural cell death. This means that the treatment only heats the fat and does not harm your skin or muscle.
The effectiveness of Vanquish is based on the science of 'impedance'. This refers to the resistance of fat to heat compared to other body tissues, is attributed to the effectiveness of Vanquish. Since the fat cells have a higher resistance to heat, it only means that they can absorb more heat energy, which is helpful in triggering the process of apoptosis (cell death).
After the treatment, the fat cells will then naturally die over time, which will be processed as waste in the liver and cleared naturally through the lymphatic system. It will take a few months to see the result as your body takes time to remove all the dead fat cells naturally.
Vanquish in Singapore works to reduce the overall circumference of your arms without even touching your skin. The device just hovers over the area using a panel array of heat to target the fat cells.
What's even great with Vanquish is that it can contour your body regardless of your BMI. This means everybody is a good candidate especially if you want to lose inches off your arms, belly or thighs.
Schedule a Body Assessment
If you're concerned about stubborn fat on your arms, consider any of the treatments mentioned above. Contact Cutis Laser Clinics today and schedule a consultation and body assessment with our Harvard-trained aesthetic doctor, Dr. Sylvia Ramirez, to find out if which fat reduction treatment suits you best.
Tags: CoolSculpting, Z Lipo, Vanquish Me, Aesthetic Clinic in Singapore