The thin and delicate skin surrounding the eyes makes it susceptible to aging. Concerns like crow's feet, along with puffiness and dark circles can betray your age, resulting in an older appearance. There is also the issue of tear trough or eye hollowness, which can make you look tired or fatigued.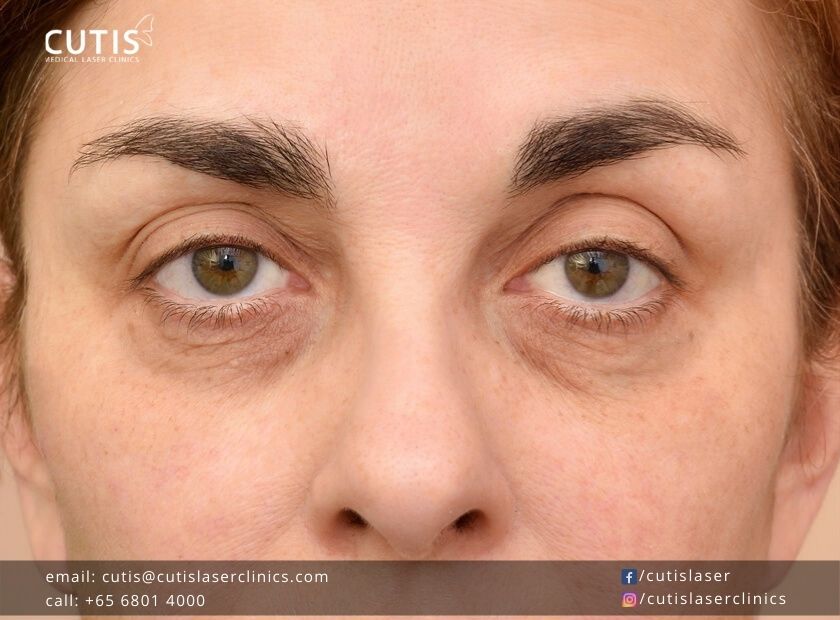 If you too are concerned about eye skin aging and tear trough hollows, you may be wondering what's causing them and what you can do to correct them. Continue reading to learn more about under eye hollowness and the treatments for improving its appearance.
What causes tear troughs or eye hollowness?
Tear trough hollow is the area between your cheek and the lower eyelid. Aging contributes to its appearance due to volume loss, especially in the mid-cheek. This causes the appearance of eye bags, dark under eye circles, and hollows.
Tear trough and hollowness can also be genetic and run in families. Some people have less fat under the eye with pigmented or darker skin. This can then make the eyes look sunken or hollow, resulting in a tired or exhausted appearance. 
How can I address or correct tear trough hollows?
Tear trough rejuvenation is possible through dermal fillers. Many aesthetic clinics and doctors use fillers made from hyaluronic acid (HA), especially for first timers. This is because HA is a naturally occurring substance in skin and fillers made from this component can be dissolved or reversed by injecting an enzyme called hyaluronidase.
What types of fillers can correct tear troughs?
At Cutis Laser Clinics, we have the Juvederm range of fillers, which uses hyaluronic acid. We also have skin boosters (like Juvederm Volite) that contain the same ingredient and are used for improving skin hydration and quality. This can hydrate crepey skin, as well as address dark circles, lines, and hollowing around the eyes.
We also have Restylane fillers for tear trough rejuvenation. This also contains HA and can make the tear troughs less prominent, with improved fullness in the under eye area. Another good thing about Restylane is that it can smooth away fine lines and wrinkles, and provide instant and long-lasting results. 
Radiesse is another type of filler that can help with tear trough hollows. It is composed of Calcium Hydroxylapatite (CaHA) microspheres suspended in an aqueous gel carrier. It can replenish volume lost over time and fill the lips and nasolabial folds. Radiesse offers immediate volume and correction and continues to work as a bio-stimulator to stimulate collagen production.
How can fillers improve tear troughs and other signs of aging?
Dermal filler injectables can help treat volume loss under the eyes and make the patient appear fresh and well rested. This is done by injecting the filler in the hollowness between the cheek and the lower eyelid. Fillers can also minimize the appearance of eye bags, dark circles, and nasolabial folds. 
Many aesthetic doctors, including Dr. Sylvia of Cutis Laser Clinics, recommend starting with filling in the cheeks first, as this is the main foundation of the face. After doing so, patients can see an improvement in the eye area. Volume loss in the cheeks and tear trough are also present in combination, so filling in the cheeks can improve the problem.
Apart from addressing tear trough hollows, dermal fillers can also:
Fill and plump up the lips

Restore volume to sunken cheeks

Fill lines and folds in the face

Define and contour the chin

Increase the height of the nose bridge
How long do the effects of fillers last?
The results of dermal fillers are not permanent. They gradually dissolve over time and are metabolized by the body. You may notice results almost immediately, but it can take about two weeks for the fillers to completely blend with the surrounding tissues. Results can last from six months to two years, depending on the type of fillers used. 
Do take note that it isn't true that the treated area will become saggy or wrinkly if you stop getting fillers. While the effects will wear off after some time, your skin is only likely to return to its previous state. This is why touch-up treatments are recommended to have a youthful appearance.
Schedule a consultation today
Improve under eye hollowness and other related signs of aging with dermal fillers. Contact Cutis Laser Clinics in Singapore and schedule a consultation with our Harvard-trained aesthetic doctor, Dr. Sylvia Ramirez, to learn more about these injectables.