Botulinum Toxin (or more commonly known as Botox) corrects wrinkles by preventing nerves from pulling on muscles and making creases. For wrinkles, lines and folds that are not made by nerve-muscle action, or firmly established wrinkles that show even when we don't make facial expressions, we will need facial fillers.
Botox vs. Dermal Fillers
Botox corrects dynamic wrinkles that are usually found in the upper third of the face, which is why it's the go-to forehead wrinkles treatment. A Botox specialist injects into the forehead vertical lines (angry 11) and crow's feet to address two areas that are FDA-approved for its use.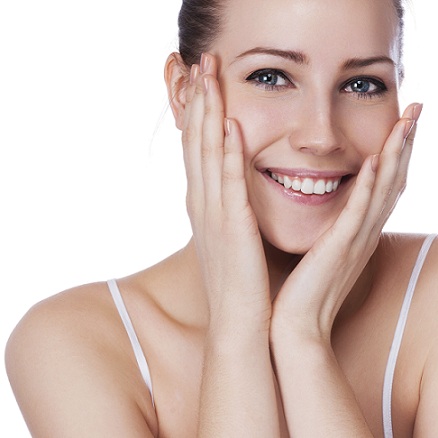 Facial fillers on the other hand, treat static wrinkles – wrinkles that appear even if we don't make a facial expression. These wrinkles are caused by the breakdown of underlying structures – collagen, elastin and hyaluronic acid – due to age.
This is the reason why fillers are a better fit as non surgical wrinkle treatment to correct deep wrinkles and folds because not only do they fill in the hollow, they also trigger production of collagen. But not all dermal fillers are created for the same part of the face: Some fillers are made of smaller particles and therefore more suited as under eyes treatment, while others are made of bigger particles that do a better job as cheek fillers or lip fillers.
Hyaluronic acid
Hyaluronic acid is found in our skin; it's responsible for making it supple and firm. So if you want wrinkle correction that is as close to natural as possible, fillers made of hyaluronic acid are a better choice because of decreased risk that the body will reject the particles and cause allergy.
Juvederm, Perlane and Restylane are some prominent examples of HA fillers that are best used to restore volume to nasolabial folds, eye bags, cheeks and lips. Hyaluronic acid can also be used as chin fillers. A filler doctor in Singapore may even use HA to improve the bridge of the nose.
Poly L-lactic acid
If you are looking for facial volume enhancer, fillers made with poly L-lactic acid are a better fit because they replace lost collagen. Sculptra is a popular example of cheek fillers, and it is used to address overall volume loss in the face. Sculptra may also stimulate collagen growth over time, which is why the results often last longer (for up to two years). However, the difference of Sculptra with other fillers is that it doesn't show immediate results in one session and it usually requires three to five treatments performed one month apart to give better results.
Calcium-based microspheres
These are small calcium hydroxylapatite microspeheres suspended in a soft-gel matrix to provide lifting and contouring to address gradual loss of supportive fat tissue and collagen in the skin. This makes Radiesse an ideal collagen treatment on sunken, flat cheeks to revive its youthful look. Radiesse has also been FDA-approved for volume correction in the hands.
Radiesse can also be used to contour the jawline so you get the 'V' shape of the face that suggests youthfulness. (In a Botox clinic in Singapore, Botox is also used to slim the jawline.) The particles not only provide an immediate lifting and filling effect, but also trigger the body's natural ability to make collagen.
Fillers with Botox, Ultrasound Therapy and Thread Lift
Facial fillers work in combination with Botox as popular wrinkles treatment. Botox is usually injected to the upper third of the face because it has FDA-approval to treat 'angry 11' lines and crow's feet. Dermal fillers have FDA-approval to treat the lower two-thirds of the face where most deep wrinkles reside.
Facial fillers are also used in combination with Ulthera and Silhouette Soft treatments. Ulthera uses non-invasive ultrasound technology to lift, tighten and tone sagging areas of the face (eyebrows, chin, neck and decolletage) and trigger collagen production by depositing focused ultrasound energy deep beneath the skin.
Silhouette Soft, on the other hand, is a thread lift procedure that uses absorbable threads inserted into the skin to pull up sagging areas for immediate effect. The thread also triggers collagen production so additional results are often better over time.