Skin changes are one of the first signs of aging. In your 30s or 40s, you may find new wrinkles forming. As you reach your 50s and 60s, these wrinkles are often accompanied by saggy skin, dark spots, and hyperpigmentation.
While you can't stop the aging process, you can delay the effect on your skin. Skin tightening treatments like PDO threads are an effective solution to aging skin. Resilient threads are used to lift and tighten skin to make the face appear taut and youthful.
At the Cutis Laser Clinics, we recently introduced the Dr. Perfect V-Line thread lift to our signature treatment, the Cutis Lift.
What Is the Dr. Perfect V-Line Thread Lift?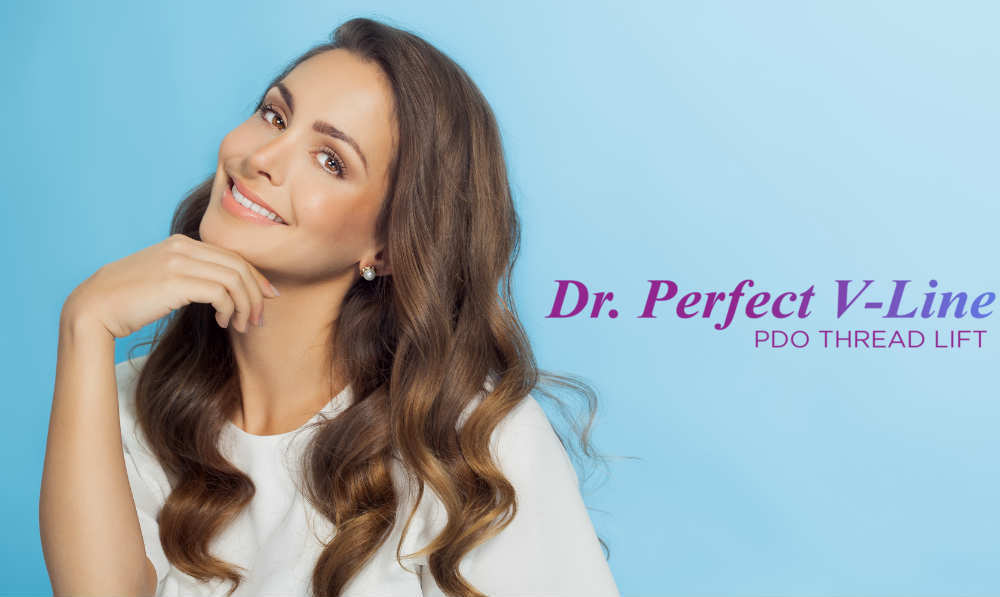 The Dr. Perfect V-Line Thread Lift is a stronger, more effective type of PDO thread. These threads are designed to improve the appearance of sagging cheeks, jowls, and necks.
When combined with dermal fillers, this skin tightening treatment has the ability to improve sagging skin and natural volume loss caused by aging. Dr. Perfect V-Line threads are KFDA and CE marked. The threads are constructed of absorbable PDO (polydioxanone), a material used for years in surgery.
What are the Benefits of Dr. Perfect V-Line?
There are several advantages of the Dr. Perfect V-Line thread lift that make it a more effective option than other PDO threads like Silhouette Soft. This wrinkle treatment is available in different thread sizes to accommodate all users and needs.
For example, mono threads are best suited for skin rejuvenation along the cheeks and chin to add volume. Thicker, bi-directional cog threads are stronger, making them better equipped for lifting sagging cheeks and forehead lines. PDO threads offer a fast recovery and natural looking results.
How is the Procedure Performed?
Dr. Perfect V-Line PDO Threads can be inserted into the skin – subcutaneous layer of fat or the superficial muscular aponeurotic system (SMAS) – depending on the area being treated. Different thread lengths and thicknesses may be used on the face to achieve best outcomes.
Within six to eight months following the procedure, the threads are naturally absorbed. As collagen begins to form around the threads, it creates a natural looking lifting effect. The results of the treatment last up to two years.
How Long Does the Procedure Usually Take?
On average, the Dr. Perfect V-Line lift procedure takes at least one hour. However, the length of the procedure primarily depends on the area being treated and how many PDO threads are needed.
After treatment, be sure to follow all aftercare instructions. It's normal to experience some bruising and swelling directly after the procedure. These mild side effects are only temporary. Most people recovery in less than a week. However, you should avoid strenuous activities for at least two weeks.
If you're tired of dealing with loose skin, a thread lift face procedure may help you achieve a smoother, more youthful look. PDO threads are often described as a nonsurgical facelift due to their ability to lift skin on nearly any area of the face. Learn more about PDO threads by contacting our skin specialist in Singapore.
Tags: Skin Specialist in Singapore, Wrinkles Treatment, PDO Threads