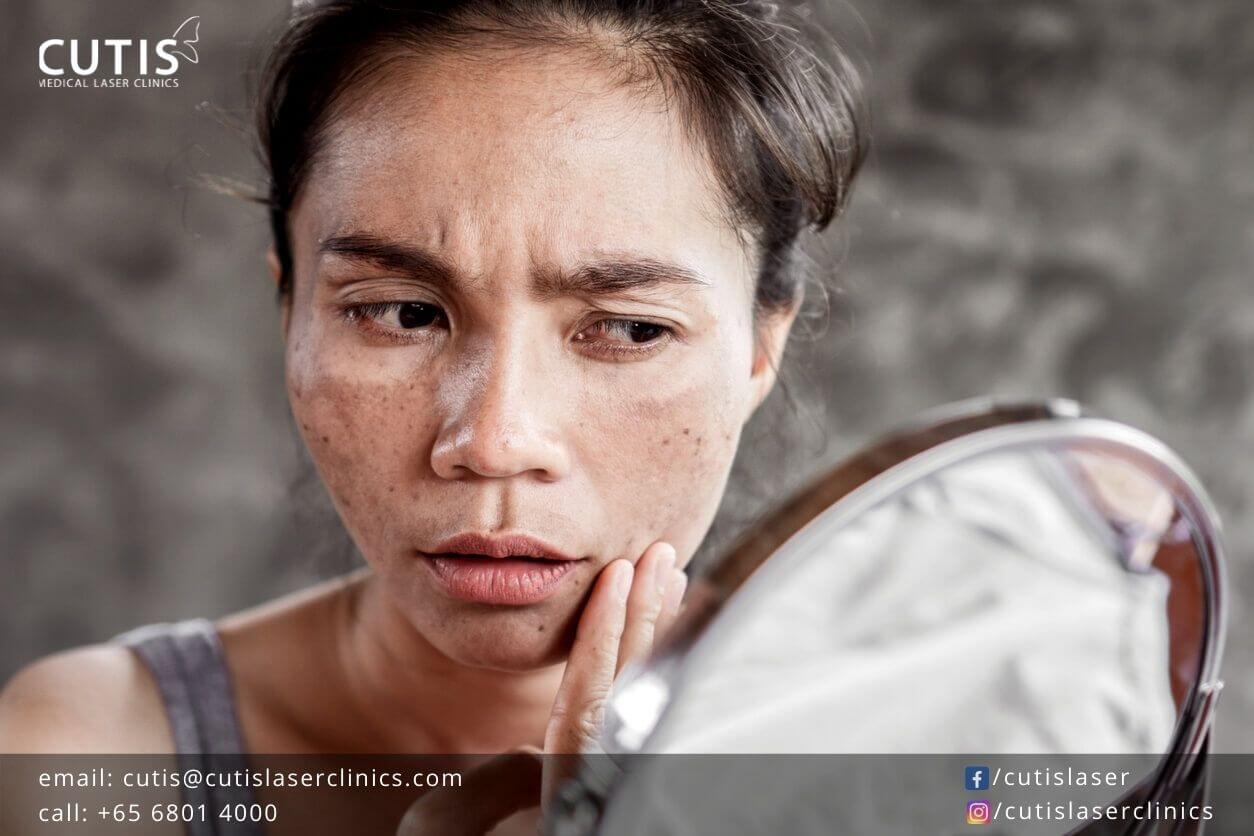 The absence of blemishes (like pimples) does not always mean that your skin is as healthy as you think it is. In most cases, the tone, texture, and sensation of your skin play important roles in assessing its overall quality. And as your body's largest organ, your skin can say a lot about your health and wellbeing. 
Here are the 5 signs your skin might be crying for help:
1. Uneven skin tone or color
Common signs of uneven skin tone include dark/brown/reddish spots, dark under eye circles, and redness. Dark spots and patches can be due to hyperpigmentation, aging, sun exposure, or even hormonal changes (melasma). Correcting the problem involves using the right products based on your skin type and type of discoloration.
What's worth a try: Topical creams with hydroquinone can help lighten pigmentation. Laser Genesis™ Skin Rejuvenation is also a good option, as it effectively treats uneven skin texture, fine lines, and large pores. It also diffuses redness and scar. It uses non-invasive laser technology to stimulate collagen regrowth and improve skin's appearance.
2. Rough or uneven texture
Healthy skin looks and feels mostly soft and smooth. If you, however, have inflamed breakouts, black/whiteheads, and enlarged pores, you may have congested skin. The primary cause of skin congestion is the accumulation of dead skin cells. Proper exfoliation is beneficial, as it helps slough away dead skin cells.
What's worth a try: Hydra Dermabrasion from Cutis Laser Clinics is not like your typical facial. It taps into the power of water and oxygen to remove impurities from the pores without pain and redness. This facial also uses formulated serums to leave the skin clean, moisturized, and nourished.
Check out the 5 reasons to love Hydra Dermabrasion.
3. Dryness and flakiness
Symptoms like flaking, itchiness, redness, and a feeling of tightness are often associated with dry skin. This could be due to dry air, cold weather, the use of harsh chemicals in skin care products, or washing the skin excessively. Good skin care habits like cleansing, exfoliating, and moisturizing can help improve the symptoms.
What's worth a try: Dr. Sylvia's Deep Hydrating Moisturizer rehydrates and strengthens the skin without the use of oil-based ingredients. It contains hyaluronic acid and seaweed extract to provide the skin superior levels of hydration. This facial moisturizer also boosts skin protection and offers water-locking benefits.
4. Unusual sensations
Any strange or uncomfortable sensations could mean that your skin needs extra care and attention. A feeling of tightness and dryness after washing, for instance, are weird sensations and can be triggered by using a harsh soap or cleanser. The same can also be said if your skin pulls, burns, or itches.
What's worth a try: Unusual skin sensations could be primarily due to what you're putting on your face. If this is the case, switching up your regimen can help. There are also cases where the sensations are due to skin conditions like eczema or psoriasis. Consulting a dermatologist or aesthetic doctor can help treat the problem.
5. Premature signs of aging
Sun exposure plays a big role in premature aging of the skin. Too much of it causes signs of aging to appear sooner than later. It can lead to premature wrinkling and age spots, as well as the darkening of existing pigmentation. Smoking is another culprit; it accelerates skin aging and causes sallow complexion. 
What's worth a try: While we cannot completely halt the aging process, we can do something about other factors that can cause premature aging. This means protecting the skin from the sun daily and quitting smoking if you do. The use of non-invasive aesthetic treatments like Ultherapy® and injectables can also help.  
Schedule a consultation today
The quality of your skin affects both your confidence and appearance. If you think your skin is not looking or feeling healthy, don't hesitate to reach out to us. Contact Cutis Laser Clinics in Singapore today and schedule a consultation with one of our aesthetic doctors.