Zoom or digital meetings have replaced most of our face-to-face interactions during the pandemic. While this form of communication may seem convenient, it can also be stressful. We are now looking at our faces most of the time and notice movements we were previously not aware of.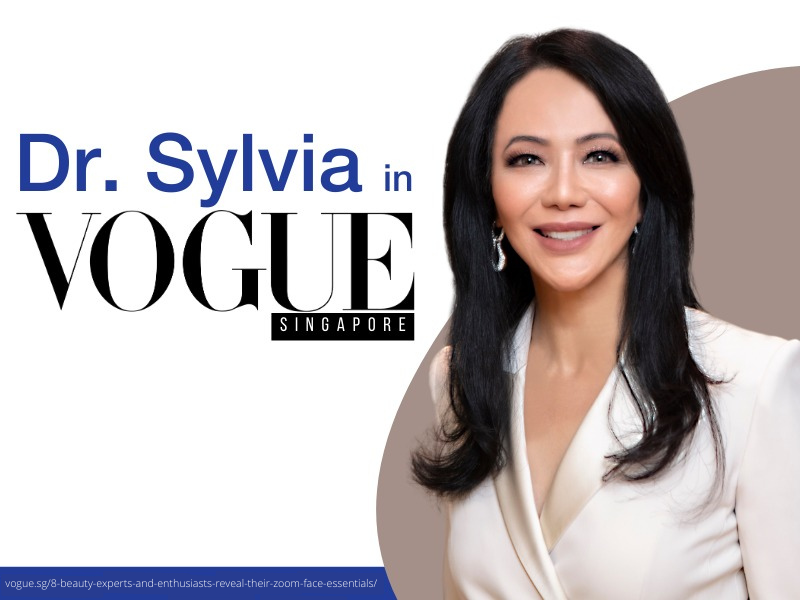 Is Zoom also a part of your daily life? Do you want to know a few tips on getting glam and gorgeous while interacting online? Check out this Vogue Singapore article by Dana Koh and Alli Sim. Our very own Dr. Sylvia is one of the 8 beauty experts who shared and revealed their "Zoom Face" essentials. 
Busier work schedule
Lockdown has been a busier time for Dr. Sylvia, as patients (both adults and millennials) who want to "look more confident online" are now considering Baby Botox. This refers to the use of a lower-than-normal dosage of botulinum toxin injections. Smaller doses don't completely relax the facial muscles; it helps retain your facial movement, for a fresher yet natural look.
She tells Vogue that these procedures have intangible benefits, "they can make you feel more confident, which can translate to less stress, fear and anxiety about the ongoing pandemic".
Vitamin C serum 
As many patients have now noticed facial concerns like wrinkles and sagging, Dr. Sylvia recommends using vitamin C serum daily. "I use our in-house 20% Vitamin C formula as this ensures that you have the correct pH and formulation of Vitamin C to protect your skin from oxidative damage."
Cutis's in-house serum features a combination of various antioxidant actives, which helps create a more dynamic and potent product. Some of the benefits of this serum include: 
Hydrates and moisturizes the skin

Fights oxidative stress

Provides antioxidant benefits

Helps lighten the skin
Dr. Sylvia tells Vogue Singapore that you also need sunscreen, even if you are staying at home. This is because UV rays are everywhere and sun damage can sneak up into your daily life. 
Cosmetics
Apart from giving us an extreme wide-angle view, webcams can also give the face a dull color or a one-tone appearance. Dr. Sylvia suggests, "Apply bronzer (Hourglass lighting bronzer) in all the areas the sun would normally hit your face: the cheekbones, top of the forehead, sides of the face and below the jaw."
She also recommends applying some concealer to brighten up the area under your eyes. This helps hide minor skin imperfections and is particularly helpful if you have dark circles or discoloration under the area. She also suggests using lip balm "to complete a natural yet polished look".
Excerpts/quotations were taken from "8 beauty experts and enthusiasts reveal their 'Zoom Face' essentials" by Dana Koh and Alli Sim. This story was originally published in Vogue Singapore.