While some topical skincare products can improve certain dark spots or pigmentation concerns, they cannot completely fade or remove pigmentation. This is because they only treat or penetrate the skin's topmost layer and cannot target excess melanin that sits on either epidermal or dermal skin layers.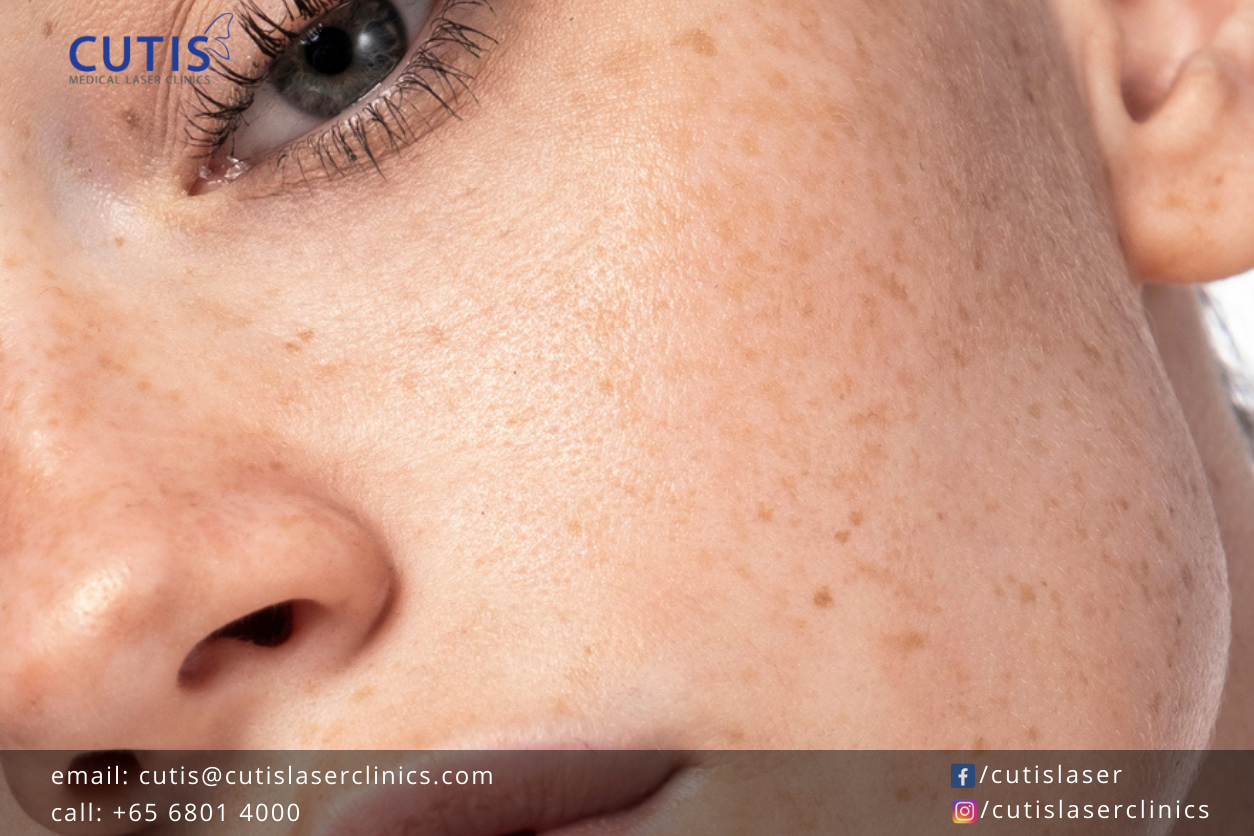 If lightening creams and lotions have little to no effect on your pigmentation, aesthetic treatments can help. These can include peels, lasers, and other skin technologies to speed up cell turnover or remove the topmost layer of the skin. Many of these can also improve other skin concerns like fine lines, wrinkles, acne, and sun-damaged skin.
At Cutis Medical Laser Clinics, we have a range of aesthetic treatments that can tackle different pigmentation concerns. Whether you're concerned about age spots, PIH, freckles, or brown spots, we have a nonsurgical treatment that can effectively fade or lighten your pigmentation.  
VI Peel Precision Plus
This medium-depth peel combats dark spots and pigmentation to improve overall skin tone. VI Peel Precision Plus contains a blend of ingredients that can inhibit melanogenesis or the production of melanin pigments. It can exfoliate the skin, unclog pores, promote rapid cell turnover, and restores skin to its natural health.
VI Peel Precision Plus can repair skin problems at a cellular level. It involves extensive peeling during the first 3 to 5 days and ends by the 7th or 10th day. The result is a radiant and glowing complexion, which can improve over the following months. This type of VI Peel is effective for improving or treating different types of pigmentation, such as:
Melasma

UV-induced pigmentation

Sun damage
Limelight™ Photo Facial
This non-invasive pigmentation treatment uses intense pulsed light (IPL) technology, delivered onto the skin's top layer. Limelight may cause the spots to appear darker, but this is temporary and part of the healing process. After 5 to 7 days, they will scab and fall off, revealing a healthier and brighter complexion.
Limelight is proven effective in getting rid of dark pigments, even in the skin's deep layers. It can be used on the face, neck, décolletage, shoulder, arms, and hands.  You can turn to this procedure to treat: 
Brown spots (including light brown spots)

Sun spots or hyperpigmentation

Freckles 

Tiny veins (telangiectasias)

Skin redness
This procedure can also be combined with Laser Genesis, an FDA-approved procedure that stimulates collagen regrowth. It is a laser technology that can treat lines, wrinkles, redness, scars, and enlarged pores. The combination of a light-based and a laser-based treatment can effectively address a range of skin conditions for a healthier, brighter, and younger-looking complexion. 
Meso-Peel
This chemical peel combines two effective skin technologies: Dermapen 4 microneedling and Über Peel. The latter is a professional peel designed to improve skin needling procedures. It can address different skin issues at once, which then eliminates the need for more or complicated solutions. 
With Meso-Peel, you'll get the benefits of two aesthetic treatments in a single procedure. Dermapen 4 creates micro-injuries that stimulate collagen production. Über Peel, on the other hand, resurfaces the skin's top layer, promotes cellular turnover, and provides a smoother skin appearance. This procedure can help with: 
Dark spots and pigmentation

Sun-damaged skin

Acne scars

Fine lines and wrinkles

Uneven skin tone and texture
PicoCare Laser
One thing that makes PicoCare different from other lasers is that it delivers high peak power with a shorter pulse duration. It can penetrate deeper and shatter pigments into microscopic particles. PicoCare also has more photomechanical but less photothermal effects, which translates to fewer treatments and almost no side effects.  
This FDA-cleared and CE-marked laser can also help stimulate new collagen. It can be used for overall skin rejuvenation, improving skin tone and texture, as well as lifting depressed acne scars. PicoCare can tackle the following concerns:
Epidermal lesions

Age spots

(senile lentigos), solar lentigo (sun spots)

Freckles, melasma, café au lait

Acne scars (box, ice pick, rolling, hypertrophic)

Seborrheic keratosis

Skin rejuvenation
Pearl™ Skin Resurfacing
This US FDA-cleared laser treats both the dermis and epidermis, giving your skin a healthier and pearl-like glow. Pearl delivers heat to the dermis, which then creates micro-injuries and generates collagen growth. It resurfaces the skin's damaged layer while stimulating the formation of a new skin layer.
Pearl provides "stem-to-stern" rejuvenation with fewer treatments and less overall recovery time. One to two treatments are usually recommended to achieve desirable results, although this can still depend on your individual profile or severity of concerns. It can improve or treat:
Age spots

Hyperpigmentation

Fine lines and wrinkles

Acne marks and scars

Sun-damaged skin

Uneven skin texture
Schedule a consultation today
To learn more about our pigmentation treatments or to find out which suits you best, get in touch with us today. Contact Cutis Medical Laser Clinics in Singapore to book a consultation or appointment with our aesthetic doctor.