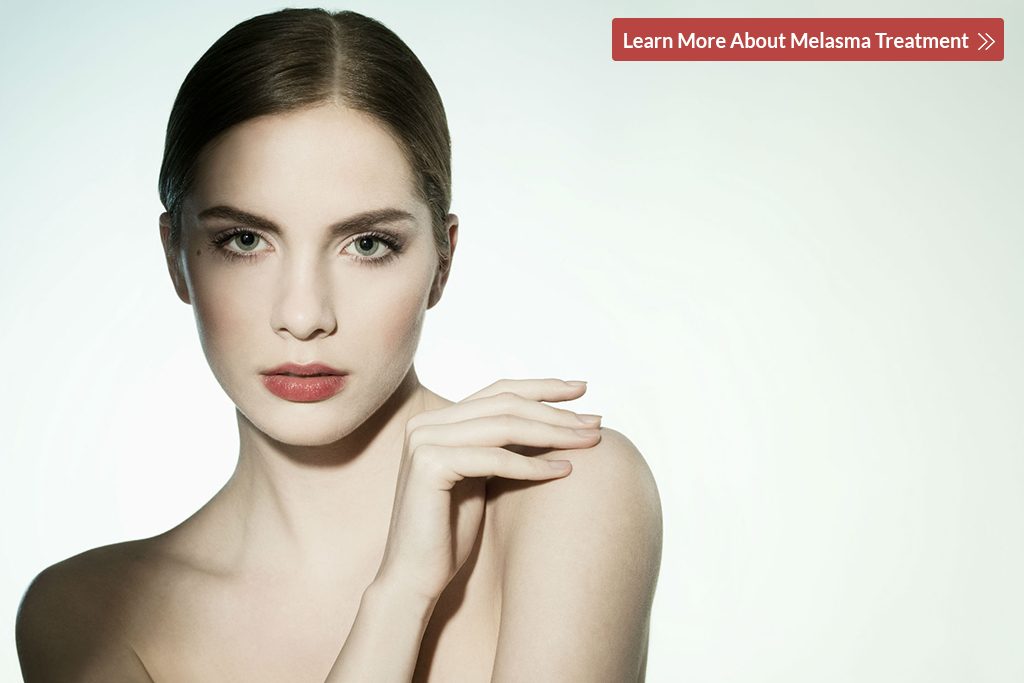 Melasma is a form of skin hyperpigmentation common among women. It typically appears as irregular and flat brown, tan, and grey patches on the face, especially on the cheeks, forehead, and chin. It is believed to be triggered by daily UV exposure, genetics, and hormonal events like pregnancy.
While this condition is not harmful, it can look unattractive causing distress and embarrassment in most people which affects their self-esteem.
Some are frustrated with the fact that melasma is very difficult to get rid of compared to other types of hyperpigmentation as there is a 50/50 chance of whether it may or may not respond well to different skin treatments and topical products.
Fortunately, there is now a clinically-proven treatment available to safely reduce melasma according to clinical studies.
Tranexamic acid (TXA) is a safe addition to the treatment of melasma. This is made from an amino acid called lysine, which was proven in various clinical studies to reduce melasma significantly when used in lower concentrations.
The Basics
Tranexamic acid is a US FDA-approved treatment for heavy bleeding during menstrual period. It belongs to a drug class known as antifibrinolytics that slows down the breakdown of blood clots, which is beneficial in preventing prolonged bleeding.  
It is taken orally with or without food as directed by the physician. The dosage for tranexamic acid will depend on the patient's condition and response to treatment.
TXA for Treating Melasma
According to the US National Center for Biotechnology Information (NCBI), the use of this medication to treat melasma is a novel concept. Studies have shown, however, that the addition of oral tranexamic acid offers fast and continued improvement in the treatment of melasma.
In a study featured in MDedge (a professional and credited health sources), it is said that the potential efficacy of TXA for treating melasma has been reported since the 1980s.  The usage for melasma treatment was first reported in 1979 in a Japanese study by Nijo. This was not intentional in the beginning, as it was accidentally discovered when used for treating a patient with chronic urticaria (hives). After this, a few reports have described the use of TXA for treating melasma.
Tranexamic acid for melasma treatment is effective and has been mostly administered at a low dosage of 250 mg for at least four to eight weeks.  Research also suggested that the medication has been used intradermally and topically for dealing with melasma.
Proven Effective in Clinical Studies
Clinical studies published in leading medical journals have shown that oral Tranexamic Acid provides rapid and sustained improvement in the treatment of melasma.
A study published in the Archives of Pharmacy Practice featured a clinical study involving 74 volunteers in China. They were given a dosage of 250 mg daily for the period of six months and were monitored for more than the time frame after the treatment.
The study concluded that the oral use of TXA is a safe and effective therapy for melasma treatment.
There was also a study at a single center in Singapore, which involved 561 patients. Those who received TXA orally were monitored for four months. The study suggested that 90% of the patients showed improvement in the severity of their melasma.
Tranexamic Acid in Diamond Tomato Rx
Diamond Tomato Rx, is a natural dietary supplement that is formulated with Tranexamic Acid and Phytofloral.
Besides from Tranexamic acid, it also contains Phytofloral, a natural antioxidant derived from non-chemical processed tomatoes with colorless carotenoids (the only type that can absorb UVA and UVB light and are the only carotenoids in nature that are colorless). This lightens the skin and protects it from environmental damage that causes age spots, sunburn, and pigmentation.
Diamond Tomato Rx treats melasma by blocking melanin production and shielding the skin from common causes of pigmentation – environmental toxins and sun damage.
This safe and natural dietary supplement is developed by Cutis Laser Clinics in Singapore that helps maintain healthy, radiant skin starting from within.
Moreover, it provides antioxidant and anti-inflammatory benefits. And since it is derived from colorless tomatoes, it will not bleach or stain the skin resulting to a clear and glowing skin.
It is important to take note that Tranexamic acid is a medical grade ingredient which means that Diamond Tomato Rx is only available with a prescription.
If you have tried almost everything to address melasma but still have little to no improvement, it is time to consider this safe and proven treatment.
Contact Laser Clinics in Singapore today and schedule a consultation with our aesthetic doctor to learn more about Tranexamic Acid and Diamond Tomato Rx for melasma treatment.
Tags: Melasma Treatment, Tranexamic Acid, Diamond Tomato Rx