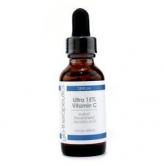 Ultra 15% Vitamin C 30ml
A powerful reparative serum enriched with antioxidants & peptides that is formulated with Ascorbic Acid comprising antioxidant Vitamin C to shield against UV damage. It improves skin flexibility, promotes wound healing & inhibits cutaneous pigmentation.
Blended with Longevicell to restrain glycation of collagen & reverse signs of aging. Loaded with Inyline, a hexapeptide to eliminate wrinkles caused by facial expression that unveils a smoother, younger & healthier looking complexion
Recommeded for all skin types
Directions
\Apply in the morning on dry skin after cleansing and toning. Allow serum to absorb then follow with glotherapeutics B5 Hydration or glotherapeutics Pure Hydration and if needed, a glotherapeutics moisturizer.