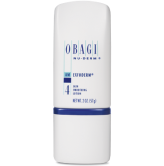 Obagi NuDerm Exfoderm Forte
Nu-Derm Exfoderm Forte – For Normal to Oily Skin
A lightweight lotion that exfoliates the top layer of the skin, removing dull, old skin cells, while promoting new skin cells for a brighter complexion.
Obagi Nu-Derm Exfoderm Forte #4 contains high percentage of alpha hydroxy acids that brightens complexion and gives a youthful and radiant appearance.
Recommended for normal to oily skin.
Direction: Apply evenly on entire face once a day or as prescribed by dermatologist.