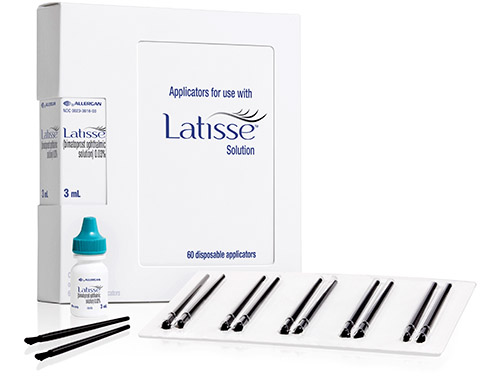 Latisse Solution
Have Naturally Longer, Thicker and Darker Lashes
Introducing LATISSE® Solution. LATISSE® is a prescription treatment for hypotrichosis (inadequate or not enough lashes) to grow eyelashes longer, fuller, darker.
It is a scientifically proven treatment which contains the active ingredient, bimatoprost 0.03%, specifically for growing lashes.
Some important application tips.
When applying LATISSE® solution, it's important to follow the complete directions. Here are a few simple things to keep in mind:
Do not apply in the eye or to the lower lid.
Only use the sterile applicators supplied with LATISSE® to apply the product.
Don't allow the tip of the bottle or applicator to touch fingers or any other unintended surface, as contamination by common bacteria is known to cause infections.
Remove contact lenses prior to applying LATISSE®. Contact lenses may be reinserted 15 minutes afterward.
Remember, if you stop using LATISSE®, lashes will gradually return to their previous appearance.