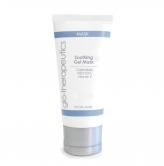 GloSoothing Gel Mask 50ml
gloTherapeutics gloSoothing Gel Mask is a cooling mask containing a complex of soothing ingredients, antioxidants and vitamins to repair and calm sensitized skin. The glosoothing mask contains glotherapeutics exclusive mis of antioxidants and is excellent for skin recovering from exfoliation treatments, skin experiencing stress, or for skin simply in need of refreshing, healthy and calming attention. A soothing, calming mask suitable for all skin.
Direction
Apply a thin, even layer over face and leave on for 10-15 minutes. Massage the mask into the skin until absorbed or remove excess.