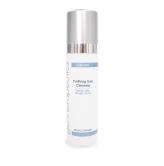 GloPurifying Gel Cleanser 180ml
Glotherapeutics glopurifying gel cleanser is a non-comedogenic sulfate free wash that gently cleanses without stripping the skin of its natural moisture. Infused with strong antioxidants and beneficial ingredients to regulate the skin and increase cell renewal. If you have normal to combination or oily blemish prone skin and are looking for a gentle cleanser which will clean without drying your skin, this 180ml gel cleanser is ideal.
Directions
Massage a small amount of cleanser onto face. Gently remove.