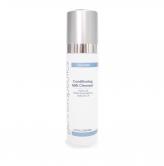 GloConditioning Milk Cleanser 180ml
Glotherapeutics Gloconditioning milk cleanser is a soothing, softening and moisturising cleanser that gently removes impurities. Gloconditioning cleanser may be used all over the face and as an eye makeup remover. It contains glotherapeutics exclusive blend of antioxidants and vitamins which moisturises, repairs and protects the skin. Suitable for all skin types, this gentle 180ml milk cleanser is a wonderful cosmetic cleanser and makeup remover.
Directions
Massage a small amount of cleanser onto face. Gently remove.