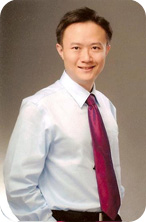 Dr. Dennis Teng has worked at various medical aesthetic centers in Singapore and is a physician with an interest in non-invasive cosmetic enhancements, particularly Botox and fillers to rejuvenate and enhance one's looks. He also worked in Allergan, the global facial filler and botox company, for 4 years doing clinical research and conducting physician training around Asia to improve results that doctors can achieve for their patients using Botox and Juvederm fillers.
His personal philosophy of cosmetic enhancement revolves around combining different non-invasive treatments to get the best results. This is based on the concept that facial aging is really all about addressing the muscles, fat and skin that make up the face. Treatment combinations revolve around relaxing muscles and wrinkles with Botox, volumising shrunken contours with fillers and rejuvenating tired skin with a variety of skin treatments. Giving patients visible improvement, which is at the same time subtle is his mantra. Some of his favorite treatments include but are not limited to:
BOTOX for lower face sculpting for patients with square jaws, or sagging jowls
BOTOX cosmetic for wrinkles to ease backs the years.
Facial Fillers to remove deep facial lines, reflate sunken cheeks & or plump up thinned lips.